Introduction - the golden copy concept
Library makes it easy to quickly find the current copy of company information. As a Librarian, you have ownership (perhaps shared with others) of a particular Library Volume.
Library is not intended to replace file shares or for "document collaboration". If you are working to create and refine a document, either by yourself or as a small team of people, Library is probably not the best place to keep your work-in-progress content.
Library is also not a place to fill up with messy archives of old files. Don't allow it to become a "dumping ground". Leave archives in your traditional file shares, which you can link to from your Library Volume. A great Library Volume is organized and curated so that people can find the current copy of what they need quickly.
Library is intended to be a go-to place for the reference information that employees need from time-to-time. A place where you can quickly find the current copy of forms, budgets, policies and the like. It solves the problem of searching in your file share for "budget" and finding 5 different files all marked something like "budget final". In Library, the budget is quick to find and for sure the final, reference version.
Library is intended to hold the golden copy of each key piece of information on your company.
Table of contents
Category Librarians
1. Your role as a Category Librarian
After being assigned as a Librarian for a Category, Category Librarians can edit that Category, create and manage Volumes within that Category and assign Librarians to those Volumes.
As a Category Librarian, it is very important that you ensure each Volume is assigned a Librarian best suited to manage and maintain the content within that Volume.
2. Editing Categories
To edit a Category

Click on Library in the Main Navigation.
Go to the column on the left and click the Category that you want to edit.
Next, click on the i-icon in action bar (see above).
On the Info menu, go to Category and click Edit to change your Category's name and/or description.

3. Managing Volumes
To create a new Volume
Go the to left column in Library and click on your Category.
Next, click the "+" in the action bar to open the "Add new Volume" dialog
Enter a name for your Volume and click the Save button
The new Volume will appear at the top of your selected Category.

Adding/removing Volume Librarians
By default, Category Librarians are made Volume Librarians for any Volumes they create. To remove yourself and/or add additional Volume Librarians:
Open a Category and then find the Volume you want to add/remove Librarians to.
Click the "three dots" icon that appears when you hover over the Volume's bar, across from the Volume name (or, right click your mouse anywhere in the Volume's bar) and select Edit Volume Librarians. (Note—the action menu can also be accessed from the "three dots" icon found within a Volume's Info menu).
Use the List Selector to locate who you want to make a Volume Librarian (this can be an individual person, a Team, or a combination of both)
To remove someone as a Volume Librarian, open the Actions menu that appears to the right of their name in the List Selector and select Remove.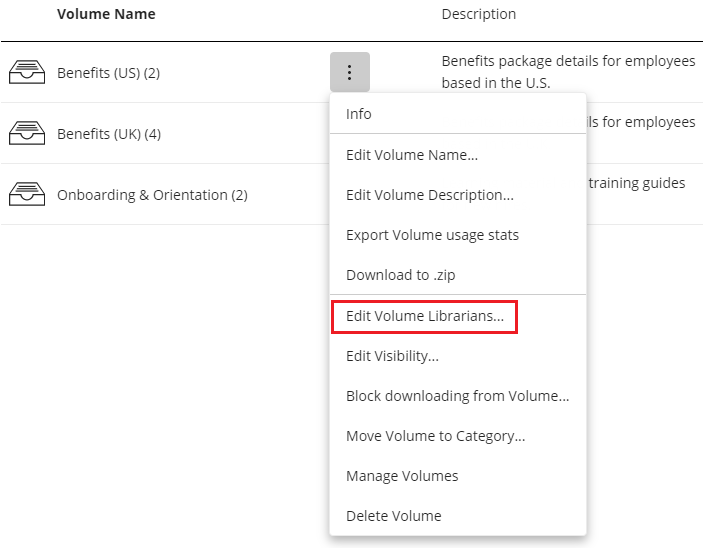 Volume Settings & Actions
In addition to assigning Volume Librarians, Category Librarians can also do a variety of other actions via the action menu, including:
Edit Visibility (viewing permissions)
Block downloading
Move to other Categories (of their own)
Delete Volume
Uncategorized Volumes
If a System Administrator deletes one of your Categories, then any Volumes that were contained within it will be moved to the Uncategorized Category. You can access your Volumes in Uncategorized and move them to any of your other Categories via the action menu option: "Move Volume to Category".
NOTE—Category Librarians can also add/remove Volume Librarians and access some additional settings from the from the Volume's Info menu (via the i-icon in the action bar, as described above).
4. Your role as a Volume Librarian
The goal of a Librarian is to provide relevant, up to date and organized information. Library enables you to provide quick access to key documents, forms, links and videos with the people in your organization.
Your Library Volume was set up for a particular topic -- as a Volume Librarian you are expected to the subject matter expert on this topic. As a Volume owner, it is up to you to keep its content current and organized.
5. Volumes
Volume i-menu
If you open a Category and click on a Volume, you'll see an i-icon appear in the action bar. Clicking on this will open the Info menu, where Volume Librarians can edit the name and description of their Volume. There are other actions available (visibility settings, etc.) but they can only be accessed by Category Librarians).
Click on the "three dots" icon in the corner of the Info menu will open the action menu and display further options. Only the option that are not greyed-out will be available to Volume Librarians.
These include:
Edit Volume Name
Edit Volume Description
Export Volume usage stats
Download Volume to .zip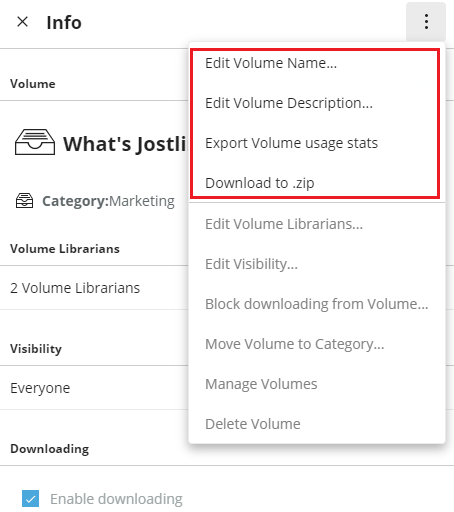 NOTE—Available Volume Librarian actions can also be can also be accessed from a Volume's action menu in the main view. These will only be visible for Volume Librarians.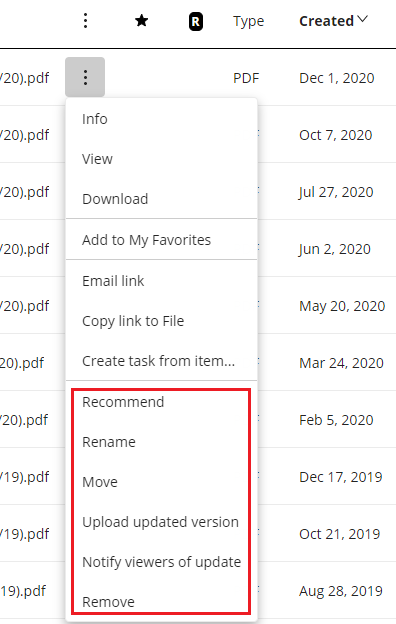 6. Creating Folders
You can create whatever folder/file structure you deem appropriate for your Volume. Here's how:
With your Volume open, click on "+" from the action bar at the top of the screen and select "New Folder" (using this menu is also how you can upload content or add links to your Volume)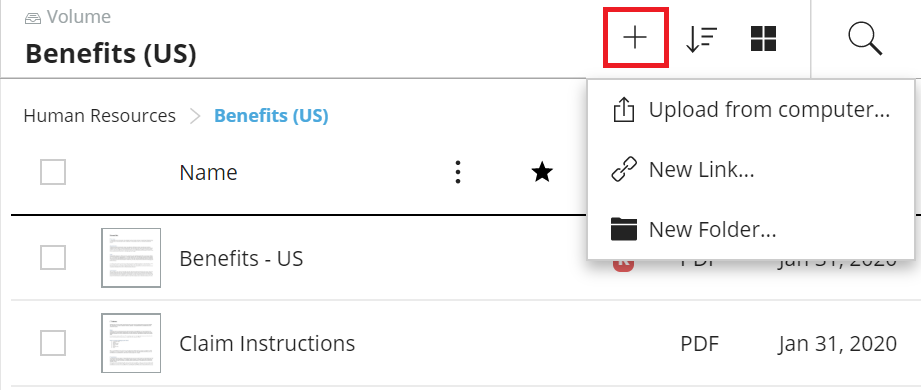 2. Next, name your folder and click Create.

Note that new Library Volumes arrive with the first folder already activated and named "New folder". You can hover/right-click over this Folder to rename or delete it.
7. Uploading Documents
To upload a file to Library (non-Google users)
Locate and click on the folder in Library where you want to add your document.

Go to the action bar at the top of the screen and select Add New > Upload from computer.

Select the file you wish to add to Library . Your upload will begin and you will see the below screen. (If the upload is a big one, you can click the Minimize icon at the top right and then work elsewhere in the platform while the upload proceeds).

Once the upload is complete you can click the X on the upload pop-up to remove it.

To upload multiple files
You can also upload multiple files at once using your browser's native multi-select capability (Note - IE 9 and below DO NOT support multi-select).
Create and/or navigate to a folder in a Library Volume.
Go to the action bar and select Add New > Upload from computer.
Navigate to the folder that contains the files on your local computer and do one of the following actions:
Press ctrl-a to select all the files in that folder.
Click on a file, hold shift and click another file to select those two files and all files in between.
Click on a file, hold ctrl and select other files to highlight multiple files individually
And then click Upload and all the selected files will upload.
TIP: You can also use the drag-and-drop method to copy multiple files or complete folders over from your hard drive right into a Library Volume (folders will retain any sub-folder structure as well).
Limitations
There is no upload size limit* but uploading very large files can be time consuming.
Filenames should always contain a file extension that reflects the real format of the document.
*If using IE 11, there is a video file upload limitation of 105MB (also note that support for IE 11 will be discontinued in late summer 2021)
Click here for a complete list of all file types supported by Jostle
8. Updating Documents
For Library to be effective, volumes must be kept up-to-date. Here are two options for how to update documents in Library:
If you have a master copy on your hard drive
Make your updates to the master copy in your hard drive.
Go to the copy of the document in Library, open its action menu and select "Upload updated version".
Select and upload your master copy from your hard drive.
NOTE—the uploaded document will overwrite all the content in the Library version except for the title.
If the LIBRARY copy is also your master copy
Go to the document in Library, open its action menu, and select "Download".
Make updates to the downloaded copy on your hard drive.
Go back to the Library copy's menu and select "Upload updated version".
Select and uploaded the updated copy from your hard drive.
About "Upload updated version"
When updating a document in Library , always use the "Upload updated version" feature from the action menu. If you delete a document from Library and then replace it with an updated version, any links to the original document will be broken. But, if you update via "Upload updated version", then your Library document will:
Retain any original links.
Retain its original title (using "Upload updated version" will overwrite all the content of a document in Library except its title).
TIP: If you wish to send an update notification to everyone who has permission to view an item, just click on its action menu icon (three dots) and select Notify viewers of update.
You can also pull up the action menu by right-clicking anywhere on an item.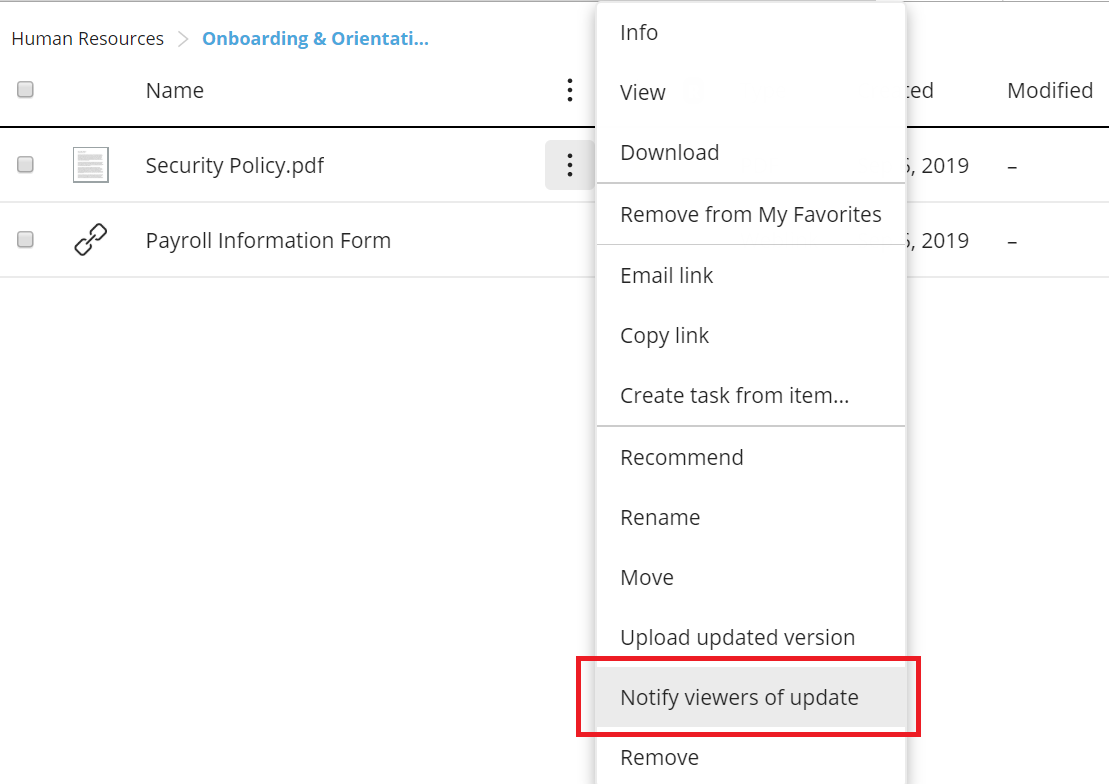 PDF "different titles" issue
If you have a PDF file open in your Library, and notice that the file's title in the action bar is different from the title on the viewer (see image below), this is not a bug.

The action bar displays the title you named your file in your Jostle platform. The viewer, however, automatically pulls in the title from the PDF itself, specifically from File > Document Properties > Title.

So, if you notice a discrepancy and would like to update the viewer title, you'll need to change it in the Title field of the original PDF's Document Properties, and then go through the "Upload updated version" process to add the revised file your Library.
9. Managing Documents with Google Drive
Google Drive integration
If your Library is integrated with Google Drive:
A Google Drive link will be added to the action bar

A Google Drive sub-menu will appear on the "Add New" menu (accessed via the "+" icon in the action bar). From here you can copy existing items from your Google Drive to your Library Volume.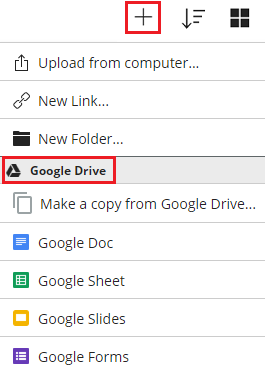 You can also create new Google items (Docs, Sheets, Slides, or Forms) from the sub-menu that automatically save to your Volume once you title them (then just double-click on the newly-created item and it will open in a new browser tab, ready for editing).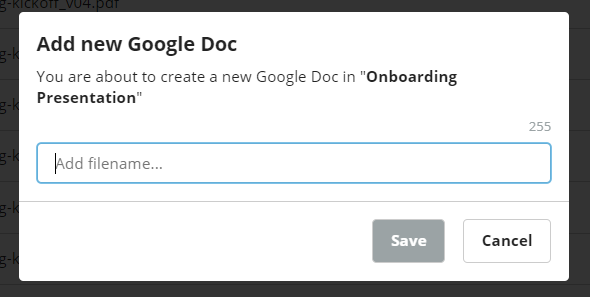 The Jostle Library folder will appear in your Google Drive > Shared with me folder (when logged in under your Jostle username). Visibility permissions set on any volumes in Library will remain intact in Google Drive.
In addition to the methods available in the "Add New" menu, you can use drag-and-drop to upload files and folders directly to your Library Volumes (dragged-and-dropped folders will retain any sub-folder structures).
There's no upload size limit in Library, however you must have enough personal space in your Google Drive for your files to be copied.
Every document that gets added to your Jostle Library will be automatically added to your Google Drive > Shared with me > Jostle Library folder as well (including new Google items that you create in Library).
See this article for more information on Library /Google Drive integration.
Collaborative Editing
If any Librarians want to edit a Google Doc that's in their Library Volume, they can open their Volume and either:
Open the action menu/right-click on the item and select "View".
Double-click on the document title
Either action will open the doc in Google Drive and any edits made will be reflected in real time in the Jostle Library as well as Google Drive.
This real-time editing and updating feature makes it easy for a group of collaborators to work on the same doc and not have to worry about multiple versions floating around or losing track of a document being passed from person to person for updates.
Document Management
If you upload a doc from your personal Google Drive folders to your Jostle Library, you will now have two copies of the doc in your Google Drive: the one in your personal folder and the one in your Shared with me > Jostle Library folder.
Editing the doc in your personal folder will not update the doc in your Jostle Library, so to avoid potential confusion between the two versions here are two options:
After importing your document from Google Drive, delete it from your personal folder, making the one in your Shared with me > Jostle Library folder the only one in your Google Drive. Edits can then be made directly to this version without the worry of potential confusion with your now-outdated original version.
After importing your document from Google Drive, rename it in your personal folder (for example "Title_Original Version" or Title_Do Not Edit") and move it to an Archive folder, so it will not get mistaken for the current version (in your Shared with me > Jostle Library folder).
Management Tips
It's normally faster to use the "Upload from computer" option to select from your local copy of Google Drive, rather than using "Import from Google" and going to the cloud copy of Drive.
You can use external Google Drive tools to sync your Library with your desktop. Here is how to install the Google Drive client for Mac/PC:
https://support.google.com/a/answer/2490101
Retrieving Deleted Documents
If you mistakenly delete a document from a Volume, it will be permanently deleted from your Library. However, if it has been deleted for less than 30 days, your organization's Google Administrator should still be able to retrieve it as follows:
Open Google Drive
Click on the Account selector in the upper right corner and sign in as "jostle librarian"*
Then click "Trash" on the left side of the screen
Locate the deleted file, click it, and select "Restore"
This will restore the document to it's former location in Google Drive > Shared with me > Jostle Library, but not to your intranet Library (it will have to be re-copied there via the "Add New" link in the Library action bar).
*NOTE—If your "jostle librarian" account hasn't been configured yet, the Google Admin can go to Users > jostle librarian and select "Reset Password" to do so.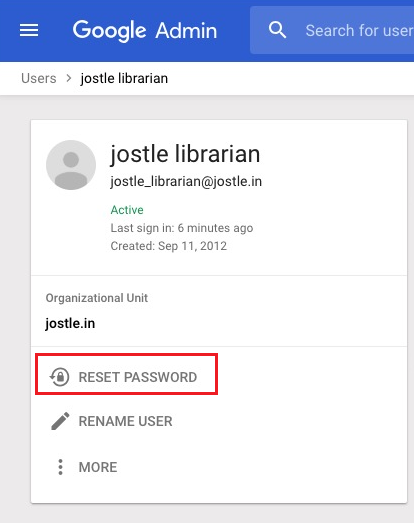 Access problems
If your users encounter problems accessing files or actions in your Library, it may have to do with your Google Admin setup. For more information, refer here.
10. Recommended documents
Recommending key files in your Volume can help visitors quickly find the best document or video to start with. Here's how:
1. Open the action menu/right-click on an item in Library and select "Recommend"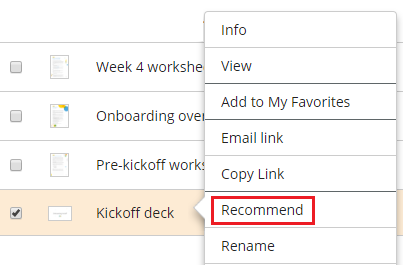 2. A red "R" will now appear under the Recommend column (alternatively, you can hover directly under the Recommend column and click on the greyed-out "R" to instantly Recommend an item)

3. In Tile view, the Recommend "R" will be a fixed visible feature, whether it's greyed-out or red.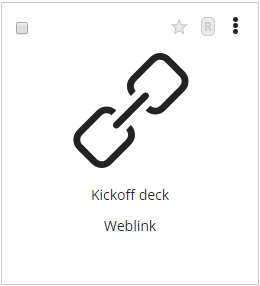 To remove a Recommendation, open the action menu/right-click on an item and select "Undo recommendation".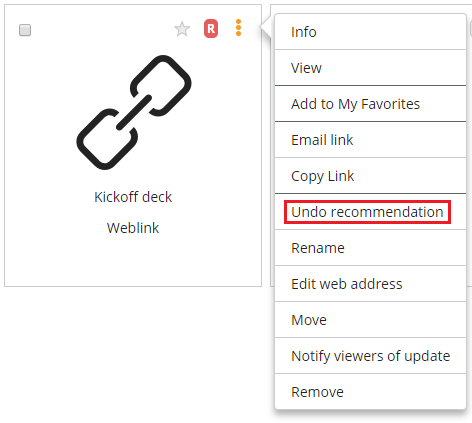 11. Using links
You can create a Link object in any Library folder, which will open a web-based URL. To do this:
Copy the URL (web address) for your link destination from your browser.
Navigate to the folder you want to add the document to and hover over ADD ITEMS in the Action Bar.
Click on New Link, which will open the modal screen show below.
Paste the URL into the Web Address field.
Type a clear name for your Link and click Create.

NOTE—if your Library is integrated with Google Drive, you can also:
Add links to editable Google Docs
Add links to any Google Forms (quizzes, order forms, etc)
However, it is not recommended that you link to files in your Google Drive as an alternative to importing copies of them to your Jostle Library. The contents of linked documents do not get indexed in Search, and will not show up as a match for any search made, no matter how relevant.
12. Organizing your volume
You can use the Organize function to move files within your Volume. Here's how:
1. Navigate to a folder and check the boxes next to the items you want to move.
2. Access any item's action menu and select "Move".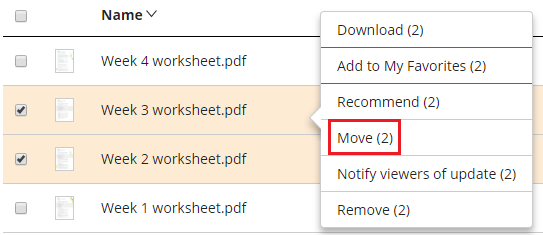 3. This will take you to the Organize modal. Click on the folder you want to move the items to. It will highlight in color (orange in the example below).
4. Click on Move.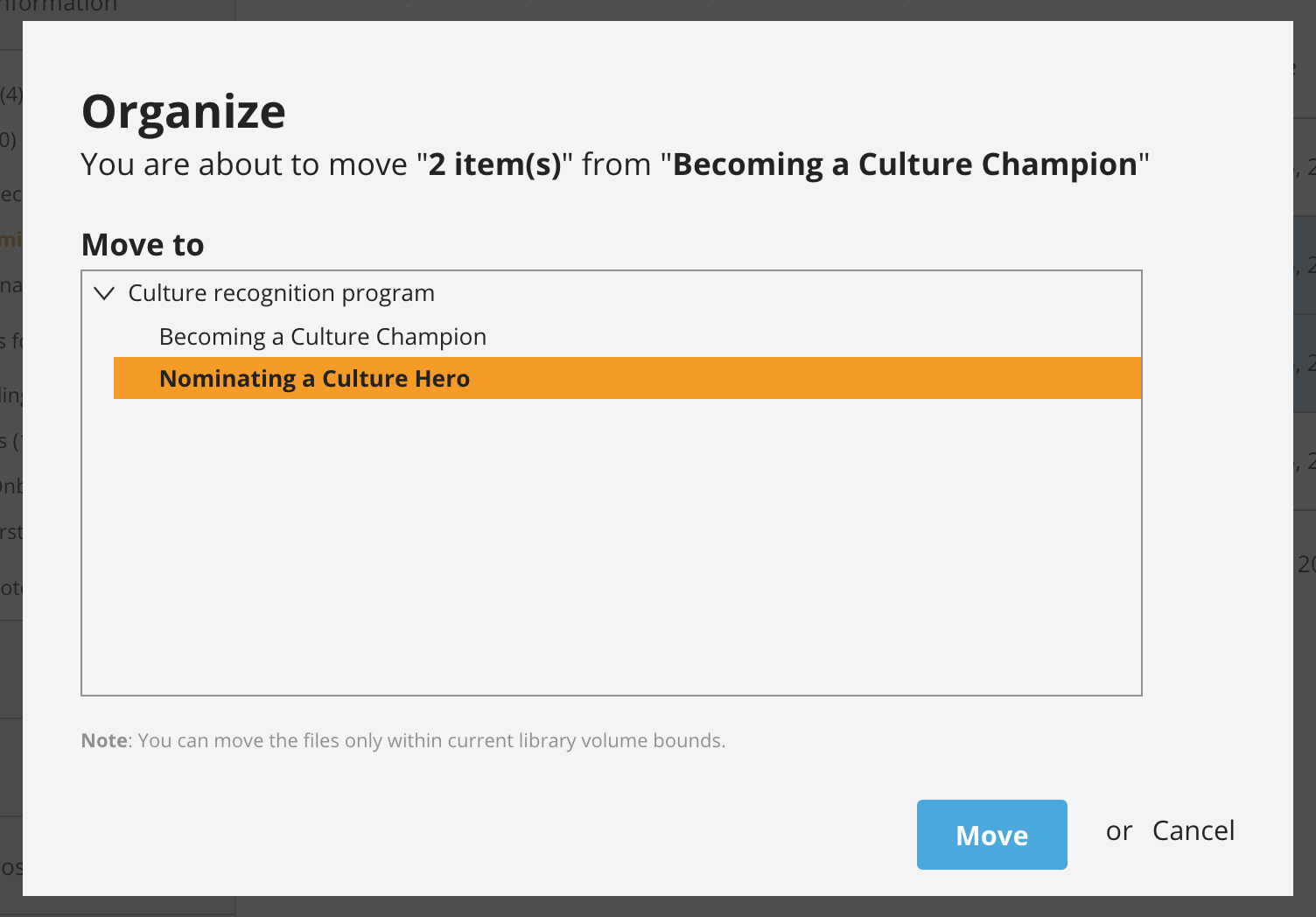 13. Downloading consumption data
Volume Librarians can download data on how their files are being consumed, including the number of views and downloads, by clicking on "Export Volume usage stats" in a Volume's i-menu.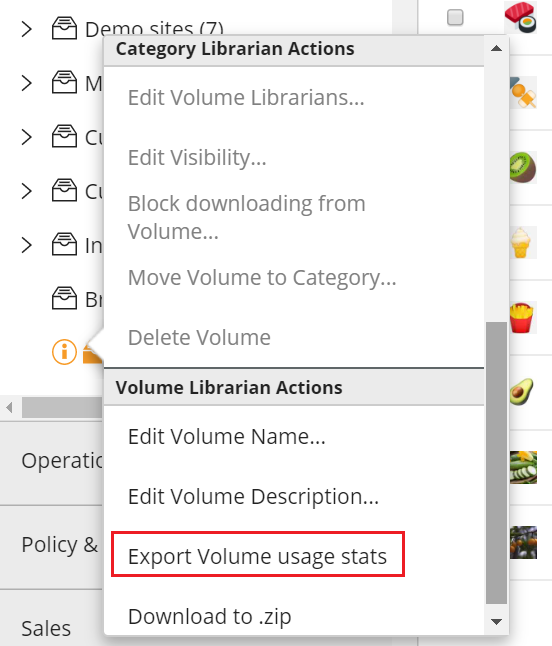 Alternatively, if you click on the "Sort by" arrow icon in the action bar, you will have the option to sort all the files in your Volume according to views or downloads, which will help you to quickly see which documents are being accessed the most.
14. Exporting a Library Volume
Librarians can export the entire content of their Volume to a zip file by clicking on Download to Zip in the i-menu of their Volume.
15. Moving a Library Volume to another Volume
If you want to move the entire or partial contents of one Volume into another, you will need to download and re-upload the files. Please note that you will also need to be the Librarian of the target Volume to be able to upload files to it. The following steps outline how to do this:
1. Navigate to the Library Volume that currently has the content.
2. Check the boxes to the left of the items you wish to move.
3. Access any checked item's action menu and select Download. The contents will be downloaded in a compressed zip file labelled 'libraryDownload.zip'.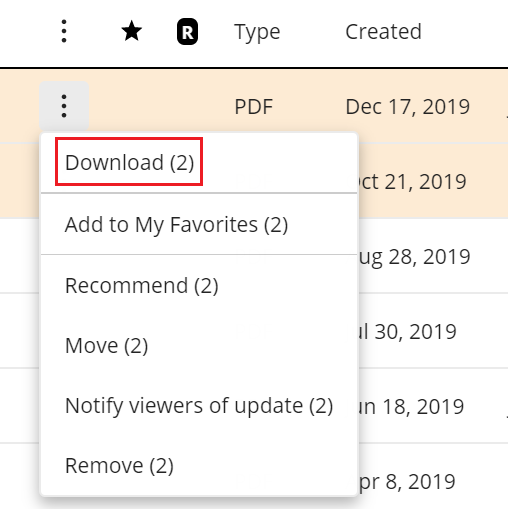 4. Extract the contents from the zip file using your computer's files system.
5. Go to the destination Library Volume and from the action bar, click Add New > Upload from computer.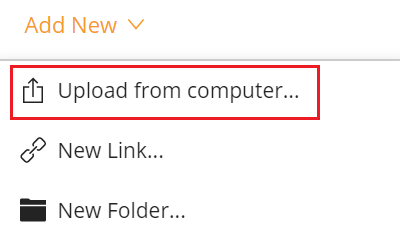 6. Navigate to the extracted files and select them to upload. An upload pop-up will appear onscreen so you can monitor the progress.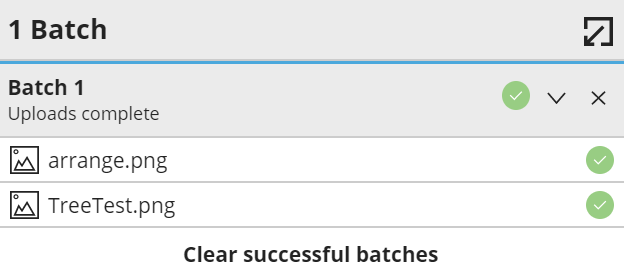 Tip: As mentioned earlier in the article, if you wish to upload multiple items along with the folder they're in, you can drag-and-drop the folder from your hard drive directly into the Volume. (Otherwise you will need to create the folder structure in the new Volume before you start uploading the individual files. By multi-selecting files you can batch upload per folder.)
7. If you choose, you can now remove the content from the original Volume by selecting them and clicking Remove from the action menu.
16. Editing thumbnails
Volume Librarians can edit the thumbnail image that appears next to any of their files, folders, or links (by default it will usually be a shot of the first page or first image included in the file or folder). There is no size limit (larger images will be cropped) but browser limitations may cause issues when uploading larger files or certain image file types. To edit a thumbnail:
1. Right-click anywhere on the item or click on its action menu icon (three dots)
2. From the menu, select Info
3. On the Info panel click Edit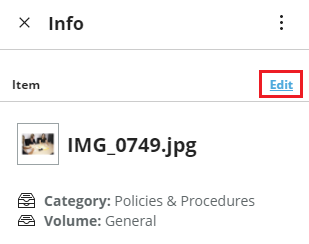 4. On the next screen, click Add thumbnail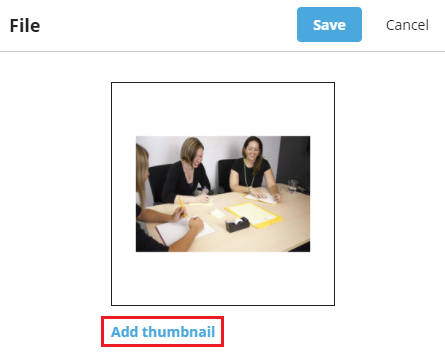 5. Select your image and when ready, click Set image
6. After you have added your thumbnail image, you will now have the options to Change thumbnail and Remove thumbnail displayed on the info panel.