About Tasks
Tasks is an integrated feature of the Jostle platform that enables users to assign, track, and collaborate on work-related tasks. Tasks is also an effective way to manage personal reminders.
System Administrators can disable Tasks at any time in Administration settings > Platform > Enabled/Disabled features.
Creating a task
1. Click on Tasks at the top of the Main Navigation and it will slide out a third of the way over your intranet screen. (NOTE—Tasks acts as an overlay, not a separate view, so you can still navigate through your intranet while it is open)
2. At the top of Tasks, click the "+" in the Action Bar to open a new form (the option to create a task can also be found on the Action menus for Library items and Discussion comments).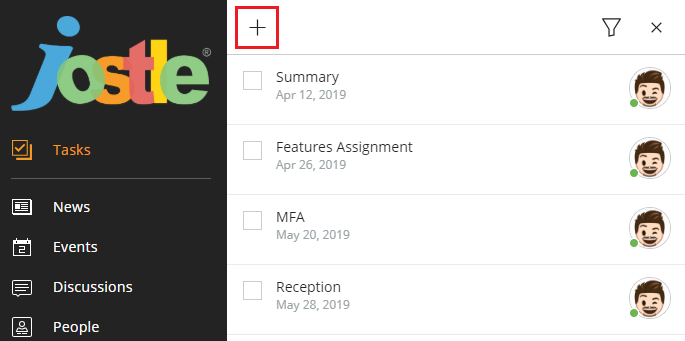 3. Fill out the form with your task details: Name and Assigned to are required, Due date and Description are optional (see below for how to assign more than one person).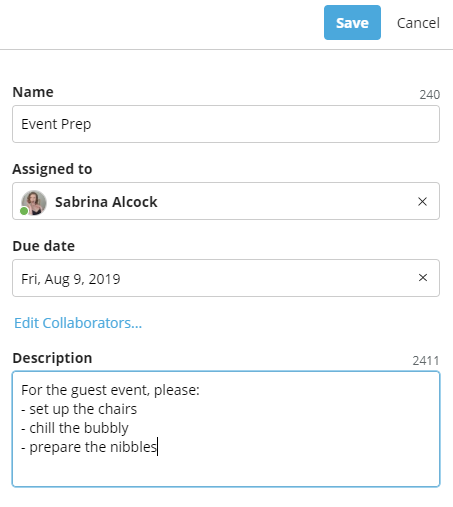 4. When you're ready to send your task, click Save at the top of the screen. The task will then automatically be sent to everyone included on the task.
NOTE—To close Tasks at any time, click on the arrow tab that appears on the top right side of the panel.

Assigning a task
By default, your name will appear in the "Assigned to" field on the task form. To remove yourself (or anyone else) from a task you've created, click the "x" across from the corresponding name.

To assign more than one person to the task, click the Edit Collaborators link and begin typing their name in provided field. You can also remove everyone you've added via Clear.
When you're done adding/removing individuals, click the "<" to return to the main form: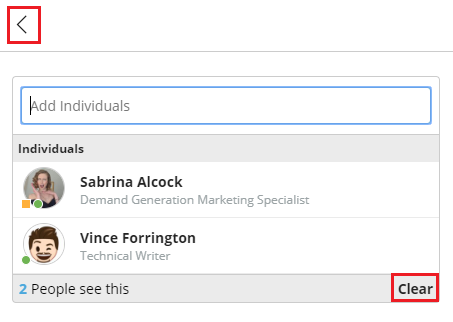 Managing a task
When you open Tasks, your active and completed tasks will appear on the list, with the most recently created or edited tasks at the top.
Click on a task to view its Details. In the Timeline you can review any comments left by others as well as see any actions that have been taken on the task.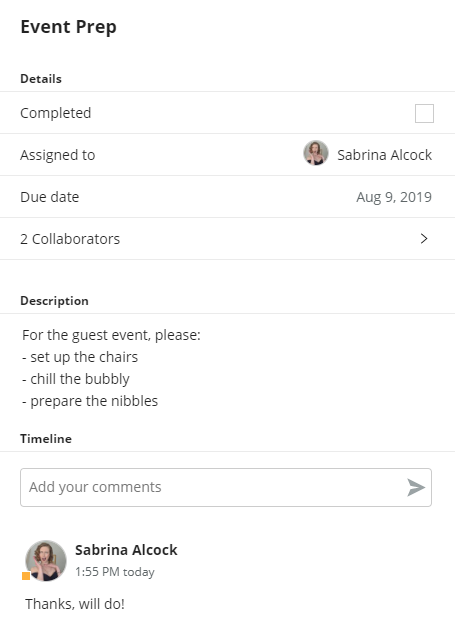 Actions you can take on your task from this screen include:
Mark the task as Completed
Delete the task (via the three dot Action Menu icon in the top right corner)
Add a comment or attachment or @mention someone in the Timeline
Access the Edit screen (via "Edit" in the Action Bar)
Return to the list (via the "<" in the Action Bar)
On the Edit screen you can:
Add or remove people from the task (via Edit Contributors)
Change or remove the Due date
Update the Description
To exit from the Edit screen either click Save or "<" in the Action Bar.
TIP: If a task has been finished but you don't want to delete it, you can check off the box next to Completed, and it will appear crossed out on your list.

Filtering
You can filter your Tasks list to only show specific tasks via the filter icon at the top of the list. The available display options include:
Assigned to me
Assigned to others
Created by me
Completed
Not Completed