Deleting a Contributor will automatically remove all their Profile attributes except for their name and avatar image (both of which can be manually removed). It will not remove any of their past News Articles, uploaded items, posts, comments or likes. 
Delete an individual Contributor
Here are the steps to permanently delete a Contributor and all their data.
Go to the Administration settings > Contributor configuration > Edit/delete Contributors
In the search field enter the Contributor's name
Click Search or hit enter/return on the keyboard
Click the red "X" icon
Select an action in the dialogue and click Delete. You can either:
retain the Contributors's name indefinitely and their avatar image for 6 months
immediately replace their name with their initials and remove their avatar image.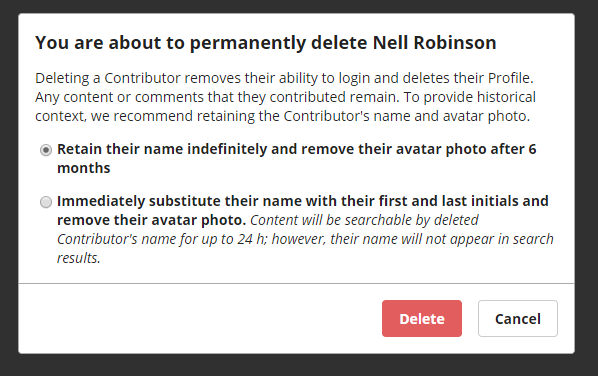 Delete multiple Contributors
First, you will need to have a CSV file containing a list of the Contributors to delete.  It should have one column, with Username appearing at the top, and the list of Usernames (in email address format) following in the rows below. NOTE—when deleting multiple Contributors, their name will remain in the system and their avatar image will be removed after 6 months.
After you have prepared the CSV file:
Go to Administration settings > Bulk manage Contributors> Delete Contributors
Select Choose file and select your CSV.
Click Delete Contributors.
 Delete multiple Contributors via SFTP
If you want to automate the process of bulk deleting users via SFTP see here.