Compatible browsers
Jostle supports the latest two versions of all major browsers*, including:
Chrome

Firefox

Safari (Mac)

Microsoft Edge (Chromium version)
NOTES
Javascript and cookies need to be enabled as well.

Full support doesn't extend to these browsers on mobile. If using an iPhone, iPad or Android device to access the Jostle platform, we recommend doing so via our mobile app instead.

The Jostle application has also been verified to be fully supported by the latest version of Windows (Windows 11).

There is a known issue when trying to use Safari to view videos embedded from a Google-integrated Library. See below for more info.
Safari/Google Drive videos issue
If you have a Google-integrated platform (i.e., you use Google Drive as the repository for your Library), then there is an issue that will occur if you embed a video from your Library into a News article (or elsewhere) and then try to view it using a Safari browser. The video will not load and you'll just be shown an empty screen.
This is due to Google's cookies being seen as third-party cookies (because Jostle isn't hosted on google.com). And since reading third-party cookies is considered "cross-site tracking" by Safari's Intelligent Tracking Prevention (ITP), Safari blocks this action, resulting in the missing video: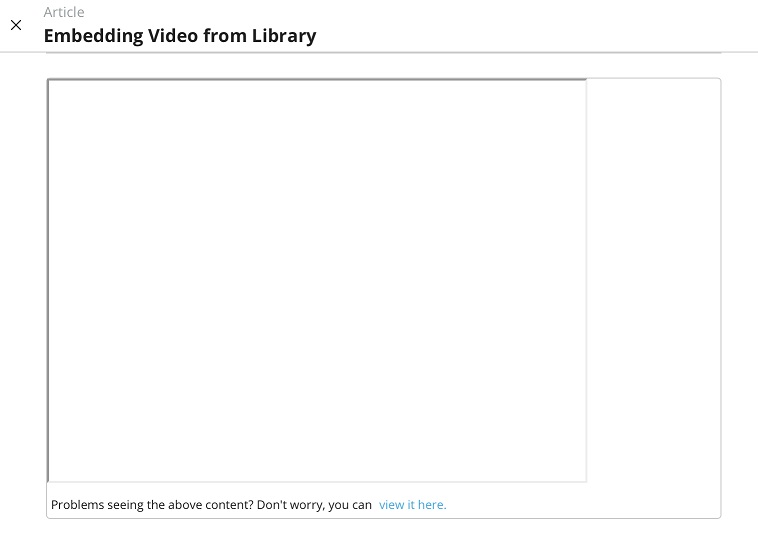 There is a quick and easy workaround to this, but it involves disabling a Privacy setting.
To view embedded Google Drive videos in your platform via Safari
Open your Safari Settings
Go to Privacy
Uncheck the option "Prevent cross-site tracking"

NOTE—as disabling this setting may make it easier for advertisers to gather data about your browsing habits, it is recommended that users only temporarily disable it (and on an "as-needed" basis).
Browser notifications
The first time you access your Jostle platform, you will be given the option to choose whether to receive Jostle Notifications on your browser settings. This feature is available on Chrome, Firefox and Safari. Browser notifications appear in the corner of your screen and look as shown below (appearance may vary by browser):

If you later find you want to change your initial setting, here's how:
Google Chrome
In the top-right corner of the browser window, click the Chrome menu.
Then click on Settings.
Scroll down to the "Privacy & Security" section and click on Site settings.
Scroll down to "Permissions" and click on Notifications.
Scroll down to Customized behaviours > Allowed to send notifications
Locate the "jostle.us" item and to its right, click on the "More actions" icon and select Remove.
Access Jostle again and select your new preference when the Browser notification dialog appears.
For mute and other settings, go to Chrome support page.
Firefox
Open your Jostle platform.
In the address bar, click the i-icon to bring up the Control Center.
Click the arrow in the prompt.
Click "More information" to bring up the Page Info window.
Click the Permissions tab.
Under Send Notifications, choose your option (if all choices are greyed out, remove the checkmark next to "Use default").
Safari (Mac)
In the Safari app, go to Safari > Preferences.
Then go to Websites > Notifications
Navigate to "jostle.us"
Select your option to allow or deny Jostle notifications
Notification sounds
We push notifications to your browser and to your phone's notification center. The alert is up to the Browser and the Phone you are using. Browsers may require an add-on installation.
*As Microsoft 365 ended their support for Internet Explorer 11 on August 17, 2021, Jostle has phased out support for the browser as well. While IE11 can still be used to access the Jostle platform, we can't make any guarantees that the platform will work as expected. We highly recommend using one of the other browser options listed above.