My Preferences is where you manage all your customization settings. You can access My Preferences via the "Slider" icon in the bottom left of the Main Navigation.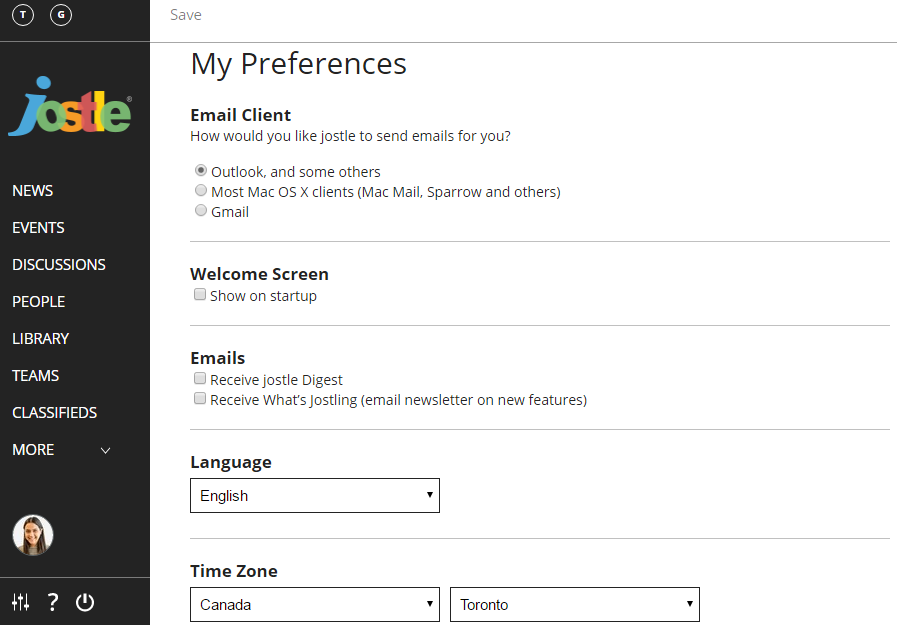 In My Preferences you have the ability to set the following:
| | |
| --- | --- |
| Email Client | How the Contributor would like to send emails from Jostle. |
| Welcome Screen | If the Contributor wants to see the welcome message when logging into the system. |
| Digest Emails | If the Contributor wants to receive their intranet's weekly Digest. |
| What's Jostling | If the Contributor wants to receive our newsletter that highlights significant new features and changes. |
| Languages | Contributors can set their preferred language from the available options (English, French, German, Russian, Swedish, Danish, Polish). |
| Time Zone | Contributors can set their timezone. The timezone by default will be the browser's setting. |
| Date Format | Contributors can set how the date is displayed throughout the platform. |
| Time Format | Contributors can choose between a 12-hour clock or 24-hour clock. |
| Default View | Contributors can set the default view that their intranet opens to. Also, they can navigate back to that view by clicking their organization's logo. |
| Manage Notifications | Contributors can manage the notifications sent from NEWS, EVENTS, DISCUSSIONS, LIBRARY and CLASSIFIEDS. *Certain email notifications cannot be disabled. |
| Sign-in & Security | Contributors can change their password and (if applicable) reset their Multi-factor Authentication settings (Jostle credentials only). |
Once your preferences have all been set, click the "Save" button at the bottom of the screen or scroll up to the Action Bar and click the "Save" link.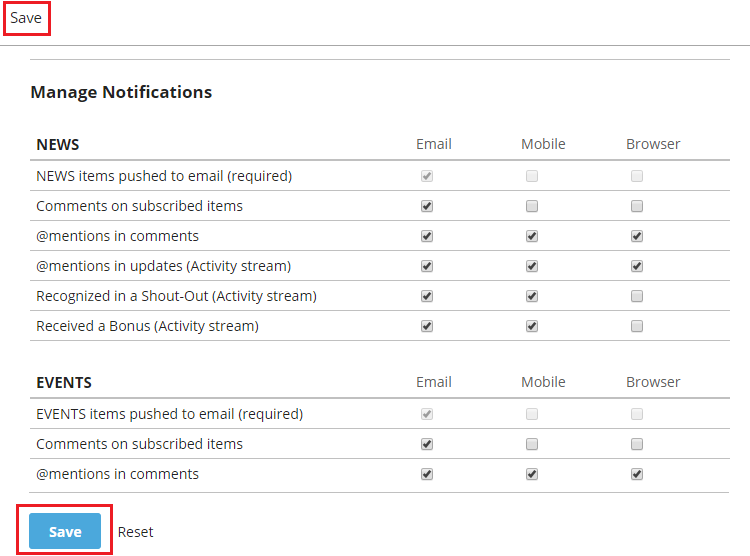 Preferences in Mobile
A streamlined version of My Preferences can be accessed via the Jostle mobile app. The available features in Mobile include:
Language
Date Format
Time Format
Default Mobile View
Newsletter/Digest emails
Manage Notifications*
Password
* When setting your Notification preferences in Mobile, be sure you have also set your phone permissions to "Allow" notifications from Jostle.
To access My Preferences in Mobile, tap "Menu" from the Tab Bar at the bottom of the mobile screen, then tap the Preferences "slider" icon.