Overview
Bonusly is a peer-to-peer reward service that enables employees to use micro-bonuses as a way to recognize their coworkers. Once an organization has set up a Bonusly account, its employees are given a monthly allowance that they can then distribute as micro-bonuses. Employees who accumulate micro-bonuses can then exchange them for different types of rewards at Bonusly.
NOTE - for Administration-level information about Bonusly integration, please see this article.
How to post a Bonus
If Bonusly's integration into your organization's Jostle has been enabled and your account has been activated, you'll be able to give micro-bonuses similarly to how you already give Shout-Outs.
1. Go to News > Activity
2. Click the Activity input field

3. Use @mention to indicate the individual(s) you want to include in the Bonus, then select the "Bonus" action below the Activity input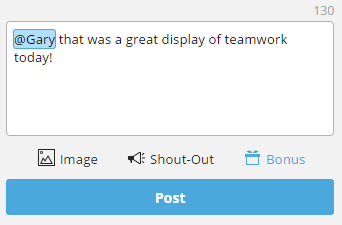 4. On the Bonus form, add anyone else you want to include in the Bonus and then scroll down to "For" and select the reason for the Bonus (NOTE - If you wish to remove an individual from a Bonus, just click the "x" to the right of their name)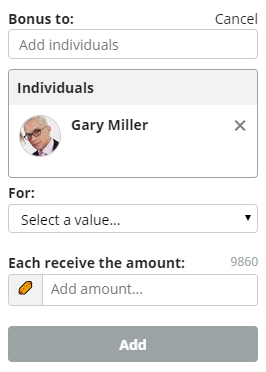 5. Next, in the "Add amount" field, enter the amount you want each recipient to receive (you can check your current available balance in the right corner above this field)
6. After you have completed the form, click "Add" to insert the Bonus
7. Back on the Activity input, if everything appears correct, click "Post" to publish your Bonus (there will be a slight delay for confirmation on Bonusly before Jostle will publish the Bonus to the Activity feed)
NOTE—this is a one-way integration (Jostle > Bonusly). You must post the Shout-Out/Bonus in your platform's Activity feed, and it will then be reflected in Bonusly, not the other way around.
Depending on organization preferences:
The amount of a Bonus may be visible to everyone or just to the giver and recipient(s).
Bonusly accounts may be activated for all members of an organization or just for selected groups and individuals.
Bonusly account management
You will need to log in to your account on the Bonusly website in order to view or redeem your bonuses or access your Bonusly profile or settings.
To do this:
Sign in to your account at bonus.ly
Click the arrow next to your profile image
Select the area you want to access from the drop-down menu