If your organization has enabled Microsoft Teams integration for your platform, then you can connect your accounts and have any of your Jostle notifications forwarded to your MS Teams Chat.
NOTE—in order to connect your accounts, your Jostle platform username and Microsoft username must be the same.
Connecting accounts
1. In the Main Navigation, open the action menu next to your name/avatar image and go to My Preferences.
2. Scroll down to Slack & Microsoft Teams and click the blue Connect Microsoft Teams button.

3. On the popup screen that appears, sign in to your Microsoft account.
NOTE—if you are an MS Teams Admin for your organization, you may also see a permission screen that contains the following: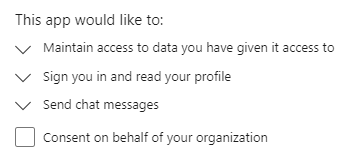 If you see this screen, do NOT check off the box next to "Consent of behalf of your organization". Just click the Accept button at the bottom.
4. After you sign in, your accounts should be connected and "MS Teams" will be enabled as a notification option in your Manage Notifications settings.

5. In your MS Teams, you should also receive a Welcome card from "Jostle Notifications". Now, whenever a notification from your platform is forwarded to your MS Teams, "Jostle Notifications" will let you know.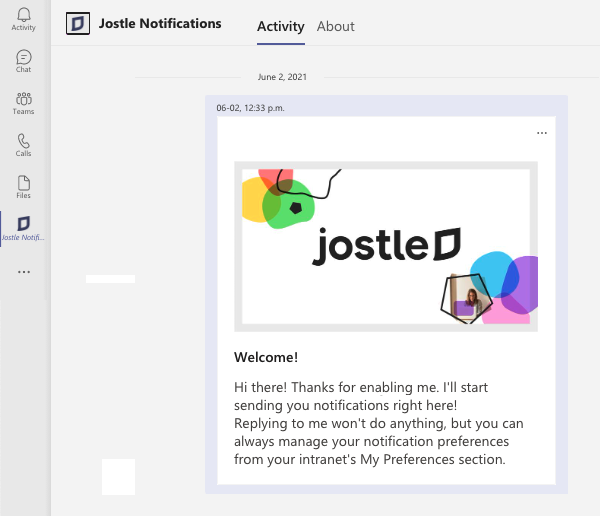 NOTE—if you ever receive a notification from MS Teams and/or Jostle about having an expired access token, you can correct this error by going to your My Preferences and reconnecting your MS and Jostle accounts by redoing the steps above.
Disconnecting
If you no longer wish to receive any Jostle notifications in MS Teams:
1. Go to My Preferences > Slack & Microsoft Teams.
2. Click the grey Disconnect from Microsoft Teams button.

3. On the confirmation screen, click the red Disconnect button.