With the Third party access (API keys) feature, users can follow this two-part setup to use Zapier to integrate Discussions (that they are a Moderator for) or Tasks with other web applications to perform automated actions.
Table of contents
1. Generating your Discussions API key
*Before you begin, ensure you are already registered with a Zapier account
1. If your System Administrator has given you Discussions API management rights, you should see a gear icon at the top of your Discussions list. Click on it to open the Discussions Settings screen.

2. Under Third party access (API Keys) you should see two headings: Your endpoint URL and Key management.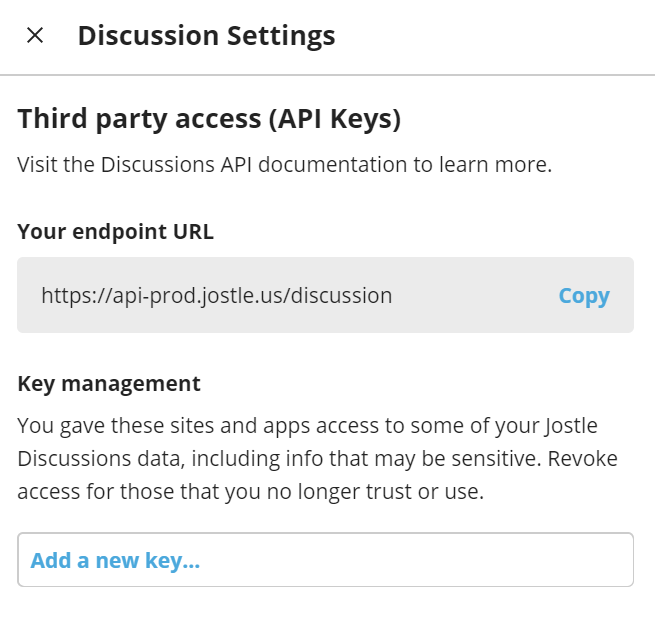 3. Go to Key Management and click Add a new key. In the Description field, give the key an appropriate name (i.e. "Zapier"), and then click Add.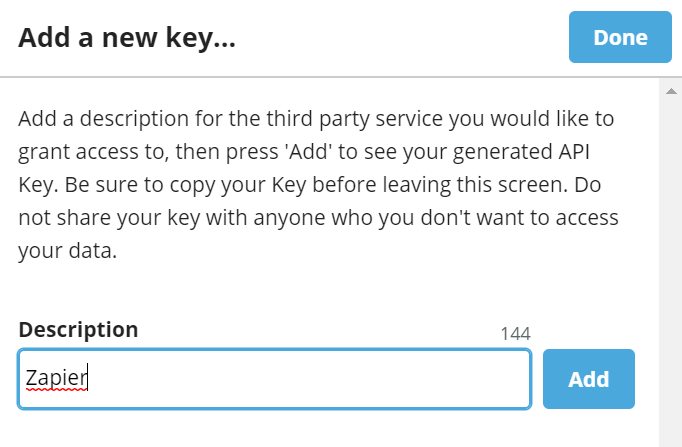 4. You should now see your API key in a yellow field. Click Copy and save it. This will be the only time you will see that key, so ensure you have it copied and saved.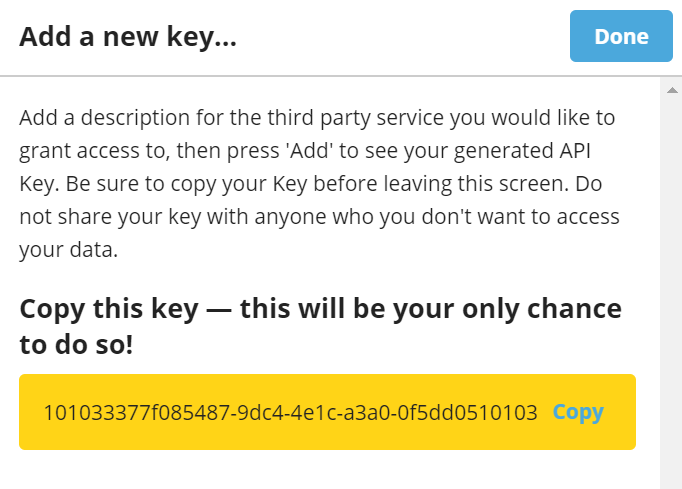 5. You can now log into your Zapier account and complete the rest of the setup below ("Making a Zap").
2. Generating your Tasks API key
Tasks is also available as an endpoint option in Zapier. The process you need to follow for generating a Tasks API Key is exactly the same as the one above for Discussions. Once your System Admin has given you Tasks API access, just look for the gear icon in Tasks and then follow the same steps shown above.

3. Making a Zap
If you are not familiar with Zapier or Zaps, there are plenty of tutorials and guides available on the Zapier site.
Making a Zap is broken down into two parts, and each part has multiple steps:
Part 1 (When this happens...) is where you'll select and set up the app you want to integrate with Discussions or Tasks.
Part 2 (Do this...) is where you'll select and set up the Jostle app* and configure the post or task you want to integrate with the app from Part 1.
*There are many apps can be used for Part 1, but only the Jostle app can be used for Part 2.
To begin this part of the setup go to the Zapier home page, expand the column on the left and click the Make A Zap button.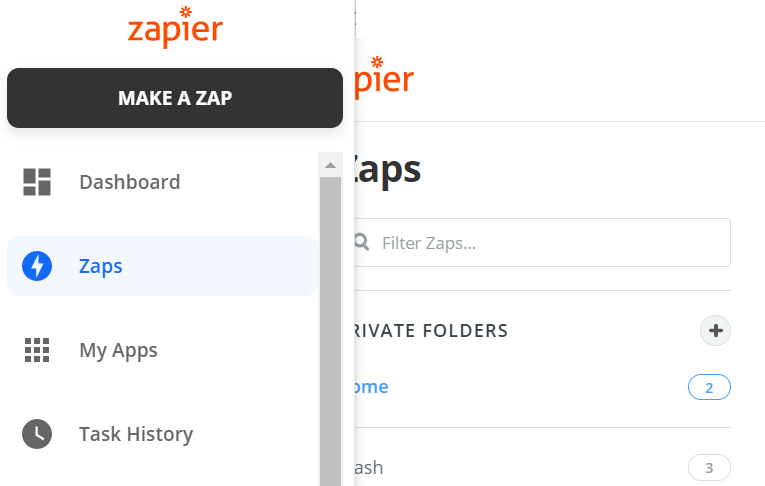 NOTE—the following example is for a Discussions post Zap. Specifically, one that creates a post in a Discussion whenever a certain event is added to Google Calendar.
And while the workflow would be the same if you were creating a Tasks Zap, some of the content choices shown below would obviously be different (e.g., for Discussions, you select a target Discussion for your automatic post, for Tasks, you can add collaborators or multiple assignees to the task you're creating).
If you are unsure of anything at any time during the setup you can click the Guide button to the far right. This will slide open an info panel that you can follow through each step:

Making a Zap: Part 1 (When this happens...)
1. Choose App & Event
After clicking the Make A Zap button , you'll the see the apps that are available to you. After you select an app, you will be able to select a related trigger event.

2. Choose Account
Next, you'll enter your account connected with the app you've selected.

3. Customize Event
Next you'll enter specific details that will identify your event. For example, I chose for the Zap to search my Google Calendar for events posted under Customer Communication that have the word "Voice" in their title.

4. Find Data
To complete this part of the setup, Zapier will do a test search for a matching event. If successful, you can move on to Part 2.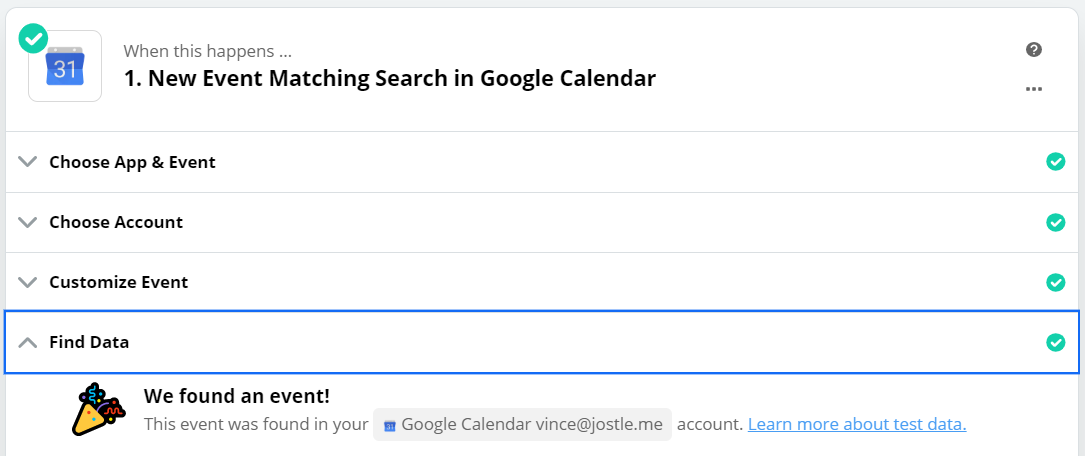 Making a Zap: Part 2 (Do this...)
1. Choose App & Event
Here is where you'll search for and select the Jostle app and then indicate whether this Zap is for Discussions or Tasks. For the purposes of this example, you would select "Create a Discussion post"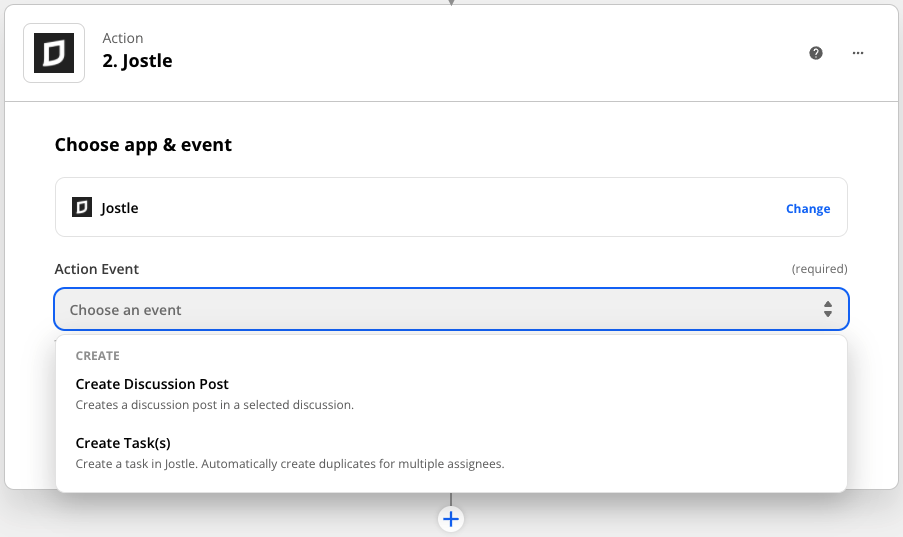 2. Choose Account
In this step you'll encounter an access permission pop-up. Select Discussions and enter the API key you previously copied and saved into the appropriate fields and then click Yes, Continue
This will confirm your Jostle account and link it to Zapier.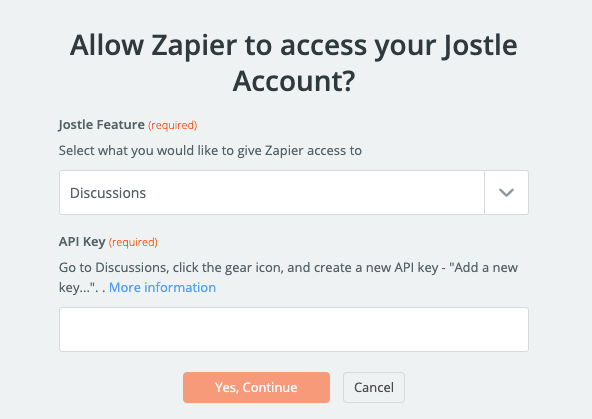 3. Customize Post
Here is where you'll build the content that you want the Zap to post for you.
For the Discussion Post Content you can enter either or both of the following:
customized text
pre-formatted data applicable to your chosen app/event.
For Discussion, click on the arrows and select the Discussion you want your Zap to post to. Remember, you will only see Discussions for which you are a Moderator.

NOTE—these posts will appear in your Discussion timelines as normal posts from yourself. However, there will be an indication below your name to indicate that they are automated by Zapier.

But if you want to emphasize that they are not being posted by you, in the next section, you can opt to remove your name and have the Zap posted from "Bot" instead.

Whichever you choose, click Continue when you're done.
4. Send Data
Once you've configured your post, if you know you have a matching event already available you can send a test Zap. If all goes well, you should see a Success screen.

And your test post will have been added to your chosen Discussion.

When you return to your Zapier Home page, you should see now your new Zap listed there, with a toggle for when you want to turn it on or off.

4. Zap Templates
For your convenience, we've made some basic Zap templates for a number of popular apps. Once you become familiar with Zapier, you can use one of the shortcuts linked below (or any found on our integrations page) to create your own versions of these Zaps.