Before you begin, make sure you are already familiar with the following:
In addition to webpages, you can also embed forms (i.e. Google Forms, Microsoft Forms, Wufoo) in Links. One option this can be used for is to create a permanent Suggestion Box for your org that lives right in your platform. Here's how:
Creating a Suggestion Box
(NOTE—The following walkthrough describes the process using Google Forms)
1. Open Google Forms, go to Templates and click on the Customer Feedback form.
2. Remove any unnecessary sections from the form by clicking on them and then clicking the trash can icon. For your basic Suggestion Box, it is recommended that you just keep the Feedback and Suggestions for improvement sections and delete the Feedback Type section.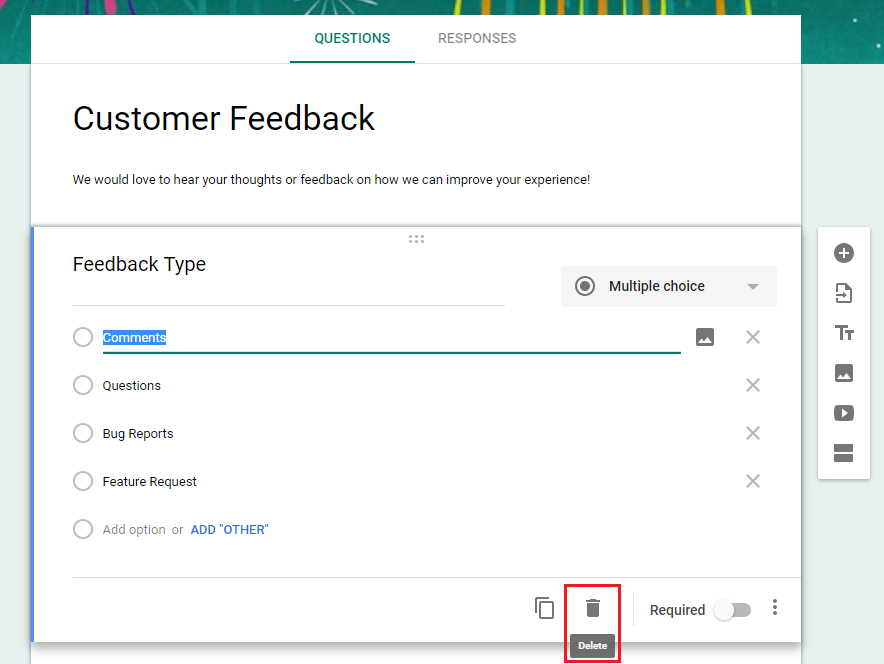 3. Make adjustments to the other sections as needed (change the wording, remove any "required" settings). If you want to let people participate anonymously then you can remove the Email and Name sections completely or indicate that they are optional fields).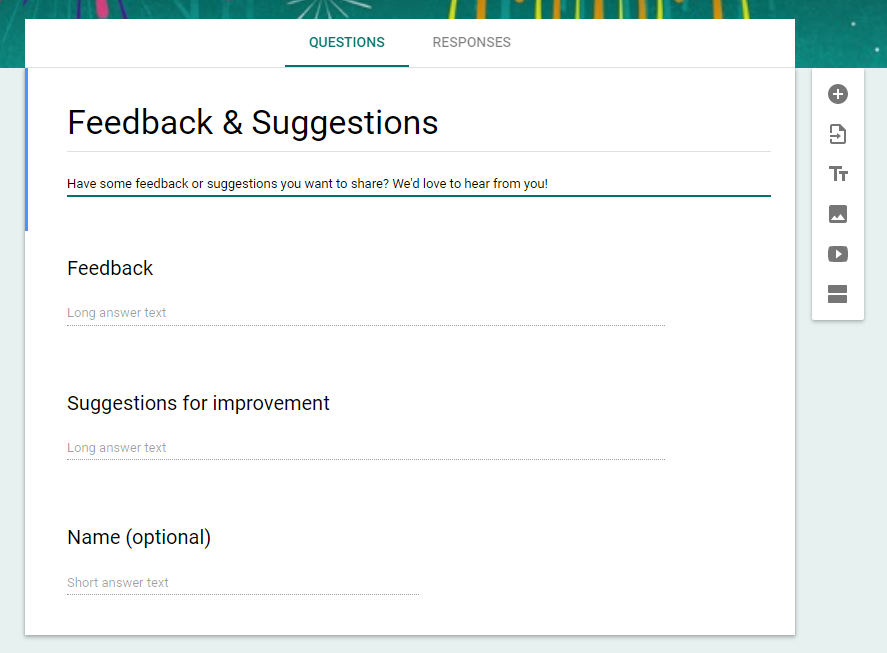 4. Next, click the Settings icon in the top right corner and uncheck the box next to "Restrict to users..." (embedding will be prevented if this is left checked). Recommended setting, especially if your Suggestion Box is anonymous, is to leave all boxes unchecked).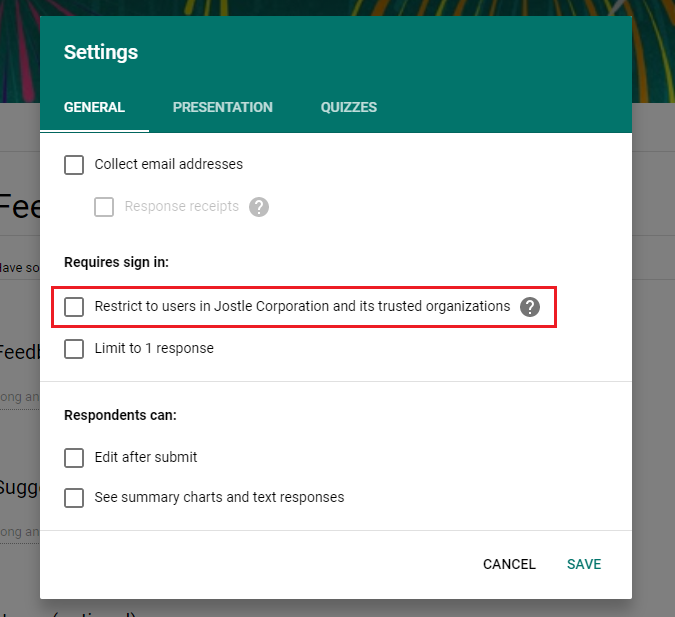 5. Make any customization changes you want to the theme and layout colors. Once you're ready with your form, click the SEND button (don't worry, you won't actually be sending it anywhere).
6. On the Send form screen, click the link icon in the middle and copy the URL.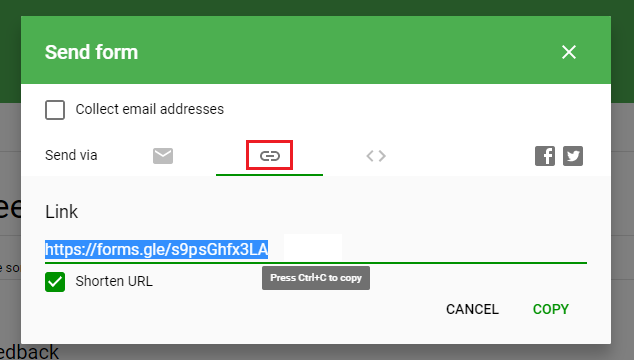 7. Add a New Link form in an appropriate section in your platform's Shared Categories links. After pasting the copied URL into the form, it may take a minute for the Embed option to become enabled, so instead of waiting, just click Save.
7. After saving the link, you should then be able to use the Edit option from the action menu to go back and check off Embed and then Save. (The same steps that are shown here).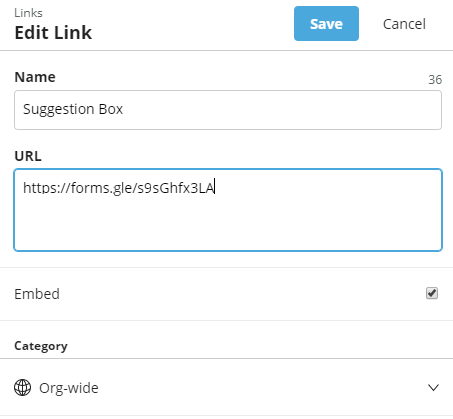 Once your Suggestion Box is embedded you can add extra prominence to it by making it one of the Custom Views in the Main Navigation (via Add to Custom Views from the link's action menu).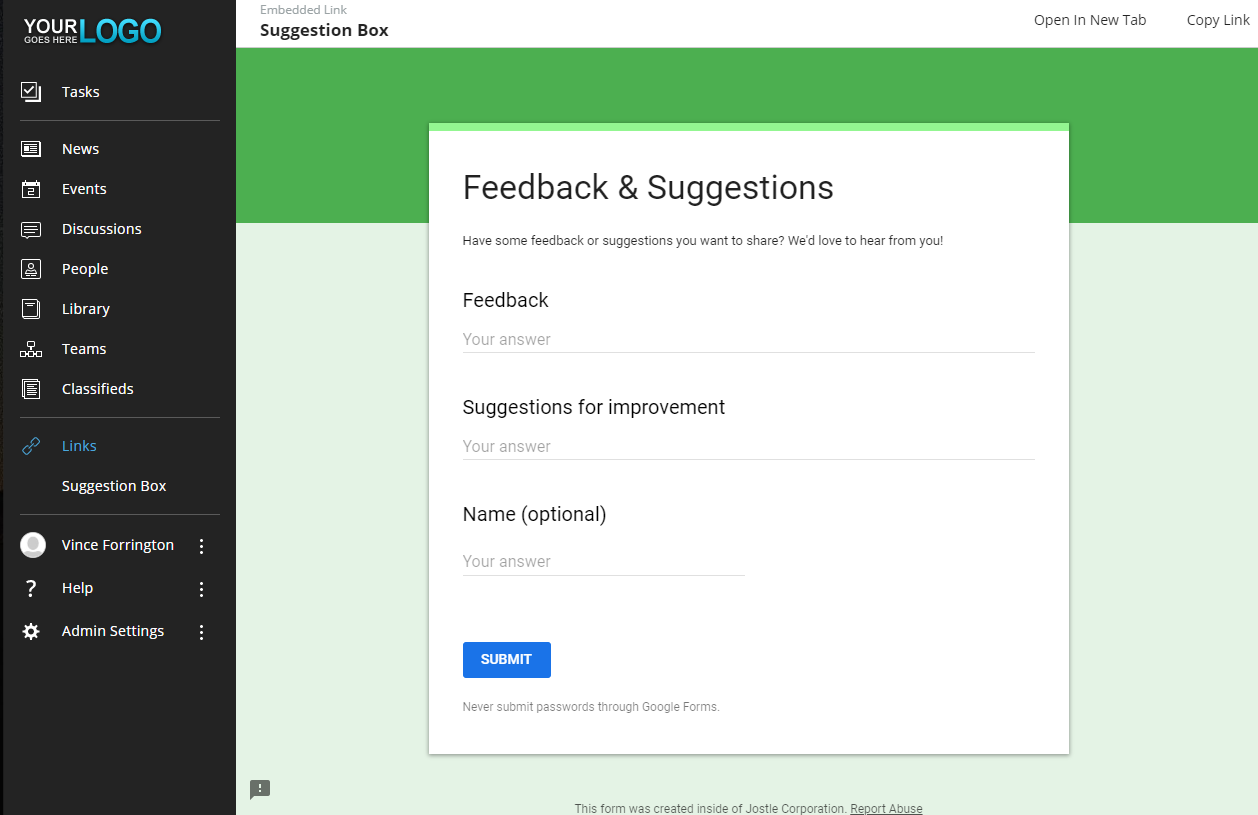 NOTE—By default, you will be able to track and view any submitted responses via the original form in your Google Drive.