JostleTV is an optional feature that allows you to stream your intranet on any number of connected display devices. If you're interested in adding JostleTV to your intranet package, please contact Support or your Customer Success Manager.
Once JostleTV is enabled on your intranet, you will see the TV icon at the top of your intranet's Main Navigation. You can then begin the setup.
Table of contents
Connecting to JostleTV
Connect to JostleTV using any of the following devices:
Computer monitor (PC or Mac)
Widescreen TV used as a computer monitor*
Smart TV with browser capabilities.
Android TV with the JostleTV app. (Recommended)
*16:9 aspect ratio is ideal
JostleTV can be run on the following browsers:
Configuring JostleTV
Enabling JostleTV
Before you get started, you'll need to enable JostleTV as follows:
Click the Admin Settings link at the bottom of the Main Navigation
Then go to the Platform section and select Enabled/Disabled Features
Scroll down to JostleTV and select Enabled
Click Save at the bottom of the screen 

Once you navigate to a new view or refresh your screen, you should see a TV settings option appear on the Admin Settings action menu in the Main Navigation (see image below), confirming JostleTV is enabled.
To set up a new JostleTV Program (System Admins):
At the bottom of the Main Navigation, click the action menu icon (three dots) next to Admin Settings.
From the popover menu, select TV settings                                                                                                                                                                                                                                                                                                                                        
Go to Programs and click on Add a Program...                                                                                  
On the Add Program page enter a Name for the Program 
Then select your

Program length

 (viewing time)
Choose a Contributor with the view permissions you want to associate with the Program (see more below).
When you've completed the rest of the form, click Save at the top of the screen.                                                                                                                                                                                  
Your Program will now appear on the TV settings screen
TV settings vs Watch TV
The TV settings option, found in the Main Navigation on the Admin Settings action menu, is where you go to manage and run the JostleTV Programs to display on linked devices to the rest of your org.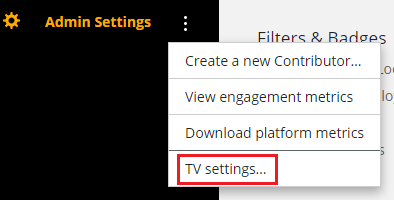 The Watch TV option, found in the Main Navigation on your Profile action menu (the three dots next to your name) is a for individuals who want to run JostleTV on their own desktop. It is not meant to be used to broadcast JostleTV to your org. It runs a set program ("Long" with all Activity items included) that automatically times out after 4 hours and is not configurable via TV settings > Program.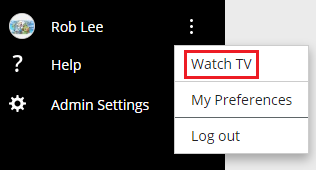 Managing multiple Programs
When you target a Contributor to a Program, it maps the Program's settings to that Contributor's Profile. To run a new Program on a display device, it's targeted Contributor must sign into their account on the device in question (unless you're linking devices). Then, when JostleTV is enabled on that device, it will use the settings for the Program associated with that Contributor.
To demonstrate, here's an example scenario:
You create a JostleTV Program that runs a short-length program that only includes Updates from Activity.
You name this instance "Quick Program" and add Employee X as it's Associated Contributor.
Employee X signs into his intranet account on the display device set up in your organization's break room and enables JostleTV.
The "Quick Program" settings are automatically detected and the break room display begins running the short-length/Updates-only JostleTV instance.
TIP: For better management control, it is recommended that you use a dedicated View Only Contributor account as the targeted Contributor rather than assign the role to an existing Contributor's account.
NOTE—if you're creating a brand new Contributor account specifically to be the targeted Contributor, create it as an Internal Contributor account first, and then switch it over to a View Only Contributor (via Administration settings > Contributor configuration > Edit/delete contributors) after it has been activated.
TV setup options
Connect using a widescreen TV as a PC/Mac monitor
Check that you have an available HDMI port on your PC/Mac and one on your TV (they look similar to USB ports, but wider and with notched ends).
Get an HDMI cable and use it to connect the ports on your PC/Mac and TV.
Using your TV's remote control, set the TV to the input you've connected (usually it will say something like "HDMI 1").
Mac: Your Mac screen should appear on your TV after a few moments.
PC: Press the Windows button + P to open the Projector menu and select your display option ("Duplicate" will show the PC display on your PC and your TV, "Show only on 2" will only show the PC display on your TV).
If you wish, adjust the Display and Sound settings in your Windows Settings/Apple System Preferences.
Open a browser window on your connected PC/Mac and login as the targeted Contributor for the appropriate instance you wish to run.
Then on Main Navigation to start running JostleTV on that device (for System Admins, click the icon and then select "Watch TV").
Connect using a TV with a built-in browser (Smart TV) or an Android TV device
Linking devices/PINs (Smart TV/Android TV)
After you create your Programs you can run them on specific devices by linking them via a PIN code. This method also enables you to display the same Program on multiple devices (in these cases, you will still have to link the devices individually, so the Program will not be playing in sync across all of them, but the content being displayed will be the same).
NOTE—this method does not apply if you're running JostleTV on its native device (i.e. directly from a logged-in intranet displayed on a monitor). In this case, just follow steps 7-8 of the previous directions above.
Linking a Program to a display device/Smart TV (for System Admins)
Connect your Smart TV to the internet, either directly through your router with an ethernet cable or by setting up your TV's wireless connection (usually found in its Network Settings menu).
On your TV, open your browser* and enter the following URL: https://tv.jostle.us
From the screen that appears, copy down the numeric code                                                                                                                                                                                                                                                                                                                                                     
In the Main Navigation, click the action menu icon (three dots) next to the Admin Settings link.
From the popover menu select TV settings
Then go to Program (Name) > Linked Devices
Click on "Link a device..."                                                                                                                                                                                                                                                              
On the popup screen enter the code in the field provided.                                                                                                                                                                                                                                                                                                                                          
Click "Link" and the Program will now run on the linked device, showing content based on the Contributor account targeted to that Program (NOTE—there may be up to a 15-second delay before the Program begins).
*The built-in browsers of some Smart TVs may cause performance issues. If your Smart TV supports the installation of other browsers, JostleTV runs best on Chrome, Firefox, and Safari.
Linking a Program using Android TV (for System Admins)
TIP: If you are considering an Android TV box, it is recommended that you use the Mi Box. Avoid using a knock-off/imitation Android TV box, as they will cause performance issues with JostleTV.
On your Android TV device, download the JostleTV app from Google Play 
Once installed, open the app.
Follow steps 3-6, above.
NOTE—if you do not see the screen with the numeric code after opening the JostleTV app, try uninstalling and reinstalling the app.
Disabling the screen saver mode in Android TV
To prevent the Android TV screen saver mode from disrupting your JostleTV programming:
Click the Settings icon in the upper right corner
Select About
Go to Build and click on it multiple times, until you see "You are now a developer"
Then go back to the previous screen and select Developer Options
Enable the "Stay awake" option
***
About Programs
Program content
The items that are shown in your Program will always be the highest-ranked items in the content target you selected for your Program.
Ranking is based on a combination of three factors:
Time since last shown (the longer the time, the higher the ranking)
Time since posted (the longer the time, the lower the ranking)
Social metrics/Likes, comments, views(relative to the content average)
Once an item gets published, its cycle for appearing in JostleTV should generally last for about a week. However, if an item has received a high number of likes or comments, its popularity could extend the time of its cycle.
NOTE—if you don't have enough current content, the system may pull some popular older items to cycle into the Program to avoid repeating the same current pieces over and over.
Program length
The program length options are generally used to set how much time elapses before an item is shown on your JostleTV again. They're not used to create a set cycle of items for your program (the distribution of qualifying content is ultimately random), but rather to ensure that your items don't get shown repeatedly within a set time frame.
As well, the length only indirectly affects the number of items you'll see, as longer programs will spend more time displaying each item than shorter programs.
To illustrate, say a News Article and an Album are currently in your JostleTV program:
A Short program may show 2 Article comments and 2 photos from the Album.
A Long program may show 5 Article comments and 5 photos from the Album.
With that knowledge, you can determine which program length would be suitable for the area(s) where you have a display running JostleTV.
For example,
Short programs would work well in high traffic areas, like hallways.
Medium programs would be appropriate for front desk/lobby areas.
Long programs would work best in lunch or break rooms.
Content cycle
If you regularly publish enough content you should never see the exact same thing on JostleTV cycle after cycle after cycle. But,  as mentioned above, even if your fresh content does begin to dwindle, older items may be brought in to your cycles to keep them from getting too repetitive.