Actions
When viewing the items in a Volume in Library, you can see the actions available to you by right-clicking on an item's row (or by clicking the "three dot" Action menu icon at the far right of the row).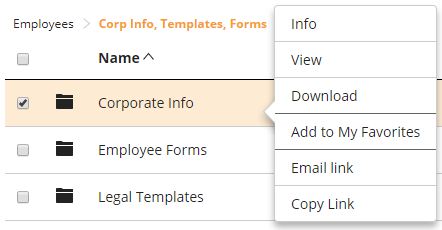 The basic actions available may include some or all of the following (actions vary based on item file types and permissions):
Info
View
Show in Library
Add to/Remove from Favorites
Email link
Copy link
Download
NOTE—if you are a Volume Librarian, there will be additional management actions available.
If you use the checkboxes (found to the far left) to select more than one item, and then access the Action menu, you'll see the actions available are only those that are applicable to both items being selected.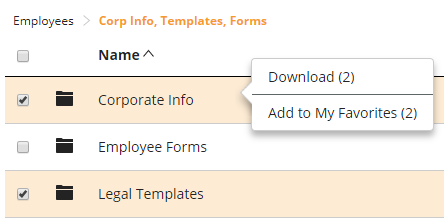 Customize
When viewing the items in a Volume in Library you can also choose what column features you want to appear visible. Do this by right-clicking anywhere in the column header (or use the Action menu icon on the far right of the column header) and checking off your selections.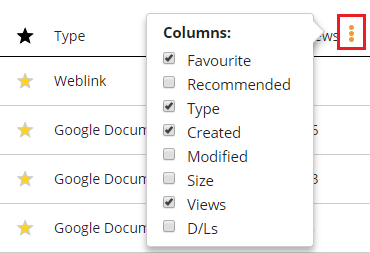 You can enable or disable the following columns:
Favorite (Star)
Recommended (R)
Type
Created (Date)
Modified (Date)
Size
Views
D/Ls (Downloads)

Fixed features that cannot be disabled are:
Presentation
You can also change the visual presentation of items in your Library.
Display options
In the far right corner of the Action bar:
Click the View icon to toggle between List view and Tile view

In Tile view, the Checkbox, Favorite, Recommended, and Action menu icon features are fixed and are the only item features that are visible. The remaining features can only be seen in their columns in List view.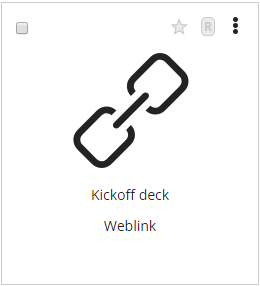 Sorting options
Click the Sort icon to choose which column you want the items sorted by.
Click the Sort arrow next to the selected "Sort by" column header to order the items in one direction, click it again to order them in the reverse direction.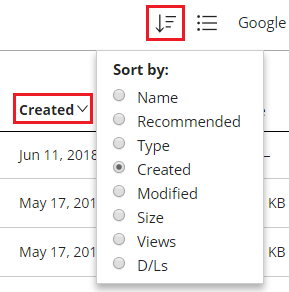 TIP: When viewing items in the left navigation, you can hover over the right border and then click and drag your cursor to widen the column, making it easier to view any Volumes with extra-long titles.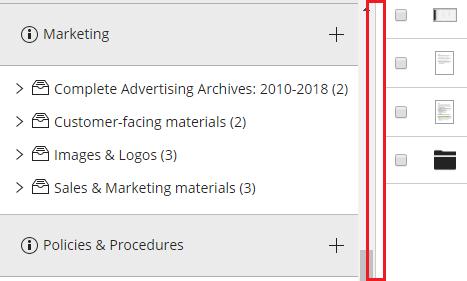 My Favorites
With My Favorites, anyone can create a list of the files, forms, and any other Library items that they want to have bookmarked for quick access.
Just right-click any item in Library and select "Add to My Favorites" from the popover menu. The item will then be given a star icon and placed in the My Favorites category, located at the top of the Library left navigation.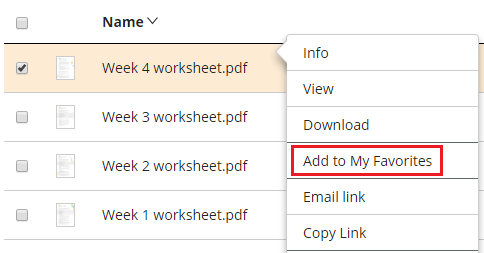 Alternatively, if you hover under the Favorite column you can click on the greyed-out star to instantly "Favorite" an item.

My Favorites will open by default on each user's initial visit to Library after logging on to their intranet.