Learn how to easily target content to the right audience using the List Selector.
(Full screen mode recommended when viewing)
Introduction
The List Selector is a tool that helps you publish any information to a target audience made up of specific Individuals, Groups and/or Intersections within your organization. An Intersection is a custom group you can create based on a combination of specific Locations, Org Units and/or Employee Types (Custom Filter)
The List Selector automatically appears whenever you:
Create a new Discussion
Edit collaborators on a task
Or when you select "A custom Group" as your target when you are:
Adding a link to Links
Creating a News or Listing item (News Admins only)
Uploading Library content (Library Admins only)
Creating an Invite list in Events (Events Admins only)
Using the List Selector
Search-and-add
At the top of the List Selector you can type in the field provided to search for and add the following to your target audience:
Individuals
Teams
Locations
Employee Types
Org Units
In the example below, the List Selector has been used to add Individuals (Vince, Brent, and Deborah) as well as a Team (Marketing).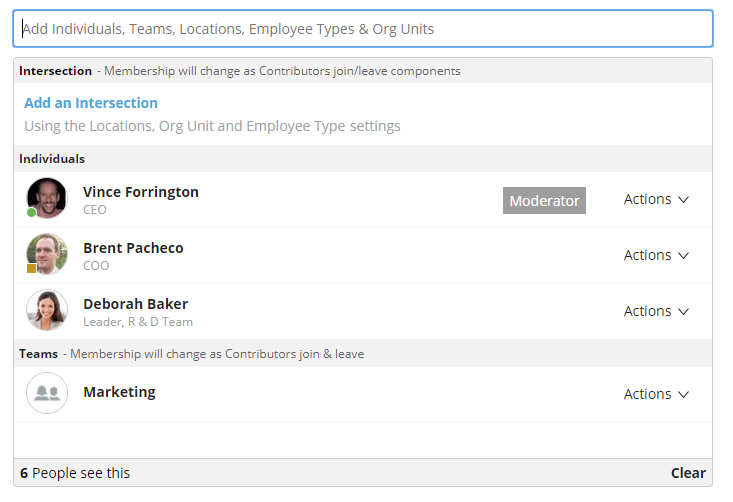 Intersections
If you need to target a very specific group of people, you can click the blue Add an Intersection link to create an Intersection by selecting components from the Locations, Org Units and Employee Types filters.
In the example below, the selected components are:
people in British Columbia (BC)
who are Contract Employees
in Operations
Combined, they create an Intersection that adds 6 people to the target audience.

No matter which method you use, the target audience you create will be dynamic. Meaning, if you have included the Marketing Team in your target audience, then if anyone joins or leaves Marketing, they will accordingly gain or lose access to that target content—automatically.
Once you target your content using List Selector, you never have to worry about updating users' permissions as they join or leave a component included in your target audience.
Learn about more features of the List Selector here.