Only Classifieds Creators and Managers will have permission to create ads and listings. For orgs who were current Jostle customers as of March 15, 2020, each of their users were automatically given Creator permissions and any users who were already News Editors were automatically giving Manager permissions.
Managers can also control Creator permissions and set Categories via the gear icon in the upper right corner of Classifieds.
Table of contents
You can access Classified ads by clicking on Classifieds in the Main Navigation bar. In this view you can see active listings and add new ones.
NOTE—System Administrators can change the name of this view (via Admin Settings > Platform > Enabled/Disabled Features) so "Classifieds" may not be what appears in your intranet's Main Navigation.
Creating a Classified ad
1. In Classifieds, click Add New Classified from the Action Bar (if this is your first ad you will also be prompted to set your Terms and Conditions)
2. On the New Classified form, enter the following information about your ad
Title
Description
Header images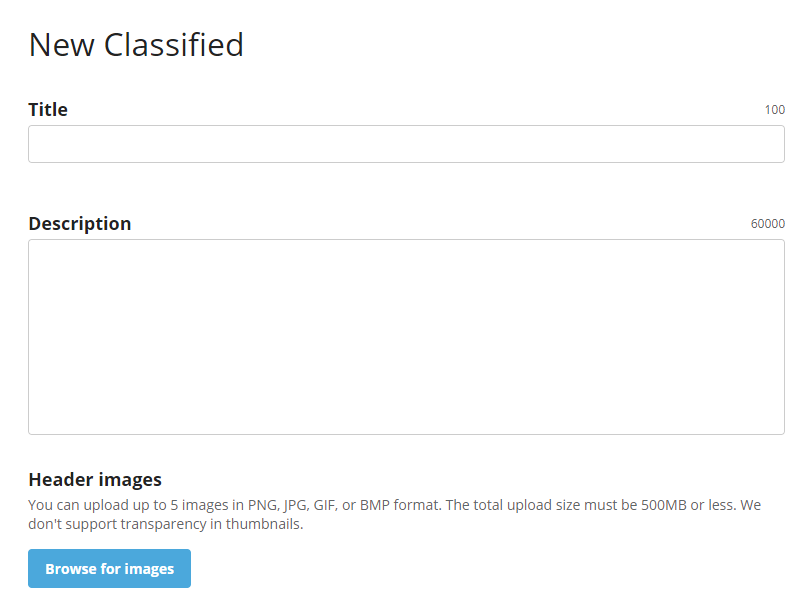 3. Under the Options column on the left, you can set your preferences for ad type (item wanted or item for sale), ad expiration date, and user comments.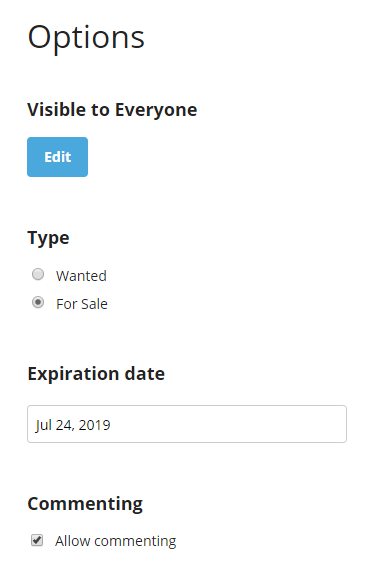 If you don't want your ad visible to everyone on your intranet, then click the blue Edit button under "Visible to Everyone". Here you can opt to create a Custom List of viewers by adding individuals or groups filtered by Locations, Teams, Employee Types or Org Units.
3. When you have finished filling in the form, scroll back up to the Action Bar and select Publish to post your Classified (or you can choose to Preview, Save Draft, or Archive your ad)
4. To make any changes to a published Classified you can use the Edit links, which can be found:
Next to the title in the Classifieds list
Next to the title on the actual ad
Next to your Terms and Conditions (for Terms and Conditions edits only)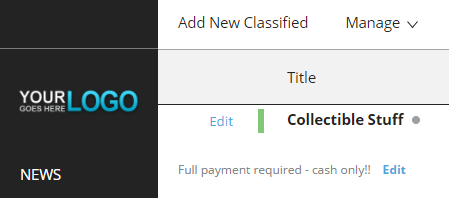 Archiving and deleting Classified ads
Archiving
Archiving removes an ad from the Classifieds view, but doesn't delete it.
1. Hover over Manage in the Action Bar, and then select "Published" from the popover menu.
2. On the Published list, check the box next to the item(s) you want removed and then right click on the item and select "Archive" from the Action menu.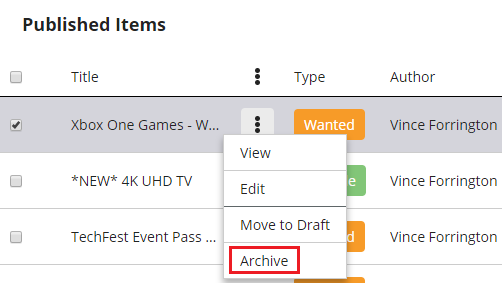 Deleting
Deleting permanently removes an ad.
1. Hover over Manage in the Action Bar and then select "Archived" from the popover menu
2. On the Archived list, check the box next to the item(s) you want removed and then right click on the item and select "Permanently Delete" from the Action menu.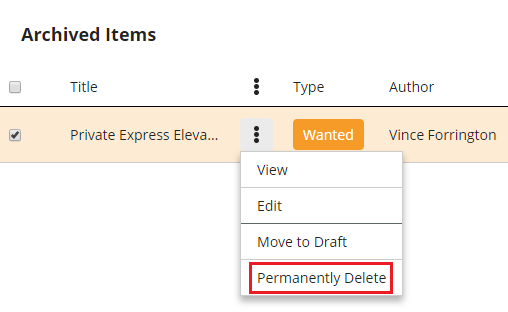 Managing Classifieds Categories
Classifieds Managers can add custom-made categories to better suit and/or broaden the type of ads and listings that are posted in Classifieds. (NOTE—this permission is currently provided only to News Editors)

For example, custom categories can be used to:
Expand on the traditional buy-and-sell ads by adding "Free Item" and "For Trade" options.
Broaden Classifieds to include workplace listings, like shift swap requests or internal job postings.
Create an industry-related resource: "New Listings" (Real Estate Agencies), "Discount Packages & Promotions" (Travel Agencies), etc.
To add a new category
1. Click the gear icon in the top right corner of Classifieds and select Manage Categories.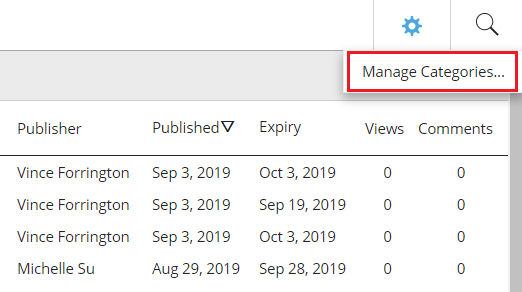 2. Here you can rename the default categories (For Sale and Wanted) or click the Add a new category link.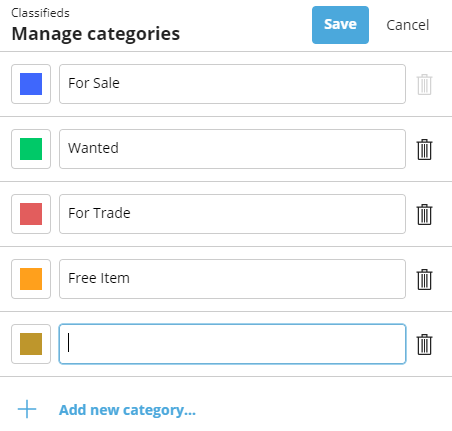 3. Name your category and click on the color box to the left of the text field to customize the color of your category label
4. To delete a category, click the trash can to its far right (NOTE—the top category can never be deleted).
5. When finished, click Save at the top of the list. When creating a listing, your new category can be selected via the Category menu under Options.