Introduction
Custom Filter (not to be confused with the Custom Profile field) is a customizable filter that appears in the Filters and Settings panels in People and elsewhere throughout out the platform. Custom Filter is one of the three filters (the others being Locations and Org Units) that allow you to create Intersections—very specific target audiences—with the List Selector.
Employee Types is the default name for the Custom Filter. You can change this name and use this Filter for a wide variety of purposes. The Custom Filter is optional – if you have not defined any Categories for it, it will not appear as a filter throughout the platform. Each user can be assigned to multiple Categories (values) for the Custom Filter.
Table of contents:
1. Examples of how to use Custom Filter
The Custom Filter is best used for employee attributes that are often used for filtering or targeting employee groups that cannot be defined by Org Units or Locations. Examples include:
Employee Types: Customer-facing, Back office, Development
Employee Group: Union1, Union2, Exempt
Employee Status: Full time, Part time, Contract
In the examples above, the bold part is what the filter is named and the entries in the list are the different Categories that are set up for this filter. Here's an example of how it would look in the Filters and Settings panel in People: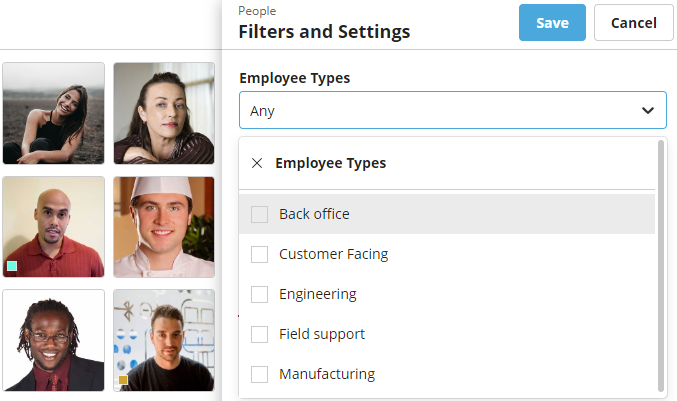 2. Setting up the Custom Filter
To set up your Custom Filter
Go to Administration Settings > Filters and Badges > Configure Custom Filter
If do not want to use the default name "Employee Type", enter your preferred filter label, in both singular and plural forms. Click Save.
Add the Categories (values) for your Custom Filter. These are entered and saved one at a time.
Once added, the Categories appear on the list at the bottom of this screen. From this list you can delete (click the red x) or edit the name of the Category.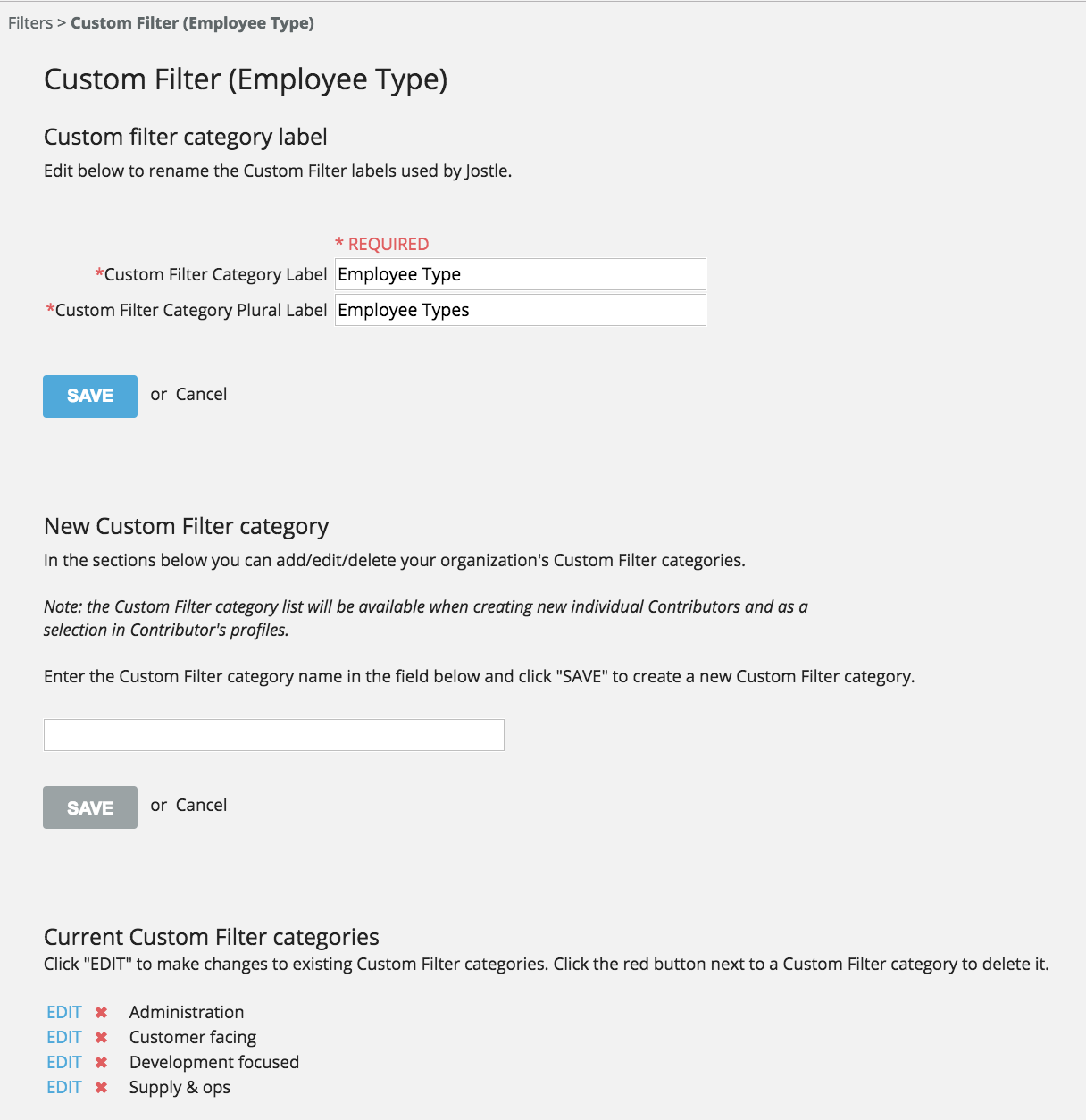 3. Assigning Custom Filter Categories via bulk uploading
The Custom Filter Category value for can be set per user via a bulk upload. See
this article
for further details on bulk uploading. When updating the Custom Filter for Contributors use CustomFilterCategory as the .csv column header and enter the desired Category for each Contributor. To enter multiple Categories for a user, separate them with the pipe character "|" in the csv file.
4. Automatic creation of Custom Filter Categories
During an upload (see previous section), if you have text set for the parameter CustomFilterCategory for a particular user and that text does not match a defined Custom Filter Category, a new Category will be automatically generated. This is particularly useful when importing employee data from a HRIS system.
5. Assigning the Custom Filter Category per user
To set the Category value for the Custom Filter for a particular employee, go to Administration Settings > User Accounts and Data > Edit, Invite, Disable Users and search for the person by name.

Then click "Edit" beside the listed name and scroll to the Custom Filter (it will appear as the name you set its label to).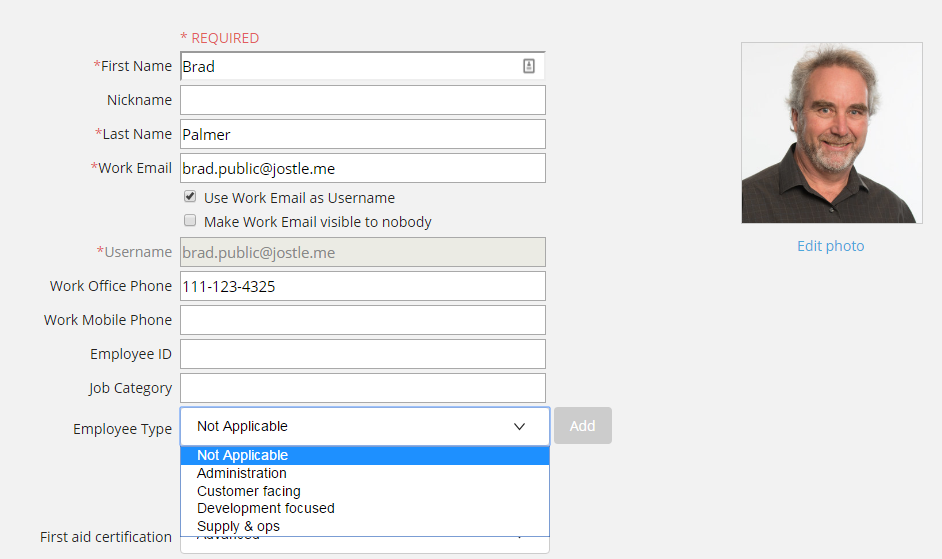 Select the Category for that person and click on "Add"


Finally click on "Save changes".

NOTE - Custom Filter Categories cannot be set to "User" owned.
6. Custom Profile Category vs. Custom Filter
The Custom Profile Category has a similar name and setup screen as Custom Filter Category, which sometimes causes confusion.
As mentioned above, Custom Filter is a filter that can be used throughout the platform, in List Selector, and appears in Filter Drawer. A user's Custom Filter Category/Categories will also appear in the About section of their Profile.
Custom Filter:

The Custom Profile Category has a similar label/value setup, but it's not a filter, so it does not appear in Filter Drawer or List Selector. It only appears in the Other section of a user's Profile. It can also be used as a valid Search term.
Custom Profile Category: