A user's work email address is the one Profile field that is organization-owned only, meaning only a System Administrator can edit it. A number of other fields can be set to either contributor-owned or organization-owned (see here for more details).
Sometimes you'll need to change the work email address or other organization-owned fields on behalf of your users. For example, if a recently-married user is issued an updated email address to reflect their new last name.
To edit a user's Profile
Click the Admin Settings link in the Main Navigation then go to User accounts and data > Edit, Invite, Disable users
Enter all or part of the user's name in the available field and click Search
Go to Search results and click the EDIT link next to the user's name
Make the needed changes to the appropriate fields
Scroll to the bottom and:
if you updated the user's email address, click the Save changes and send invite email link for the new email to get activated.
if you didn't update the email address, click the Save changes box.
NOTE—Work Email and Username are two separate fields, but it is still recommended that a user's work email address also be used as their Username, which can be indicated using the checkbox shown below.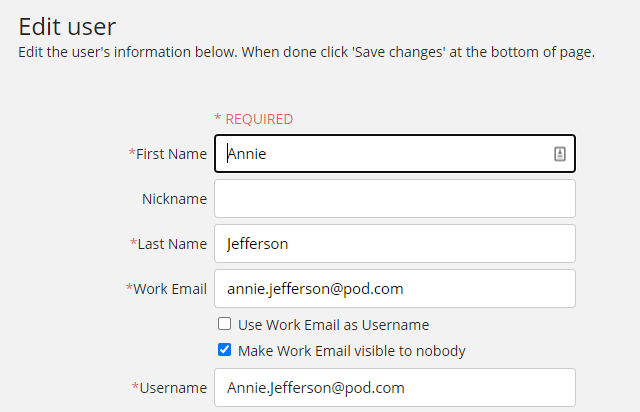 Editing multiple profiles
If you need to make changes to multiple contributors and the above method will be too time consuming, you can also choose to make changes in bulk.