The Links (aka More), which can also be set to a custom name (see below) is a great place for you to collect links that are essential to your organization and day-to-day work. In addition to saving these links, some of them can also be embedded. Things that work best embedded are videos, content, and websites.
This view consists of three sections:
Shortcut links – these are the two links set by your organization that appear on the Main Navigation panel (viewable by everyone)
Org-wide links – links set by your organization, usually for applications, tools or other resources. (viewable by everyone)
Personal links – your own collection of personal links (only visible to you)
NOTE—Not all content and websites can be embedded. See Restrictions
To embed a link
1. In the Main Navigation, click Links and then at the top of the screen, click "Edit Links".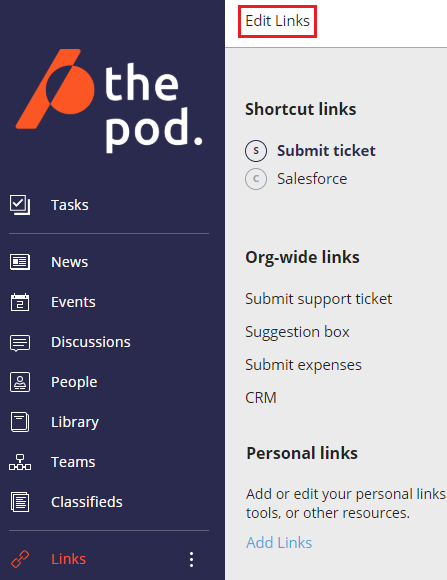 2. Choose a section for your new embedded link (Shortcut links, Org-Wide links, or Personal links).
3. In the Label field, enter the name you want the link to appear as (Shortcut links will appear in the Main Navigation, all other links will appear on the Links menus). 
4. Add the URL for the link in the adjacent field and then click outside of the field. If the link can be embedded, the "Yes" checkbox will become enabled.
5. If enabled, check the checkbox and then click the Add button on the far right.

6. If you wish, you can also select the option "In Dropdown". This means that the site you are adding will be listed on the Links Action Menu.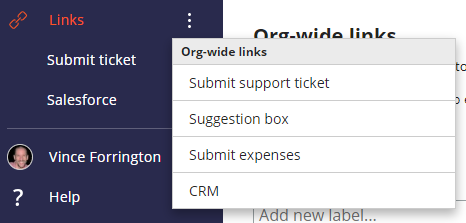 7. When you're ready, click Save at the bottom of the form or in the Action Bar.
Your link should now show up in the sandbox to the right of the Main Navigation when you click on Links.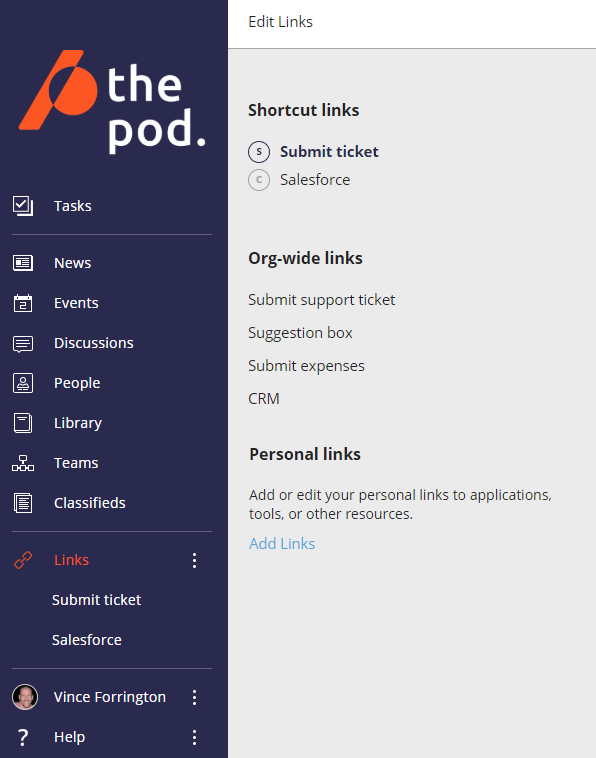 Restrictions
Content and websites can only be embedded provided:
the URL starts with "https"
the site permits iframe editing
When a URL is inspected on our end, it will be not be embeddable if it specifies an X-FRAME-OPTIONS header with value "DENY" or "SAMEORIGIN"
If a URL is embeddable, but the content doesn't appear the way it should, it may be because of the limitations on what we allow (shown below):
if (WebUtils.RUNNING_ON_CHROME)
embeddedFrame.getElement().setPropertyString("sandbox", "allow-forms allow-popups allow-pointer-lock allow-scripts allow-popups-to-escape-sandbox");
else
embeddedFrame.getElement().setPropertyString("sandbox", "allow-forms allow-popups allow-pointer-lock allow-scripts");
As embedded content is sandboxed, this may cause some content to not work, especially if it requires the use of cookies.
Setting the view name 
System Administrators can set the name of this view as follows:
1. Click the Gear icon at the bottom of the Main Navigation and go to Administration settings > Platform > Enabled/Disabled Features.
2. Scroll down to LINKS.
3. Check the box next to "Override view name"
4. Enter the singular and plural versions on your desired name and then
5. Scroll down and click the blue Save button.