If you have a particular area in Library that is accessed frequently, like a Health Benefits folder in your Employee Forms Volume, you can make it easier to find by adding it to Links* as an Org-wide link. To do so:
1. Hover over the folder in Library and click "Copy link" from the popover menu.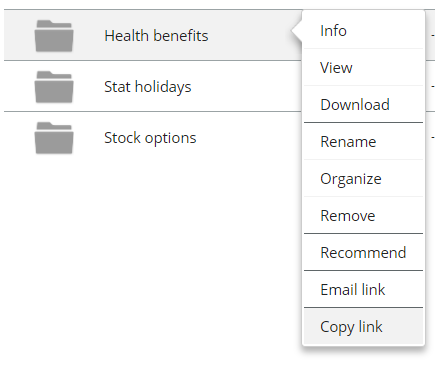 2. Then go to the Links/More view and click "Edit Links" from the Action Bar at the top of the screen.
3. Scroll down to Org-wide links, paste the link in the field provided and create a label.

4. Indicate how you want the link displayed and then click the Add button.
5. Scroll down to the bottom of the screen and click the Save button.
*System Administrators can set the name of this view to Links or a custom name. See this article for more information).
Additional examples:
Onboarding documentation
Commission forms for Sales
Health and benefits claims forms
Vacation request forms
Training Videos