NOTE—To create an ongoing, one-on-one chat with someone, please refer to Direct Messages
Table of contents

Starting a Discussion
Click on Discussions in the Main Navigation on the left side of your screen.
Once in the Discussions view, click on the "+" from the Action Bar at the top of your screen.
Select "New Discussion"
You are then presented with the screen below, walking you through all of the necessary steps to create your Discussion:
Creating a Title
Selecting your Access option: Private (invited participants only), Discoverable (anyone can view and/or join), Org-Wide (automatically include everyone). For more information on when best to use each of these types, please refer to Discussions: Best practices.
Inviting Members* (Individuals, Teams, Locations, Departments and Org units),
Setting any additional Moderators (Moderators have access to additional actions and settings in a Discussion. As the Discussion creator, you're automatically made a Moderator)
*not required for Org-Wide Discussions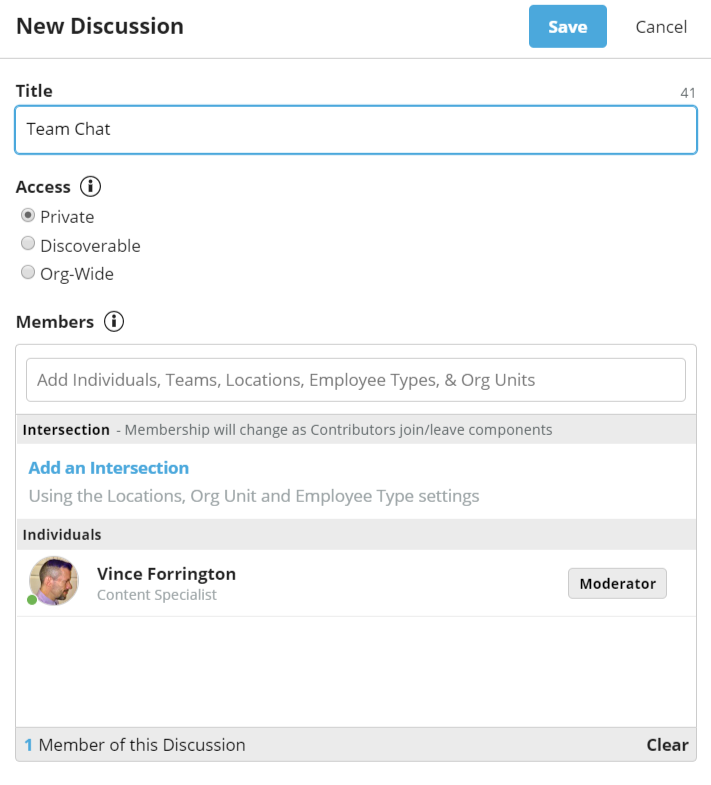 TIP: You can also start a Discussion in People, via the "Start a Discussion" link in the Action Bar.
Managing your Discussion
You are now back in the main Discussions view with your new Discussion visible in the top left hand corner where you can also set up personal categories for your Discussions
You can manage your Discussion via two menus found in the right corner of the Action Bar at the top of the screen:
Click the Action Menu icon (three dots) to display of list of available actions you can take on your Discussion.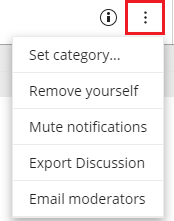 Click the Info icon ("i") to access a menu of the information you can view about your Discussion.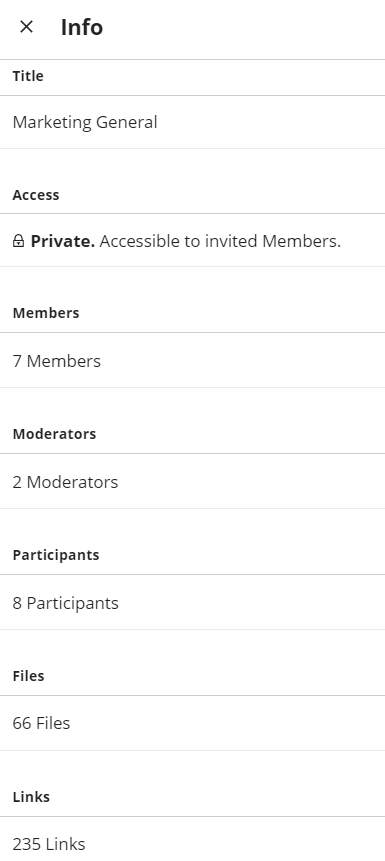 NOTES
If you want to add people to an ongoing Discussion, click "Edit settings" from the Info Menu to go back to the List Selector.
Remove yourself will only be an option on the Action Menu for people that have been added to a Discussion as an individual. Moderators and people added to a Discussion as part of a targeted group (eg. "Marketing Team") will not see this option.
If you are a Moderator (which, as mentioned above, happens by default if you've created the Discussion), instead of "Remove yourself" you'll see a different action available: Delete Discussion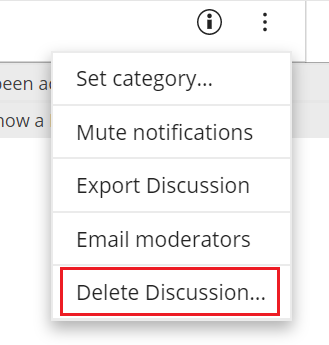 While using "Delete Discussion" is not recommended, it can come in handy if you need to remove something like a new Discussion that is an inadvertent duplicate of an already-existing Discussion.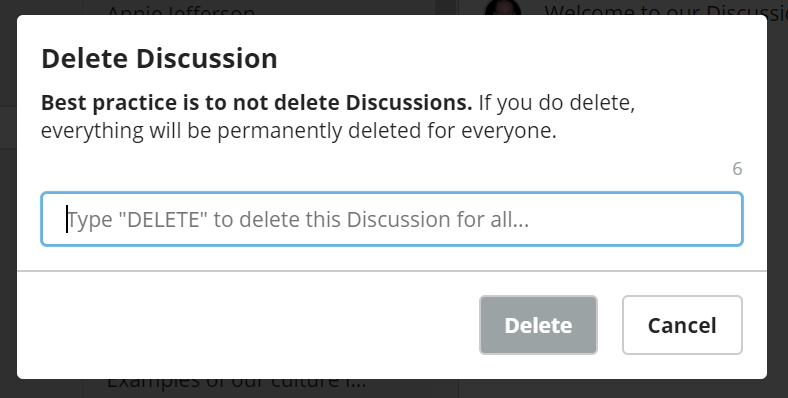 Commenting in Discussions
To post a comment in a Discussion, enter text in the comment input field at the bottom of the screen and click the Send (arrow) icon.
Check off the Allow paragraphs box if you want to use your Enter key to create paragraphs in your comment. Otherwise, the Enter key can also be used to add your comment. (In Mobile, you can just use your Return key to create a new paragraph).
If you want to notify someone directly of your comment you can do so with an "@mention" (@<theirusername>) within the comment. You can also @mention any Teams or Locations included in your Discussion, so long as they were added to the Discussion separately (i.e. "Sales Reps", "Vancouver") and not as part of a custom group (i.e. "Sales Reps located in Vancouver").
In most browsers, you can also access an emjoi selector by clicking on the smiley emoji in the input field.

To like someone's comment, hover over the post and then click the heart icon that appears in the top right corner.
To reply to someone's comment, click the arrow that appears next to the heart icon in the top right corner.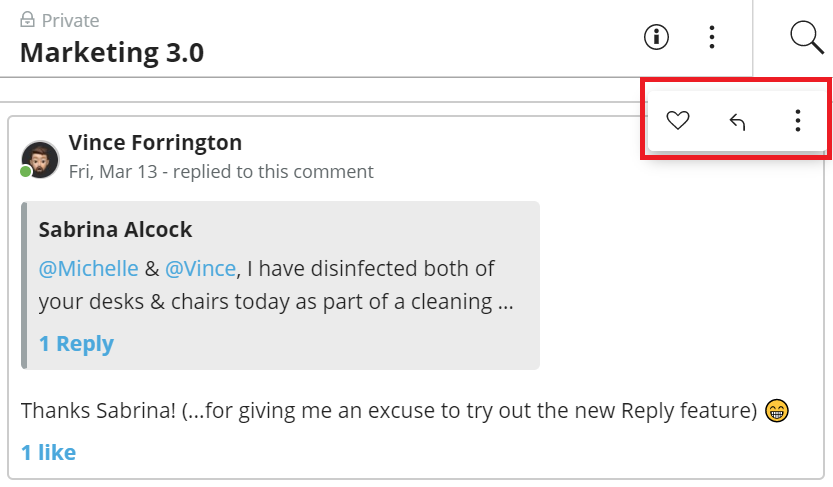 To copy, archive, or save a link to a comment, click the action menu icon (three dots) in the top right corner. NOTE—links to comments can only be used by people included in that related Discussion, and only the author or a Moderator can archive a comment (they will also have the ability to view it after it has been archived).

Deleting comments
By default, the ability to delete comments in Discussions is disabled. Orgs can request this feature be enabled by contacting support@jostle.me.
Once enabled, when viewing an archived comment, a Moderator will also have the ability to Permanently Delete the comment (once deleted, a comment and any related attachments and likes are erased and can no longer be viewed by anyone). However, if an organization has assigned a Mandatory Moderator, then only that person will be given the permission to permanently delete comments.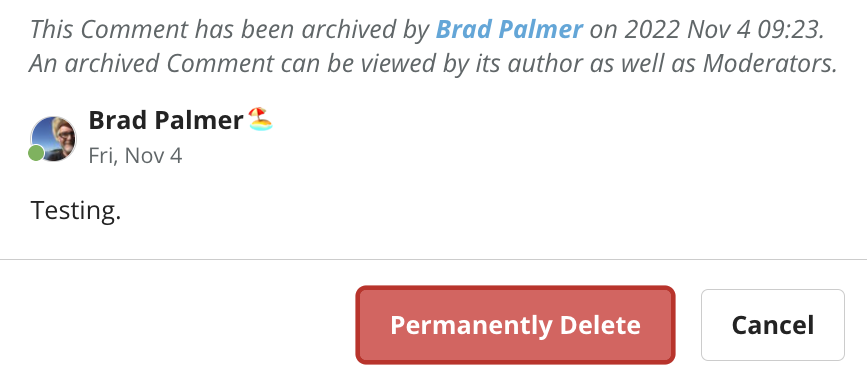 TIP: Involved in an important Discussion when another one pops up? Save the hassle of bouncing back and forth between them and instead open your platform in another browser window. Navigate to the second Discussion then place the windows side-by-side for some split-screen Discussion action.
Adding Attachments in Discussions
Discussions offer rich text chat capability and allow you to share files, therefore reducing the need for email. There is a multiple file upload maximum of 500Mb.*
Supported file formats include:
Images and Vectors: .bmp, .gif, .jpg, .jpeg, .png, .tif, .tiff, .eps, .ai, .psd, .cr, .cr2, .nef
Video: .3gp, .aac, .avi, .mp4, .mpeg-2, .m4v, .ogv, .webm, .wmv, plus others
Audio: .aac, .aif, mp3, .m4a, .ogg, .wav, .wma
Documents: .pdf, .docx, .doc, .docm, .dot, .dotm, .dotx, .odt, .txt, .xlsx, .xls, .ods, .xlsb, .xlsm, .pptx, .ppt, .odp, .pot, .potm, .potx, .pps, .ppsm, .ppsx
NOTE—Preview functionality for the above formats may not appear immediately for larger files.
(For more information see File types supported by Jostle)
To select and add attachments
In the comment input field, click the Attachment (paper clip) icon.
Select the file(s) to upload from your computer.
When you've completed your message, click the Send (arrow) icon to add your message along with your files to the Discussion.
To drag and drop attachments
Click and hold on the file(s) in your hard drive that you want to add to your Discussion.
Drag your cursor directly over your Discussion and release your finger to "drop" the files.
The files will automatically attach themselves to your next posted comment.
To add an image without saving it
Copy an image to your clipboard.
Then paste it directly in the comment input field.
Click the Send (arrow) icon.
TIP: To quickly see what attachments have been shared in a Discussion, scroll up to the Action Bar and click Timeline > Files
*FIOPPA customers (British Columbia and Nova Scotia) have a single file size limit of 10Mb (per each file included in an upload). Users uploading to ShareFile have a single file size limit of 500Mb (same as the maximum size for the total upload).
Replacing a Moderator
If an individual leaves your organization and they were the only Moderator of your Discussion, someone else will need to take over that role. Here's how:
For Discussions with "0" Moderators
If you are a current participant of a Discussion with "0" Moderators, you can assume the Moderator role as follows:
1. Open the Discussion and click on the Info icon ("i") in the upper right corner.
2. From the menu, click on "Moderators" (ensuring the number of Moderators is 0).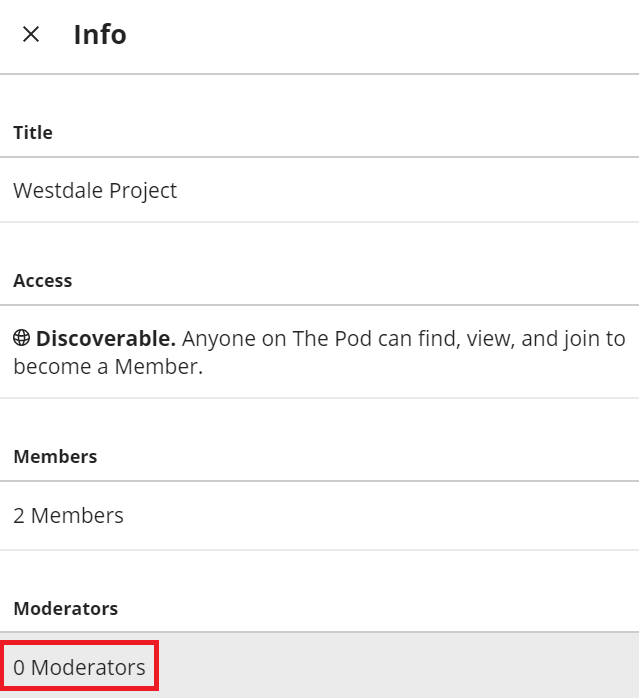 3. On the popup that appears, click Become a Moderator.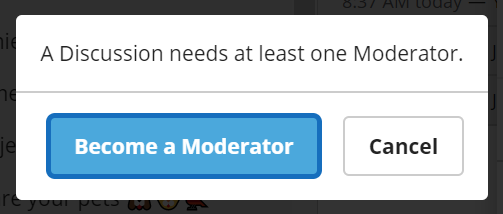 4. You should then see the Info menu updated with Edit links, indicating that you now have Moderator permissions for the Discussion.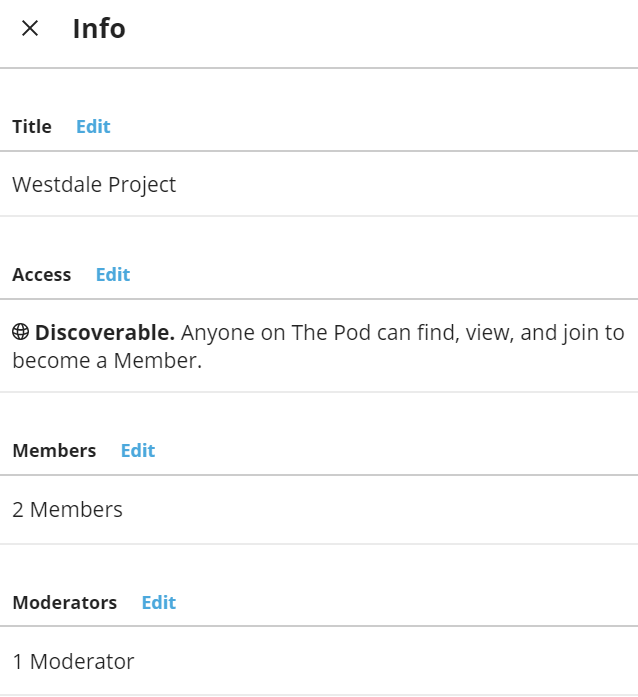 To learn about Discussions privacy and chat visibility, click here.
Discoverable Discussions
A Discoverable Discussion is an option if you want to create a Discussion that isn't limited to select invitees like a Private Discussion but doesn't impose on everyone in your organization like an Org-Wide Discussion.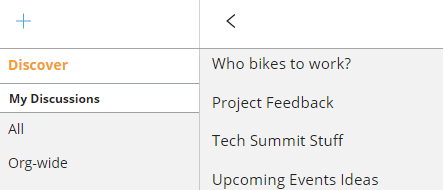 Discoverable Discussions will be placed in the Discover category and anyone can browse, view, join and leave these Discussions at their leisure*. If a user opens a Discoverable Discussion and clicks the Join Discussion button at the bottom of the screen, it will move from the Discover Category to their All category, and enable new Comment notifications (red dots).

For more on Discussions Categories, see this article.
*As with other Discussions, if someone is added to a Discoverable Discussion as part of a targeted group (eg. "Marketing Team") then they will not be able to leave that Discussion as an individual.