**IMPORTANT UPDATE**
As the classic editor for News will be completely phased out of all Jostle platforms by August 5, this article has been updated with workflows related to its replacement, the new block editor (if you or your org did not receive the email notice regarding this News upgrade, please refer to this info page).
***
Sharing happenings and stories across your organization in News allows you to connect your people. News makes it easy to publish stories and items that celebrate your organization's culture, values and accomplishments.
To create News items, you need to be a News Reporter or Editor, whereupon you'll be able to use the Create New Item button in the News action bar: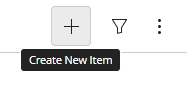 (NOTE—Depending on your organization, there may be multiple Reporter Groups set up, each with customized publishing permissions. If you do not have the publishing permissions you expected, please contact your Jostle System Administrator).
Quick Guide
(For those familiar with news editors and/or block editors. Features mentioned in the following steps are covered further in the Detailed Guide section)
In the News view, click the "+" in the action bar at the top.

From the menu, select a template for your News item.

Give your item a title and select the category you want to post it under.

Add content to your draft. To add a new block, click the "+" button to the left of the draft and select the appropriate block for the type of content you want to add.

In the column on the right, you can select the tile image for your article as well as set the publishing options for your item.

At any time, you can go to the top right corner, open the action menu and select Save draft.
When you're ready to post your item, click the Publish button.
Detailed Guide
Table of contents
About the block editor
Creating News items with the block editor allows you to add multiple types of content to the same article and manage each of them independently, without having to worry about spacing or formatting. Each type of supported content has a dedicated block:
Text

- can be manually entered or if format-free, copy and pasted

Image

- browse and select or drag and drop image(s) into your article

Poll

- create user surveys, answers can be image or text-based

Video

- add videos from services like YouTube, Vimeo

Link Preview - takes a URL and turns it into a clickable preview of the content found there.
File Attachment - attach up to 6 files to your News item
Embed

- add embeddable content like forms and charts (and videos as well)
1. Quick-Start Templates
To create your own News item, go to the action bar at the top of the News view, click on the Create New Item button ("+"), and select Blank Article, or any one of the other quick-start templates listed (details below).

Blank article
"Blank article" is the base template for all the quick-start templates, so its features (shown below) will be included by default no matter what type of item you choose to create:

Category select

(featuring your customized News categories, see more below)

Title bar (titles have a limit of 100 characters)
Text block

(the block will expand with each line you type)

Add block menu (click the + button to select the next type of block you want to add to your News item)
Other templates
Blog post

(Blank Article + above-title Image block)

Poll

(Blank Article + Poll block)

Album

(Blank Article + below-title Image block, w/gallery view for multiple images)

Video

(Blank Article + Video block for service-hosted videos)
The Blog post quick-start template: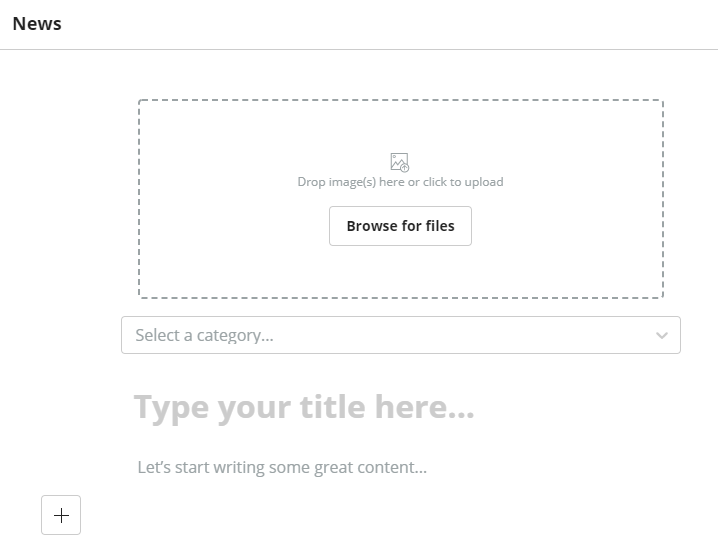 TIP : You can add/remove/rearrange any combination of blocks to your News item, regardless of which template you choose to start off with.
Web Article
There is one other option, but it is not a block editor template. Selecting Web Article allows you to insert the URL of an external article or blog post and pull it into your own News. There is no character limits for Web Articles, but you are unable to add any additional blocks of content when using this option.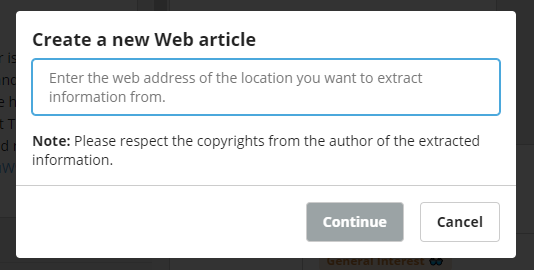 2. Categories
Categories let you assign descriptive labels to your News items so they are easy to identify.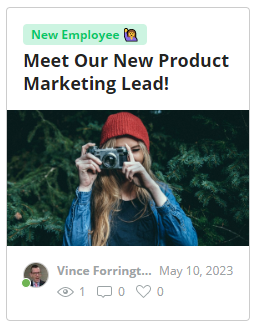 Categories are a great way to identify the different types of content your organization may publish on a regular basis, like CEO Blog posts, Workplace updates or New Employee introductions.
Categories are also available as one of the sorting options when you click on the Filter icon.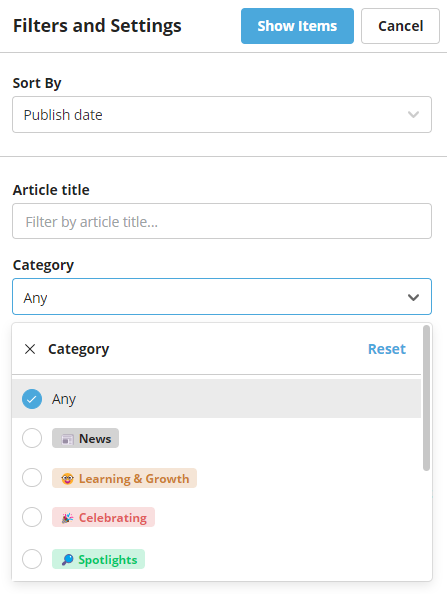 News Editors can add, remove, or edit categories by going to the Action Bar, clicking the action menu icon (three dots) and selecting Manage Categories.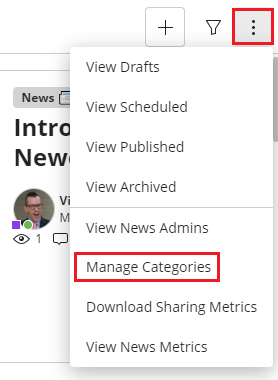 From here News Editors can:
Click "Add new category" to open a new slot
Enter or edit a category name in its text field
Select a color for the category label via the color boxes on the left.
Remove a category via the trash can icon to its far right.
Save or Cancel changes via the toggle in the top right.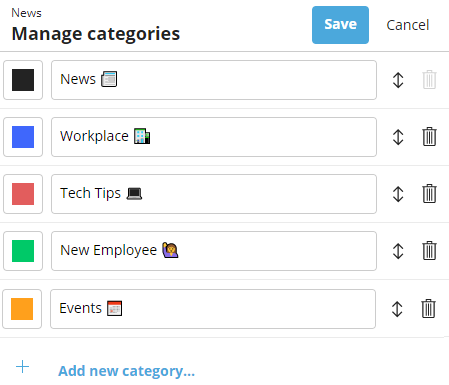 TIPS
The default Category "News" cannot be removed from your Category list (but it can be renamed or recolored)
Emojis are supported in Category labels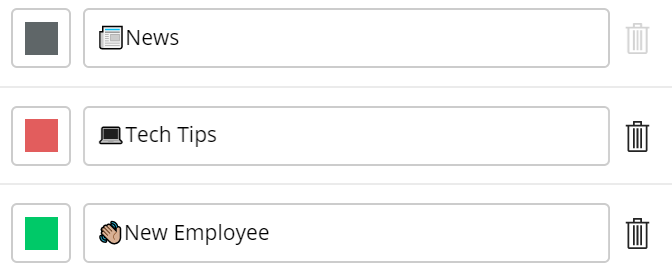 Once published, a News item's colored Category label will appear in the lower left corner of its tile.

3. Content blocks (Using the block editor)
To add a new block to your item, click the "+" on the left side of the editor and select the type of block you want from the menu. Repeat for every different and/or additional piece of content you wish to add.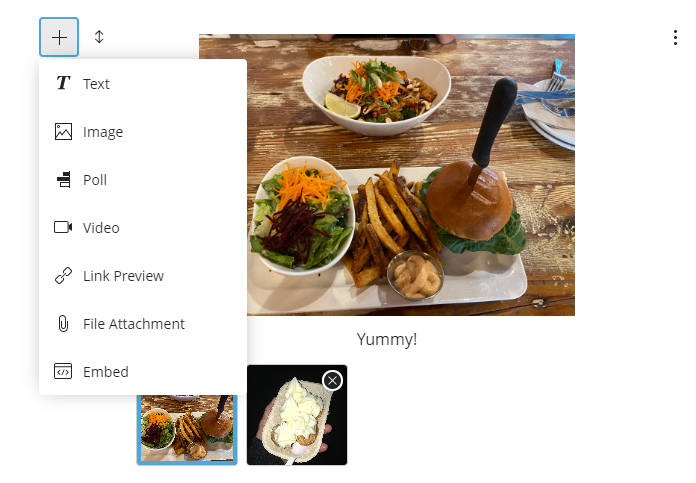 TIPS
Click the "three dots" to the right of a block to open its options menu.
You can also delete any block via the options menu.
You can reposition any block by holding down on its arrows icon, and dragging the block up or down to its new location.

The blocks
1. Text block
Along the top of the News editor are your text options (bold, italics, underline, strikethrough, hyperlink) and formatting options. (NOTE—text color options are currently not available, but will be arriving soon).



You can access the format options for your block content by clicking on the arrow and opening the dropdown menu.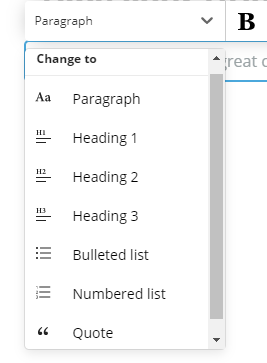 TIPS
The Heading options aren't just for headings. For example, if you want your overall font size to be larger than the default size of "Paragraph", you can type your whole text block in "Heading 3" instead.
When using a text block, hitting Return will create a new block. To start a new paragraph within your current block, hold down Shift+Return.
If you want to include a list in your block, change the block format to Bulleted list or Numbered list (you can do this before or after typing the first item on your list). You'll then be able to hit Return after each item and populate your list within that block.

2. Image block
With the Image block you can drag and drop images directly into it or browse your files and select the images you want to insert. Once added, you can add a caption (character limit: 255) to the field directly below the image.
Click on the "three dots" to the right of the block to access the available options: Edit image, Replace image, Add more images, Delete block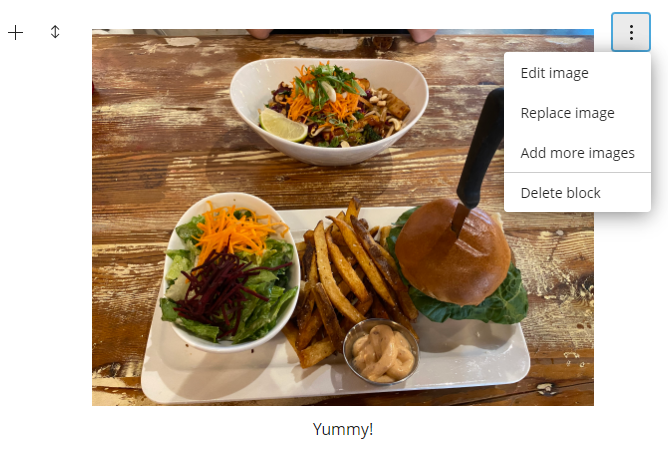 Click on Edit image if you want to rotate, crop, and/or fill the image to the frame.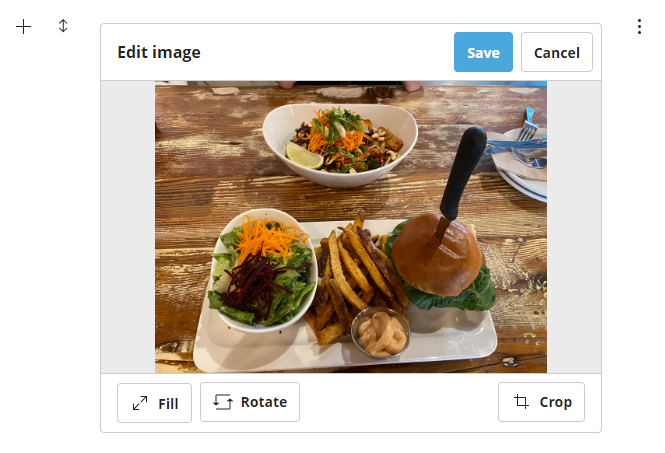 If you Add more images to your Image block, it will automatically turn it into an album and display the additional images in a scroll below the main image*. These can also be viewed as a gallery.
*At this time, you cannot manually rearrange their scroll order once you've added them to the block.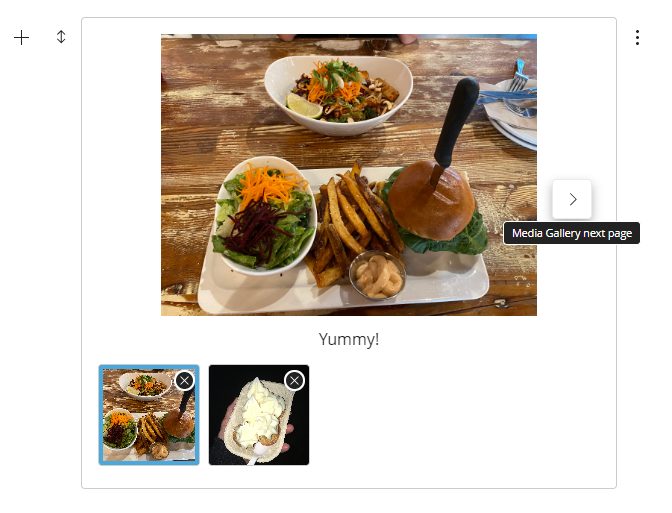 And if you want to add multiple full-sized images to your News item instead, then just use a separate block for each image.
TIPS
For the best results, try using images with aspect ratios close to 16:9 (e.g. 960 x 540 px).
If you want to insert a smaller image that's square-shaped, like an icon or logo, with a 1:1 ratio (e.g. 400 x 400 px), the editor will automatically enlarge it until it fills the width of the article. So, to avoid this you can try this workaround:
Adding 1:1 images without being resized:
Place your 1:1 image in the center of a blank Google or Power Point slide

Download/export that slide as an image

Insert the slide image into an Image block in your News item
Since the ratio of the slide image will be 16:9, it won't be resized. And because the background of the slide won't be visible, you'll only see the original image at it's original size (as shown below).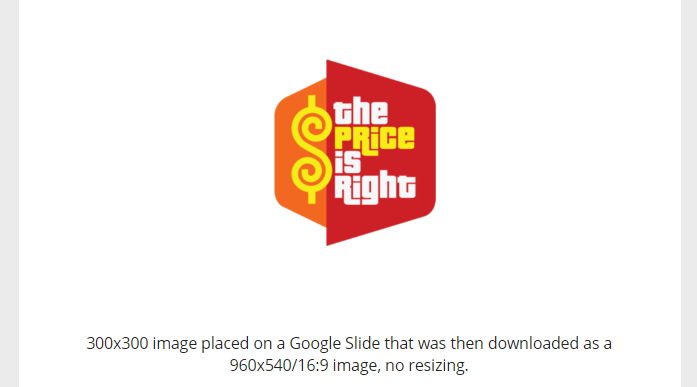 3. Poll block
When you insert a Poll block, you'll be prompted to make your question the title of the poll and start including your answer options. Poll questions and optional answers both have character limits of 255.
If you click the image icon to the right of each option, you can select an image to display along with the option. Reorder your options by dragging on the arrow icons. Click the "three dots" to the right of the block to access the options menu.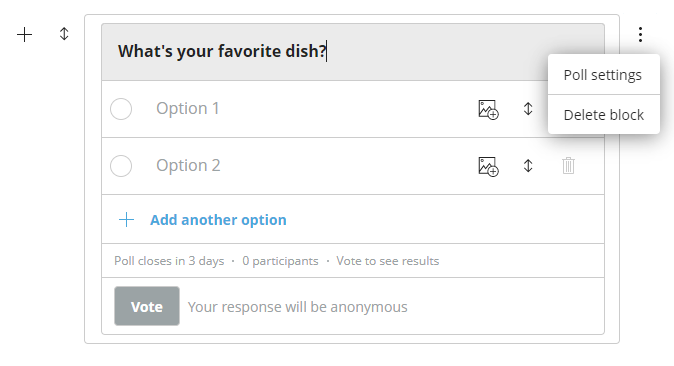 Poll settings include time settings (poll duration, closing actions) and format settings (one answer/multiple answers, anonymous poll).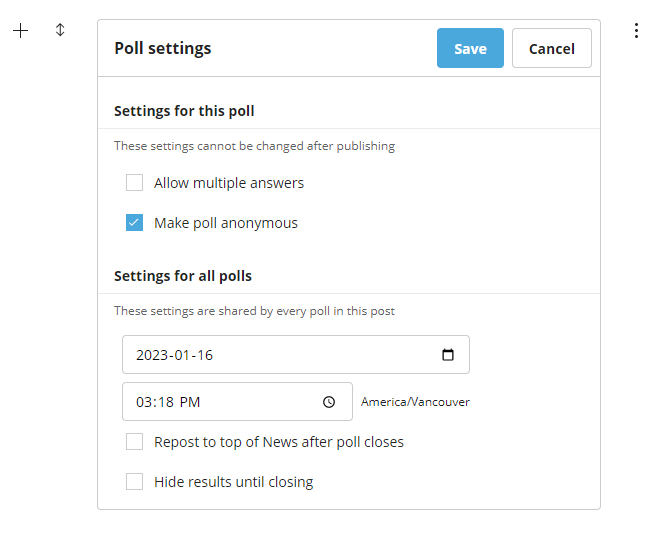 Once a poll closes, you will have the option to download a CSV of the results from the action menu of the News item it was included in.


4. Video block
Once you add a Video block, you will need to add the URL of the video you want to insert into your News item.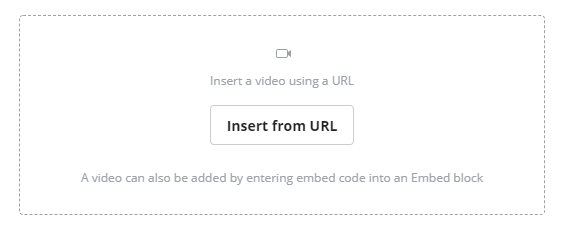 Once you've entered your URL, click the Save button to add the video to your News item.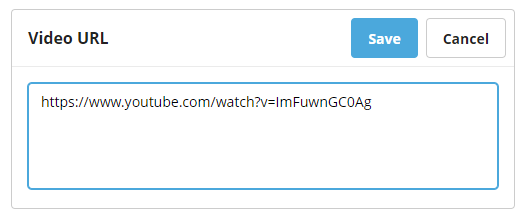 On the options menu for the video, you can only edit the video link, not the video itself.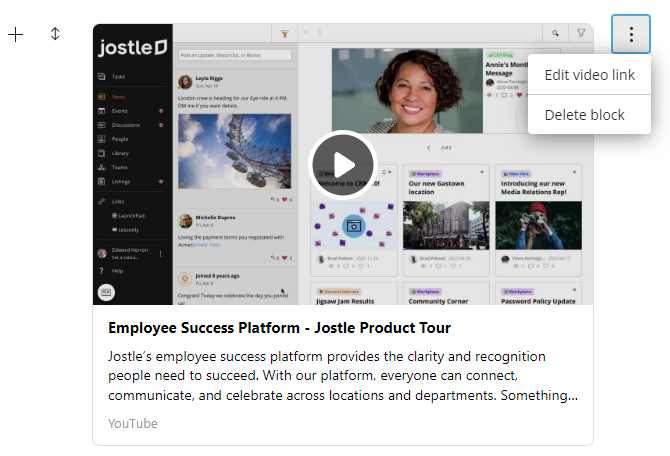 TIP: If you want to add a video from your Library to a News article, you can use the Embed block for that. See #7 below for more details.


5. Link Preview block
If you would like to insert a link to an external site or page and have it appear with a preview for your readers, you can you use the Link Preview block. Just insert the link you want to include in the field provided and click Save.

Your link will now appear as a preview with a thumbnail image and info blurb (if applicable). Open the options menu to edit your link or change the layout.

NOTE—if you just want to include your link as a hyperlinked piece of text, then that option can be found in the Text block.
6. File Attachment block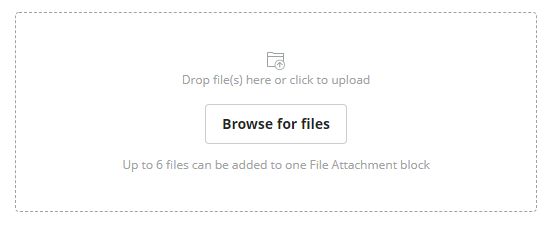 The File Attachment block allows you to attach up to 6 files, in any compatible format, to your News item. You can drag-and-drop the files or browse and select them.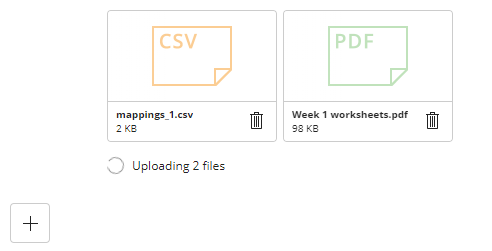 You can click on any of the attachments to preview the file in the viewer, then return to your News item by clicking the arrow in the top left corner of the preview.

7. Embed block
The Embed block can also be used to add videos, as well as any embeddable content, such as forms or tables and charts (see below for examples). The format and options are nearly identical to those of the Video block, except you'll be entering an embed code instead of a URL. Enter your embed code in the given area and select Save to embed your content.

As with the Video block, you can only edit the code you entered, not the embedded content itself.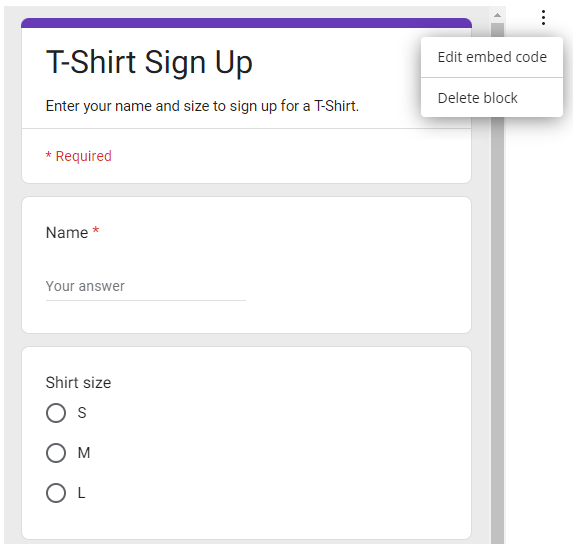 NOTE—due to security policies regarding iFramed content, some embedded videos may not display properly—most notably, if the video is hosted on OneDrive or if the user is on the Safari browser. In cases like these, inserting a link in your News item to the video's location in your Library (use the "Copy link" option from its action menu) might be the best way to ensure your readers can view the video.
TIPS
Embedding Library videos
If you want embed a video from your Library in your News article, you can retrieve the video's embed code from it's action menu.

Keep in mind that videos embedded from a Library Volume will retain the visibility restrictions of the Volume it is in, so if someone doesn't have permission to view a Volume, they won't be able to play a video embedded from that Volume either.
Embedding tables/charts
You can embed tables or charts created in MS (Word/Excel) and Google (Docs/Sheets) by using the Share > Publish function to provide an embed code that can then be inserted into an Embed block (Google Docs shown below).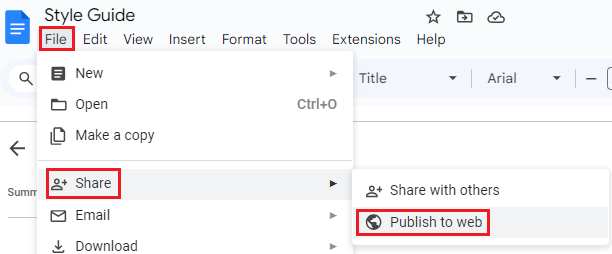 Once embedded, a table can't be edited through the News article. However, any edits made to the original table will be automatically reflected on the embedded table.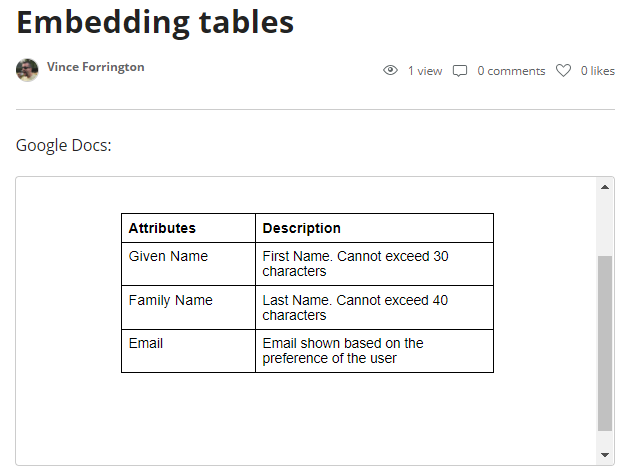 4. Options
In the column to the right of the block editor you'll find all the optional settings available for your News item.
Tile Preview
The Tile Preview is where you set the image you want displayed for your article on the News view. Click Edit in the upper right corner to select any compatible image from your article and set it as your tile image.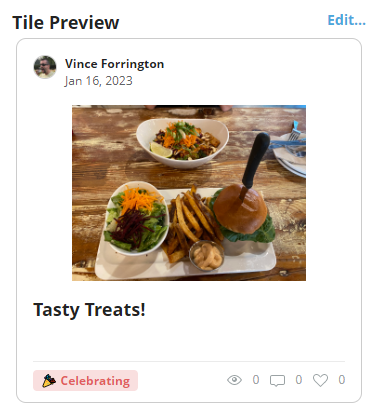 Visible To
Lets you target your News item at a particular audience using the List Selector (see more below).
Feature in Banner
Lets you draw attention to a News item by displaying for a set duration in a carousel that stretches across the top of your News view.
Sign Off
Requires each reader to sign off that they have read and understood this News item (see more below).
Commenting
You can toggle comments on or off for your article as well as whether you want to be notified about them or not.
Publish Date and Auto-Archive
These options allow you to set a time and date in the future to publish and/or remove your item from the News view (see more about auto-archiving in the Managing your items section).
Pin (so new users see)
Allows you to pin must-read News items (policy changes, employee guides, etc.) at the top of your News feed for all current and future users, until read.
Publishing Role
News Editors and/or Reporters that belong to more than one one Reporter Group may be prompted to select their Publishing Role in order to access certain features.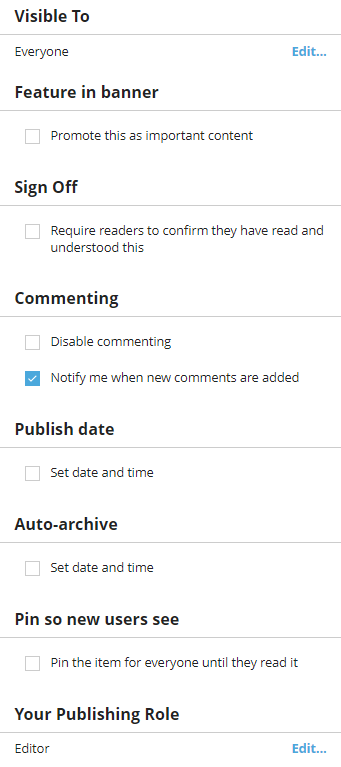 5. Targeting
Jostle's List Selector allows you to publish News items to any specific audience you wish. For example, maybe you have a detailed article on the renovation plans for a building that is only relevant to those located in that building. Targeting your content helps keep your platform relevant and engaging for everyone.
When you are using creating any News item, you will see the Visible To option. The default setting is "Everyone" but if you click on the setting, it will bring up the List Selector and allow you to create a Custom List to target your content to, if you wish. Learn more about the List Selector here.

6. Using Sign Off
News items include a Sign Off feature. Use this when you need to ensure that a particular item has been read and understood by everyone in your audience, like an article that details upcoming changes to your company's benefits policies.
To activate this feature, check the box under Sign Off in the Options column when creating your News item:

When activated, users are asked to sign off when they have completed reading the article. If they don't, when they try to close the News item they will be presented with a pop-up reminder. They will have to select one of the following options in order to sign off:
I confirmed I have read and understood this: selecting this option the user will confirm it has read and understood the News item. The message will not appear anymore to this user for this item.
I will read this item later: this option will close the News item and the message will appear again when the user opens it and try to close it.
I will read this item now: the final option will return to the News item so the user can read it and then sign off.
At the bottom of the News item, those with edit rights will see a summary of how many users have signed off on the News item.

There is also a Download CSV link that provides a record of this data in a CSV file.
NOTE—a version of Sign Off for Library items is also available on platforms that have both Library and Tasks enabled.
7. Publishing
Publishing items
When you have finished creating your News item, you can click Publish at the top of the screen or Publish and Notify, if applicable (learn more about Notify below).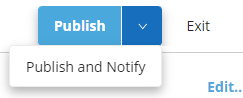 Scheduling items
If you set a Publish Date for your item, then instead of a Publish button you will see a Schedule button. Clicking this button (or the Schedule and Notify option) will send your item to the Scheduled list and then automatically post it on the date you set.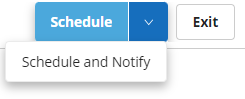 Saving drafts
If you're not ready to publish, then you can open the action menu next to the Publish button and select Save Draft so you can come back to it later. You can also view any items you have saved to Drafts if you want to see what they will look like when published (see Managing your items, below).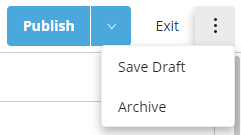 8. Using Notify
All News items include the option to send an "Important Notice" notification to everyone it's been published to (these are a special type of notification that users cannot opt out of in their My Preferences).
The Notify feature is best used only for when you:
Need to get all eyes on a new item you've published (e.g., an article with info about your building's next fire drill).
Need to let everyone know about an important update you've made to a previously-published item (e.g., a rescheduled time for your building's next fire drill).
You can enable Notify
When you publish your article - instead of selecting Publish, click the arrow next to it and select Publish and Notify.
After your article has been published - open your article in News, click on the action menu (three dots) in the right corner and select Notify.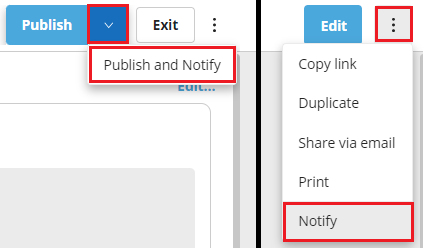 Whichever method you choose, it will pull up a modal. Once you enter a message in the modal to explain the reason for the notification, (for example: "Park Plaza Fire Drill info" or "Updated schedule for building fire drill") click Send, and you'll notify all viewers of that item.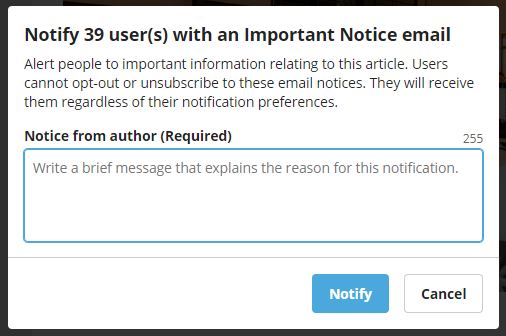 The notification will automatically include the following information:
Sender's name (your name)
Sender's notice (your message)
Link to the related News item
Publishing info (category and original date posted)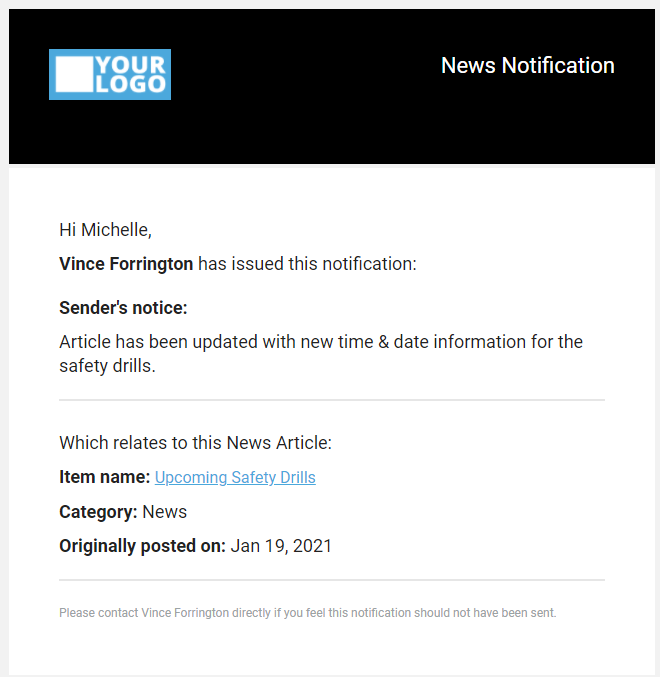 Notify is also available for Events notices and Library updates.
9. Editing
To edit a published News item, select its tile from the News view and then click the Edit link that appears in the upper right corner. After making your edits, scroll up to the action bar and click Publish to post the revised item back to the main News view.

You can also edit an items via your Manage tables (Drafts, Scheduled, Published, and Archived, explained below).
10. Duplicate items
News Editors have the ability to duplicate any News item and use it as a template for a similar item. This can be done two ways:
via the action menu while in Edit mode of a published item
from the action menu of an item on any of the management tables mentioned above (Archived, Published, Draft, Scheduled)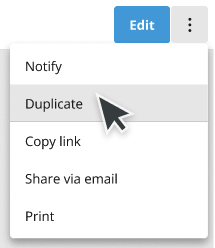 A duplicated item will copy all of the content and settings from the original (except for any time-related settings) and will be placed in the Draft table so the News Editor can make any changes to it they wish before saving or publishing it.
The default title of the duplicated item (which can be edited) will be the same as the original item's title, but prefaced with "Copy of".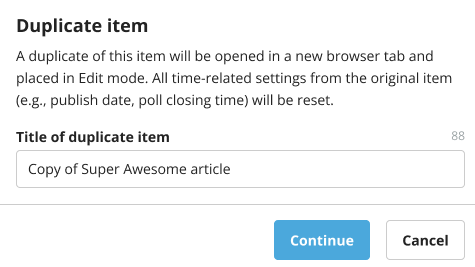 This feature is also very useful for ghostwriting, or publishing an article on someone else's behalf. For example, if a CEO wants someone to publish an article under their name, then a News Editor can just go to any article that was previously published by the CEO, duplicate it, then use that as a template for the new article. When they go to publish the new article they can opt to keep the CEO as the author and then publish it on their behalf.
11. Managing your items (Archiving, etc.)
Manage tables
At the top of the main News view, you can click on the action menu icon (aka "three dots") to access and manage the tables containing your Drafts, Published, Scheduled, and Archived items.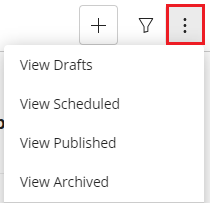 Here's a breakdown of how items get on each of those lists:
In Edit mode: Save Draft - Drafts
In Edit mode: Publish - Published
In Edit mode: Publish Date > Schedule - Scheduled
On Drafts/Published/Scheduled lists: Check off item > Action menu > Archive - Archived
Item actions available on each list include:
View (for items in Drafts, this acts as a preview for how they will look when published)
Edit (can be used to republish an item from any list)
Duplicate
and where applicable, Move to Draft and/or Archive.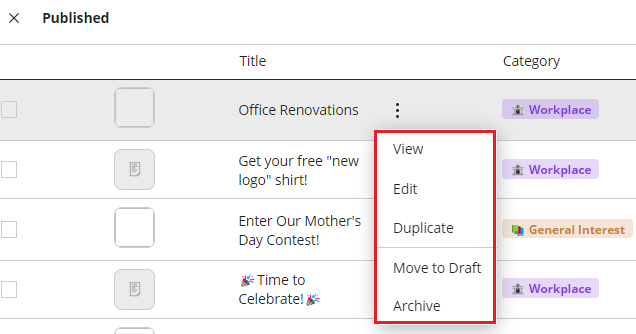 You can archive any item that appears on your Drafts, Published, or Scheduled lists. You can leave items on your Archived list as is, or use the Permanently Delete action to fully remove them from your platform.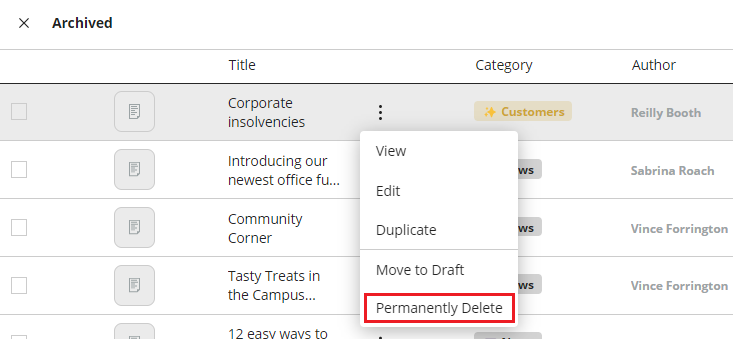 A note about auto-archiving
While archiving items in general is discouraged, because it removes the visual history of your organization, there are times when you may need to post a time-sensitive item that requires removal at a certain date. For that you can use the Auto-archive feature, found in the Options column, which allows you to enter a date and time when you would like a particular Item to be automatically removed from the News view and archived.
12. Viewer lists and other metrics
News Admins can get a detailed list of who has viewed any individual News item. Reporters or Editors can click the number of views link at the top of any News item they have edit rights for to download a CSV list with the names of everyone who has viewed that article. The viewer list is private data, which is why it cannot be pulled up by anyone in-article, and can only be downloaded (unlike the "likes" list, which can be opened and viewed by anyone).

To download detailed metrics for individual items, News Admins can go to the table they appear on, check off the boxes next to them and then open the action menu in the top right corner and select Download metrics.

NOTE—News Editors can also view detailed metrics reports for News and Activity.