Introduction
Sharing happenings and stories across your organization in News allows you to connect your people. News makes it easy to publish stories with images and videos that celebrate your organization's culture, values and accomplishments.
News provides a number of different ways to publish content, including Articles, Web Articles, Polls, Albums, Job Postings, or Custom Articles (this one you can name whatever you wish). To create any of these News items, you need to be a News Reporter or Editor, whereupon you will see "Add New" in the Action Bar. (NOTE—Depending on your organization, there may be multiple Reporter Groups set up, each with customized publishing permissions. If you do not have the publishing permissions you expected, please contact your Jostle System Administrator).
Table of contents
1. Creating News items - quick guide
Click News in the Main Navigation bar
Go to the Action Bar at the top of the screen and click "Add New"
Select the News item type you want to create (News Article, Web Article, Poll, Album, Job Posting)
Add or upload your content and complete your item using the Options column (detailed instructions for each specific News item type appear below)
Scroll back up to the Action Bar and click either "Preview", "Archive", "Save Draft" or "Publish"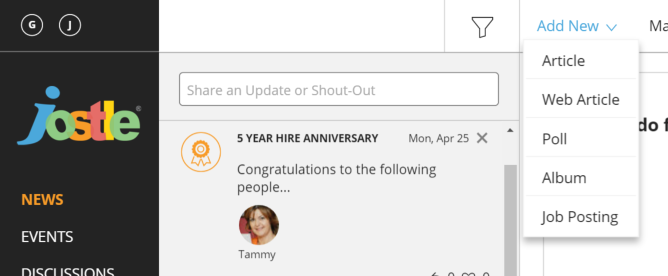 Content
To create a News Article, go to News > Add New > Article. Then, on the New Article page, add your content to the following fields on the left side of the screen.
Title: The title for your Article. It can be up to 100 characters in length. This is a required field.
Body: This is the main part of your Article. Here you can format text and add photos or embed videos or links. It can be up to 60,000 characters in length, including any hidden characters (these are embedded 'control' characters that set format, etc.). Hover over the toolbar at the top of the Body section to learn what the various tools do.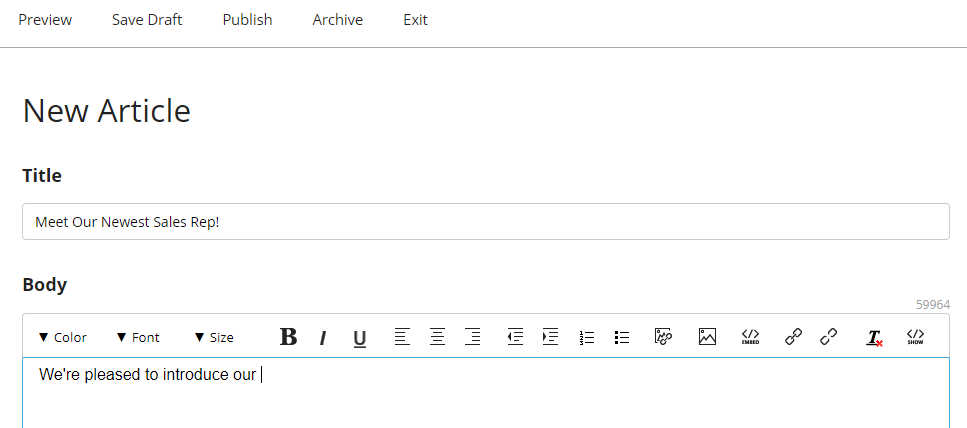 Tips (for copy-pasting content)
If you are copy-pasting your content from a Word or similar document use "Paste and match style" in your browser (Mac: command-shift-v, Windows: ctrl-shift-v) to remove the Word format, which can sometimes interfere with formatting.
Another option that really cleans up the Word HTML is:
Compose your article, including images, etc. in Word.

Paste into this tool https://word2cleanhtml.com/

Paste the output of this tool into the Body field of your Article.
Header images: Click on Browse for images to upload images. You can upload up to 5 images in PNG, JPG, BMP, or GIF (non-animated) format. The total upload size must be 500MB or less. After you have uploaded the photos you can add captions, crop them, and select one to be the Tile Image. For more information about using images, see Appendix A, below.
Attach files: You can attach documents such as PDF, Word (.doc), etc. Click on Browse for files to attach your files.
Options
On the right side on the screen you'll find the Options that you can set or enable for your Article:
Publishing Role: If you are an Editor and/or belong to more than one Reporter Group (see Introduction above), you will be prompted to select your Publishing Role before you can begin creating your Article. If you only belong to one Reporter Group, it will be automatically selected for you.
Highlight: Use one (or both) of these options to help draw attention to specific News items. Feature in banner displays articles for a set duration in a carousel that stretches across the top of your News view (see image below). Pin until read affixes an article to the top row of News Summary Tiles until it has been read. See here for some ways to best utilize these features.
Commenting: Uncheck the box next to "Allow commenting" if you want to block commenting on this Article.
Publish date/Auto-archive: Select Set date and time for these features if you want to auto-publish and/or auto-archive(remove) your Article at specific future dates.
Visible to: Use this feature to target your Article at a particular audience using the List Selector. See the section below for more details on this.
Sign off: Use this feature to require each reader to sign off that they have read and understood this News Article. More details on this below.
Notification (Must-see): Use this feature to push a Notification to everyone it is targeted on. This is a Notification that they cannot turn off, so please use this sparingly. More details below.
Notification (Comments): Uncheck this if you do not want to be Notified each time someone comments on this Article. More details below.

Once you have finished with your Article are ready to publish it, scroll back up to the Action Bar and select Publish. Other options available for your draft at this time are: Preview (see what your Article will look like when it's published), Archive (store an Article and make it unpublished) or Save Draft (save a draft of your unfinished Article to be completed later).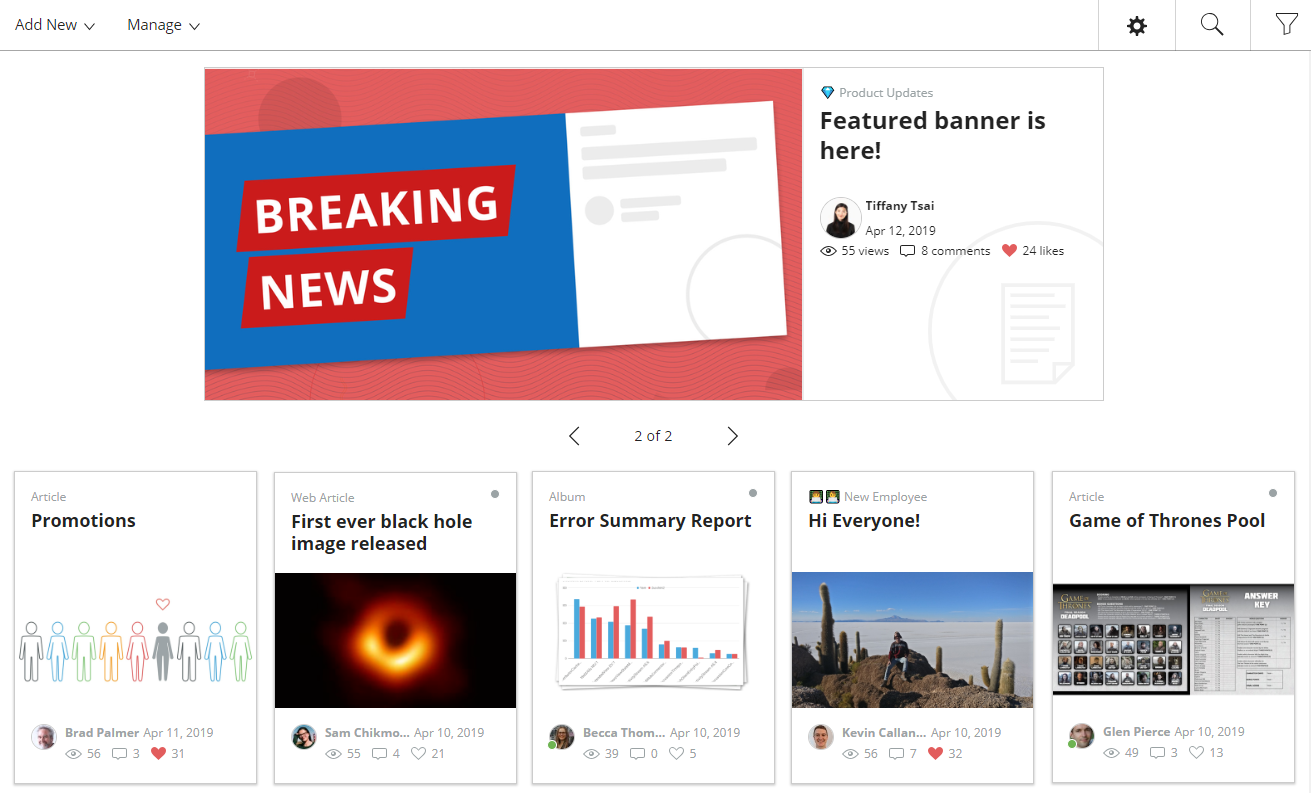 3. Creating Web Articles
Web Articles make it easy to pull in and share external articles like industry news and blog posts with the rest of your org. They're also simple to create -- just copy-paste the external article's URL and you can immediately publish it as an article in your own News.
To create a Web Article (for Mobile instructions, see Appendix B)
1. Copy the URL from the site your want to republish. Please respect any relevant copyright restrictions.
2. In News click on Add New and select Web Article.

3. Paste in your URL and click OK. If the site you have chosen is technically configured to make it possible, Jostle will extract the images and text from that site into a draft News Article. An attribution will be added to the end.
4. You can now edit this text or add an introduction and then set the rest of your News Article permissions and preferences.
5. When ready, click Publish.
NOTE—if the imported text is over 60,000 characters, you will need to shorten it accordingly before you can click Publish.
Importing Issues - Images and Video
The technology we use to extract content out of webpages may ignore parts of an article that have a repetitive structure. This refers to the type of code being used in the article and mainly affects images and videos, but can also affect the content around them.
For example, if a website uses a repetitive code structure to insert images into their articles, the technology we use to extract the article may only recognize one instance of that code structure and ignore the rest (meaning it will only pull in one image not any others). This could apply to any similar type of inserted or nested content, like videos or numbered lists.
You can work around this issue as follows:
Go to the original article and copy or download the content that was not imported.
Open your Web Article and click the Edit link next to the title.
Manually add in the missing content to your Web Article and then click Save Draft/Publish.
Restrictions
This feature is designed to work for all web pages, but is sometimes restricted by the website that hosts the article. Some websites impose technical restrictions against people from pulling their content, or are otherwise not configured in a way that allows us to extract their content.
Customer Resources blog
The Customer Resources blog (CRB) is the place for News Reporters and Editors to quickly find content tailor-made for the Web Article feature. The blog is updated by Jostle with themed articles (Views & Features, Best Practices and Workplace Topics) on a regular basis, so there will always be something new available to help keep your News view active. Just visit the CRB, copy the URL of any article you like, and then follow the steps above to easily post fresh, relevant content to your readers.
To enable social media sharing of Web Articles
On the New Web Article form, right below the title of the article, check off the box next to "Allow viewers to share the original article to their social media". This will enable sharing of the article on Facebook, Twitter, and Linkedin.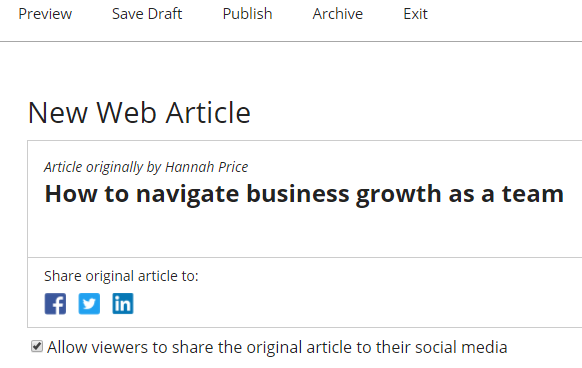 4. Creating Albums
Albums supports images in PNG, JPG, BMP, and GIF (non-animated) formats
To create an Album
In News, click on Add New and select Album.
Add a Title and short Description. Both are required.
Upload the photos for your Album. You can add up to 500, but it's best to upload them in smaller groups. Added together, your photos per Album must consume less than 500 MB of storage.
Set any other features, such as targeting an audience or setting a publish time, exactly as described above for Articles.
When ready, click Publish.
NOTE—Readers will be able to download the Album or selected photos from it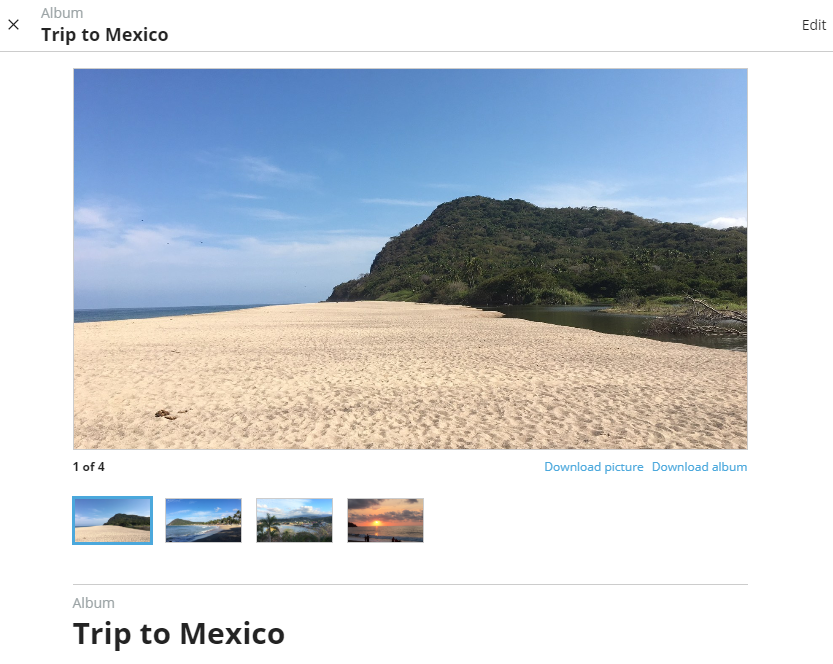 5. Creating Polls
Polls allow users to cast a vote on a question published by a News Editor or Reporter. All Contributors who the Poll is published to can vote, however only your organization's News Editors/Reporters can create and publish Polls.
To create a Poll
Inside the News view, go to Add New and then click on Poll.
Select the type of poll you want to publish (Options: Text poll or Image poll).
Enter your question, as well as up to seven answers for users to vote on.
Select your voting close date.
Finally, you have the option to Save as Draft (if you intend to publish at a later date) or Publish, which will display immediately in your organization's News view.
Below is an example of how a published Poll will appear in News: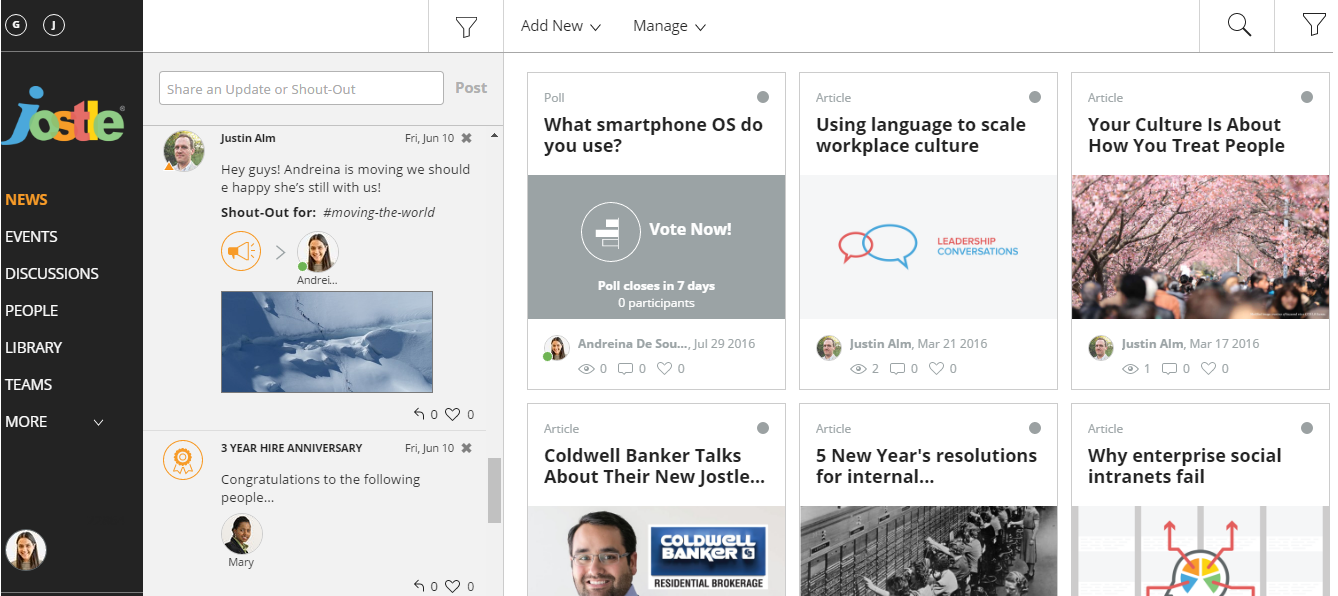 And this is what the Poll will look like after you click on the tile and enter view mode. This shows the Poll after the person has voted.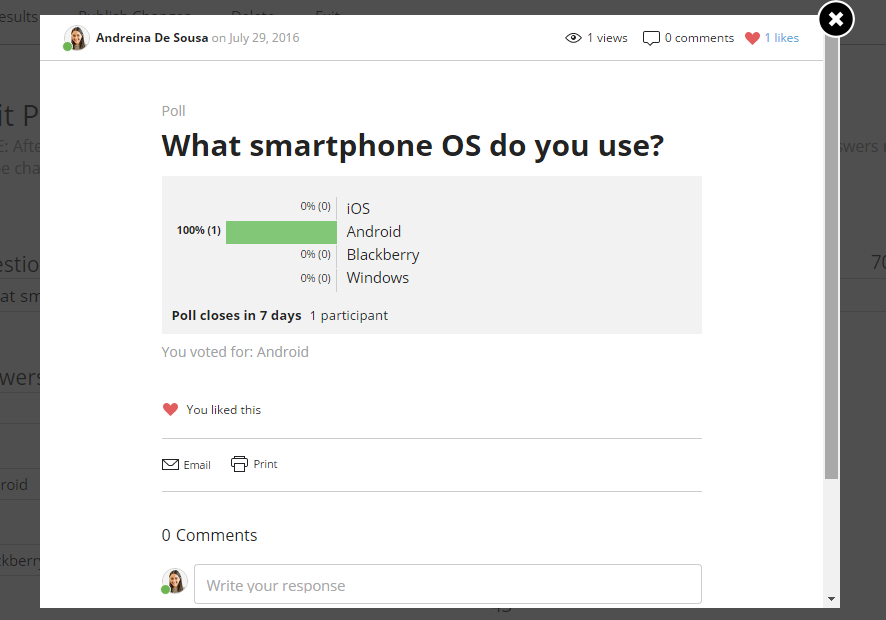 Creating multi-answer polls
You can enable multiple answers to your poll by selecting the checkbox to Allow multiple answers.
Polls where you can see who voted for what
You can start polls where who-voted-for-what is identified by selecting the option "Identified results can be downloaded by people with edit rights (cannot be changed after published)". Those with edit rights to the Poll can download the current status of the votes as a .csv file by viewing the Poll and clicking on the Download results link bottom right.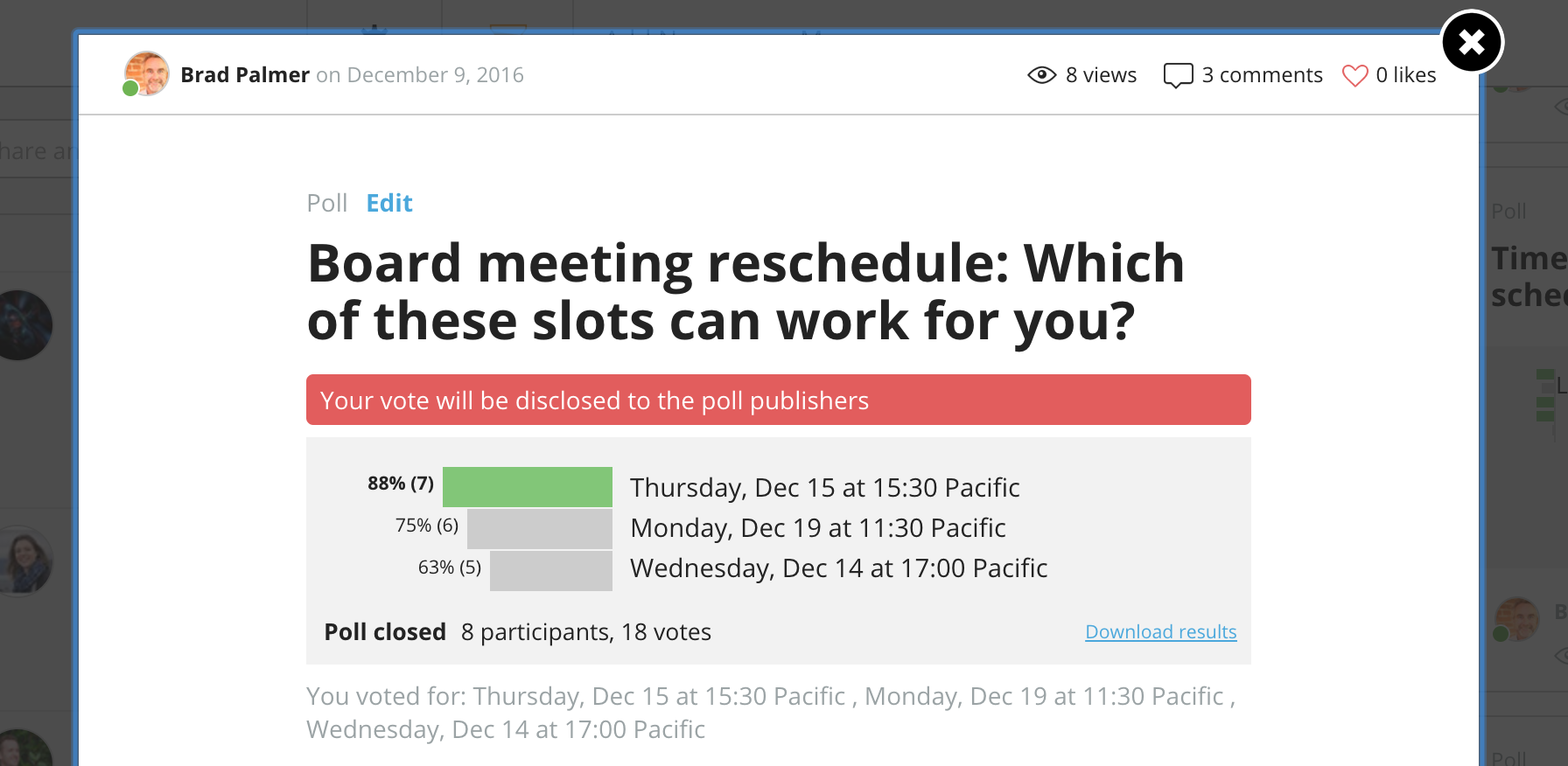 6. Creating Job Postings
Job Postings is a default Custom Article (see below) that can be used to advertise positions open within your organization. They share the same format and structure as News Articles (see above). Like all Custom Articles, it can be renamed or removed by a News Editor.
7. Custom Articles
In addition to the default types of News items you can publish (News Articles, Web Articles, Polls, and Albums) News Editors are also able to create Custom Articles.
Custom Articles allow you to use the format of News Articles to create additional types of News item for content your organization may publish on a consistent basis, like a "CEO Blog" or "Employee Profile". Once created, Custom Articles will appear as options on the News Add New menu as well as in the News Filter Drawer settings along with the default News items.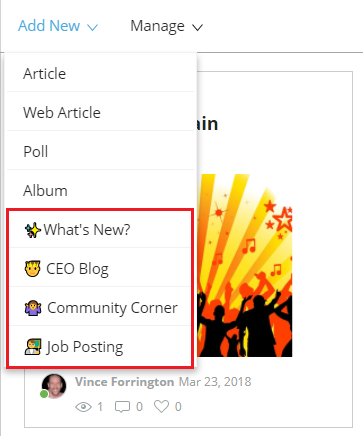 As with any published News item, your Custom Article type will appear in the upper left corner of its tile on the News feed.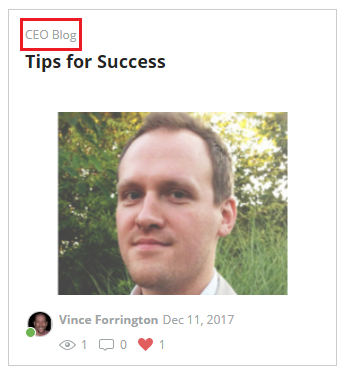 Custom Articles can be set by News Editors by clicking the Gear icon in the upper right corner of News and selecting "Manage News Items" from the drop-down menu.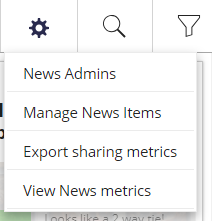 On the Manage News Items screen, click the "+" to create a new Custom Article. You can also use the control icons on the far right to remove a current Custom Article or drag it to a new position on the "Add New" list in News.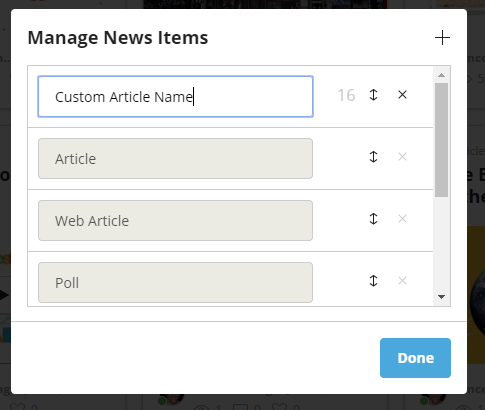 NOTES
If a System Admin disables the Custom Article feature, then all previously published Custom Articles will be removed from the News feed.
Up to 10 types of Custom Articles can be created and used at a time. If a certain Custom Article type is deleted, any related published articles will be rebranded with "Article".
"Job Posting" is automatically included as a default Custom Article, but it can be renamed or removed by a News Editor.
8. Targeting your content
Jostle's List Selector allows you to publish News items to any specific audience you wish. For example, maybe you have a detailed article on the renovation plans for a building that is only relevant to those located in that building. Targeting your content helps keep your intranet relevant and engaging for everyone.
When you are using creating any News item, you will see the Visible To option. The default setting is "Everyone" but if you click on the setting, it will bring up the List Selector and allow you to create a Custom List to target your content to, if you wish. Learn more about the List Selector here.

9. Using the Sign off feature (Complete subscribers only)
News Articles, Web Articles, and Custom Articles all include the Sign off feature. Use this when you need to ensure that a particular item has been read and understood by everyone in your audience.
To activate this feature, check the box under Sign off in the Options column when creating your News item:

When activated, Contributors are asked to sign off when they have completed reading the article. If they don't, when they try to close the News item they will see this message:
I confirmed I have read and understood this: selecting this option the Contributor will confirm it has read and understood the News item. The message will not appear anymore to this Contributor for this item.
I will read this item later: this option will close the News item and the message will appear again when the Contributor opens it and try to close it.
I will read this item now: the final option will return to the News item so the Contributor can read it and then sign off.
At the bottom of the News item, those with edit rights will see a summary of how many Contributors have signed off on the News item. There is also a Download CSV link that provides this data a CSV file.

10. Using News item notifications
All types of News items include the ability to send notifications to everyone it's published to. These are a special type of notification that users cannot silence.
This feature is best used sparingly, when you need to get important news out. It's much better than sending out an org-wide email. Now you can have the best of both worlds -- publish it in News and know that Jostle has sent an email to everyone able to view the News article letting them know it is there.
To activate this, check off the "Must-see" setting under Notification in the Options column when creating your News item:

If selected, when you click "Publish" you be taken to a confirmation screen where you will also be given the option to include a customized message in the notification: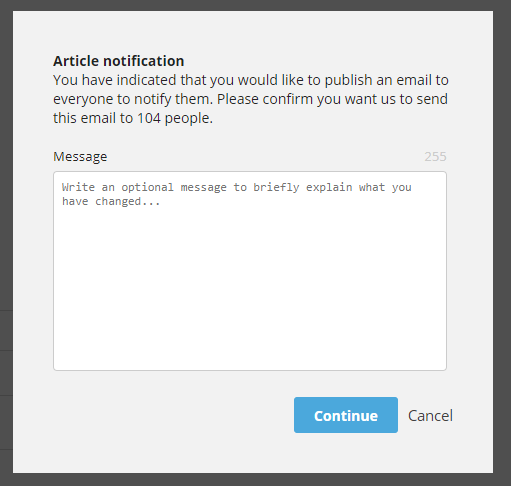 11. Editing News items
To edit a published News item, select its tile from the News view and then click the Edit link that appears in the upper right corner. After making your edits, scroll up to the action bar and click Publish to post the revised item back to the main News view.

You can also edit an item via the Manage list:
Editing from the Manage list
You can access your lists of Drafts, Scheduled, Published, and Archived items via Manage in the News Action Bar.
Any item on any list can be edited via right clicking on the item and selecting Edit from its Action Menu (Action Menus also contain management options specific to each type of item).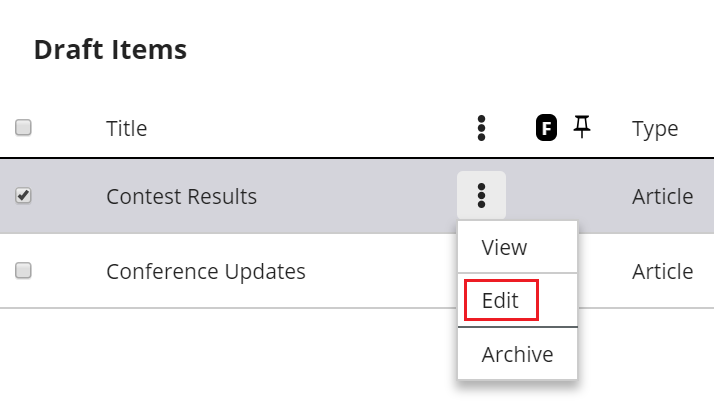 12. Archiving News items
As News items get added, older News items work their way down the News timeline until they are eventually out of view. However, if you need to remove an item from visibility immediately, you can do so by archiving the item. Here's how.
To archive a News item
1. Go to Manage > Published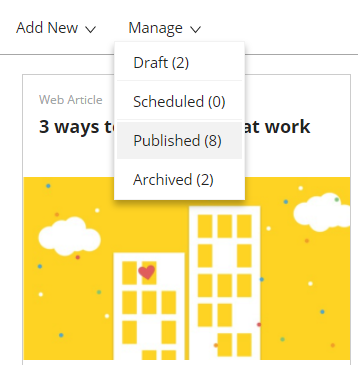 2. Locate the item you wish to archive, right click on it and then from its Action Menu, select Archive.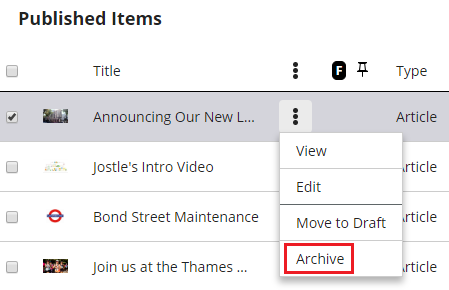 NOTES
To republish an Archived item go to Manage > Archived, check off the item, select Edit from its Action Menu and then Publish from the Action Bar.
To permanently delete an Archived item go to Manage > Archived, check off the item, and select Permanently Delete from the Action Menu.
To export the details of all your Archived items go to Manage > Archived and then select Download CSV from the Action Bar.
Auto-archiving
While archiving items in general is discouraged, because it removes the visual history of your organization, there are times when you may need to post a time-sensitive item that requires removal at a certain date. For that you can use the Auto-archive feature, found in the Options column, which allows you to enter a date and time when you would like a particular Item to be automatically removed from the News view and archived.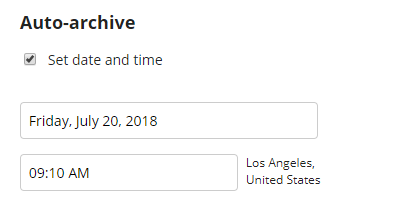 13. News item viewer lists
News Admins can get a detailed list of who has viewed any individual News item. Reporters or Editors can click the number of views link at the top of any News item they have edit rights for to download a CSV list with the names of everyone who has viewed that article.

NOTE—News Editors can also view detailed metrics reports for News and Activity.
Appendix A - Using images in News Articles
On the Edit Article screen there are a few methods and options for adding images.
Inserting photos into an Article
You can insert images into the body of your article clicking the "Upload and display an image file" from the row above the Body field.
If you want to embed an image, you can do so via the "Link to and display an image URL" icon, which appears to the immediate left of the icon above. This method can also be used for adding GIFs to your article (See Adding GIFs below).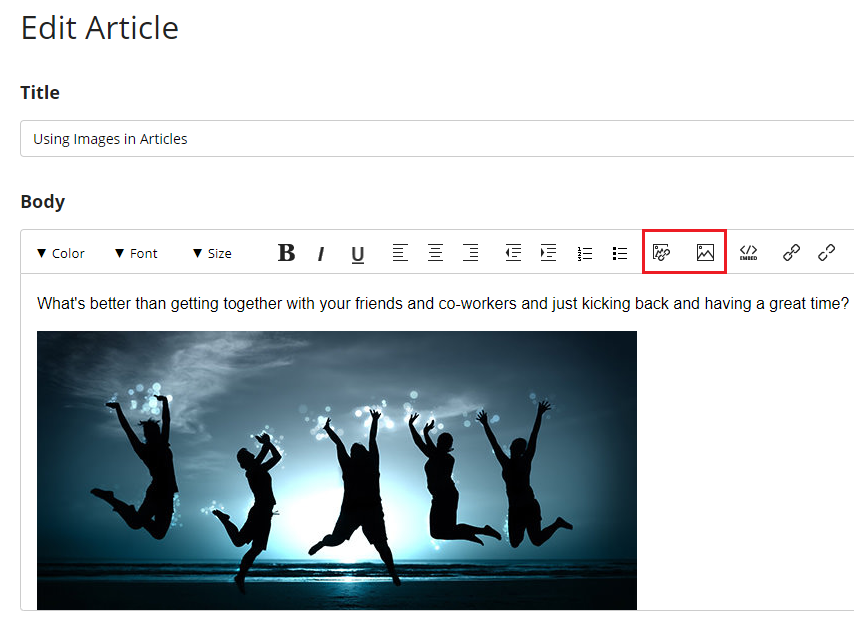 Header images
Separate from the images you insert into your article, you can upload up to five header images, which:
Will appear in a gallery at the very top, above your headline.
Can be viewed in sequence by clicking on the arrow icons on the sides of the displayed image
Can be jumped to image-by-image by clicking on a thumbnail from the row beneath the header display.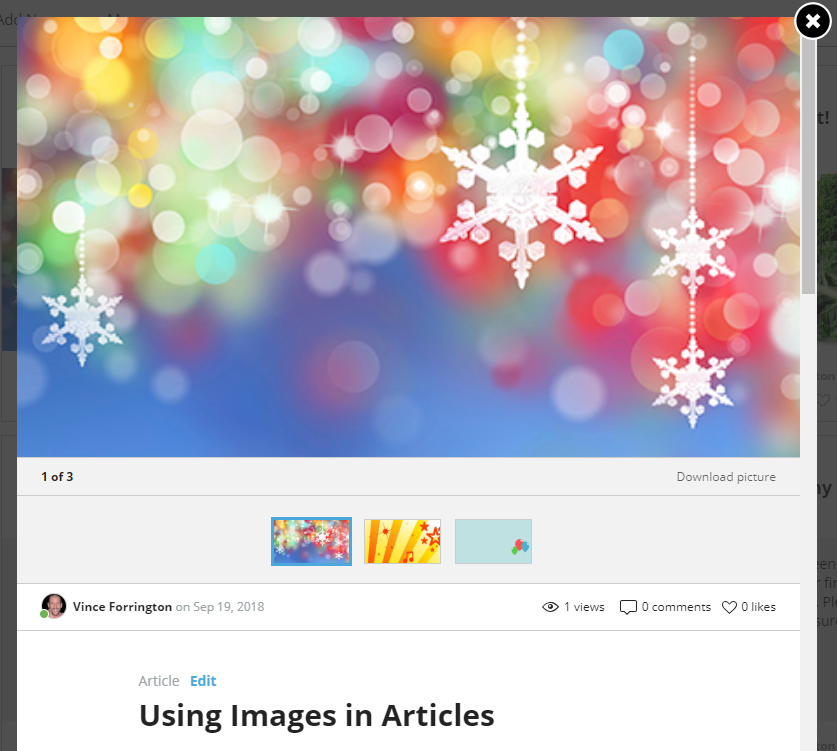 Header image limitations
Header images do not have to conform to a particular size, ratio, or dpi.
The recommended minimum size is 800 x 450 pixels (anything smaller will be automatically increased when viewed in News, which may cause these images to become blurry)
Images are converted to JPG format unless they are less than 1600 pixels wide and less than 400kB in size.
To add a header image
Under Header images click the Browse for images button.
Select and upload the image you want to add.
When the Edit Crop screen appears, use it to adjust how the image will be displayed.
Editing a header image
There are three edit options on the Edit Crop screen:
Expand (shows the whole image, leaving empty space on the sides as needed.
Fit (enlarges the image to fill the header space, may result in portions of the image to be cut off)
Rotate (turns the image by 90 degrees, in Fit mode)
You can also manually edit the image by:
Placing your cursor over the image and scrolling up (zoom in) or down (zoom out)
Click-and-holding on the image to move it around
When you are satisfied with your edits, click the Set images button.
NOTE—if you have multiple header images and want them all to be edited the same, check off the "Apply to all" box before making your edits.
Header image management
All your uploaded Header images will appear as thumbnails below the Body field. Here you can change their viewing order or click on any of the images' available actions (Make tile image, Edit crop, Add a caption).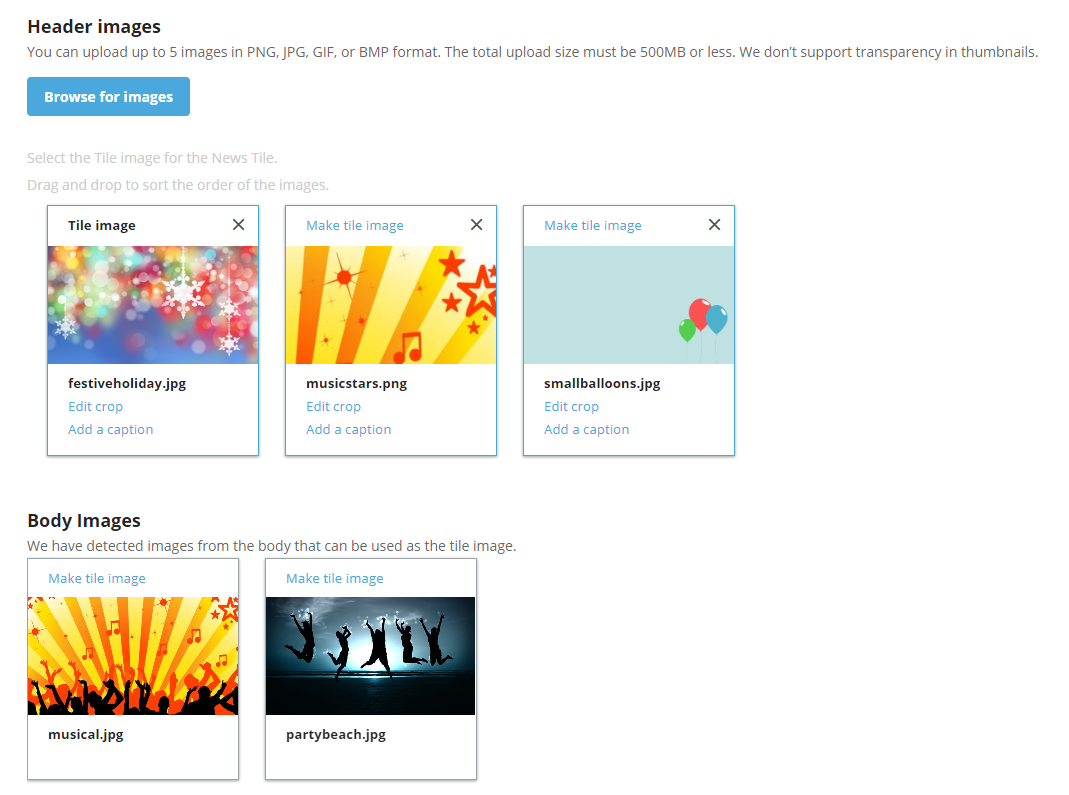 Body images
Any images that you inserted into the Body field of your Article will be displayed below the Header images. If you wish to use any of these images as the tile image, just click the link on the appropriate image.
Tile preview
The tile image is the image that appears on your Article tile when it is published to your News view. You can select the image you want to display as the tile image by clicking Make tile image above any thumbnail.
You can use the Tile preview to see what your Article tile will look like with the image you've selected.
Articles with no images
If an Article doesn't have any images, some of the initial Body text will be used on the tile (see example below).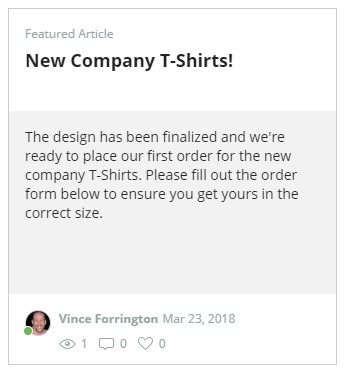 Adding animated GIFs
You can include an animated GIF as a non-header image in your article via the .gif image's URL:
Place your cursor in the Body of your Article where you want your .gif image to appear
Go to the row above the Body and click on the Link to and display an image URL icon
Paste in the URL of your .gif image
Click OK
Appendix B - Creating Web Articles in Mobile
You can also create Web Articles when using the Jostle mobile app.
In Mobile:
1. Copy the URL of an article you want to publish.
2. Go the News view (and be sure to toggle from Activity to News)
3. Then tap the "+" in the upper right corner.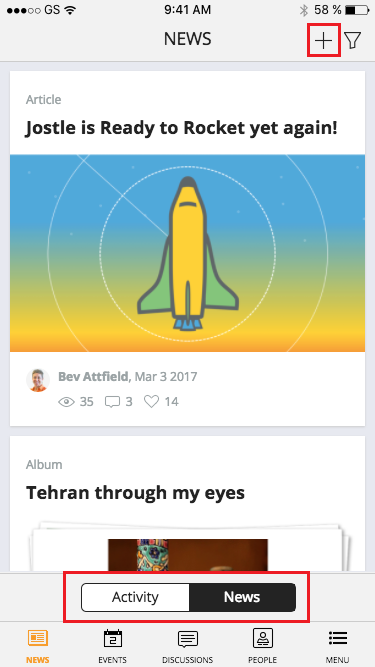 4. Next, tap the "Web Article" button at the bottom.
5. In the field provided, type or paste in the URL of the article you want to publish, then tap "Ok" to pull in the article content.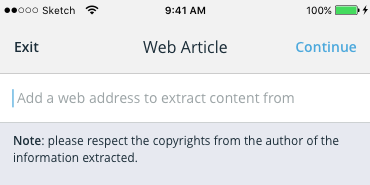 6. Tap "Continue" to go to the Web Article Preview.
7. Tap "Next" to go to Article Options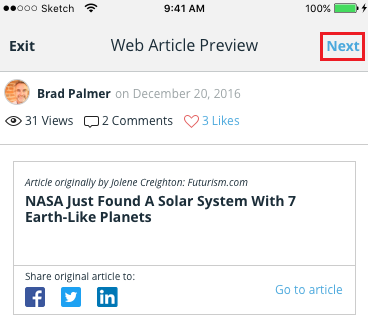 8. Use the Tile Preview to swipe through the images available and select one for the header of the article.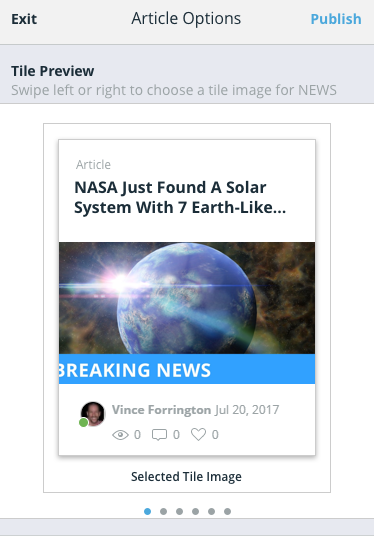 9. Next, indicate your sharing and notification preferences, then tap "All Options" to view and complete the rest of the form.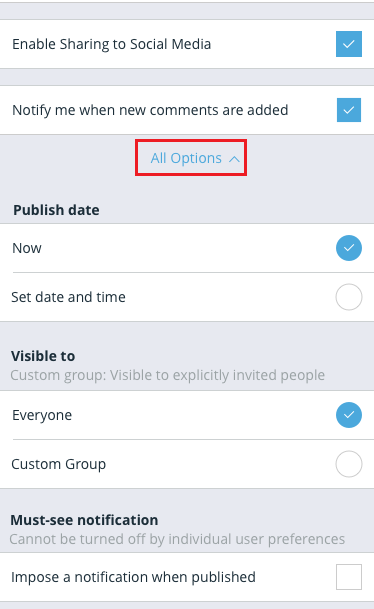 10. When ready, click "Publish" in the upper right corner to add your Web Article to your News view.