The Classifieds view is where users can post Classified ads for items/services they'd like to buy or sell.  These work similarly to traditional newspaper classified ads.
To enable Classifieds
1. Go to Administration Settings > Platform > Enabled/Disabled Features.
2. Scroll down to the CLASSIFIEDS section and check the "Enabled" button..
3. If you want to rename the view something more appropriate for your organization, toggle the "Name" selection to Custom and enter your custom name where indicated.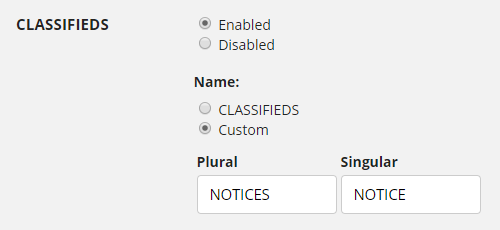 4. Scroll down and click the blue Save button.  
Once Classifieds is enabled, all users will be able to access it from the Main Navigation.
NOTE—while there aren't any dedicated Administrator roles to assign for Classifieds, News Editors have permission to manage all Classified ads.
To learn more about Classified ads, refer to this article