The Jostle® intranet's Main Navigation bar sits on the left side of the application. It provides links to all the most important places on your intranet, as well as showing you where you currently are.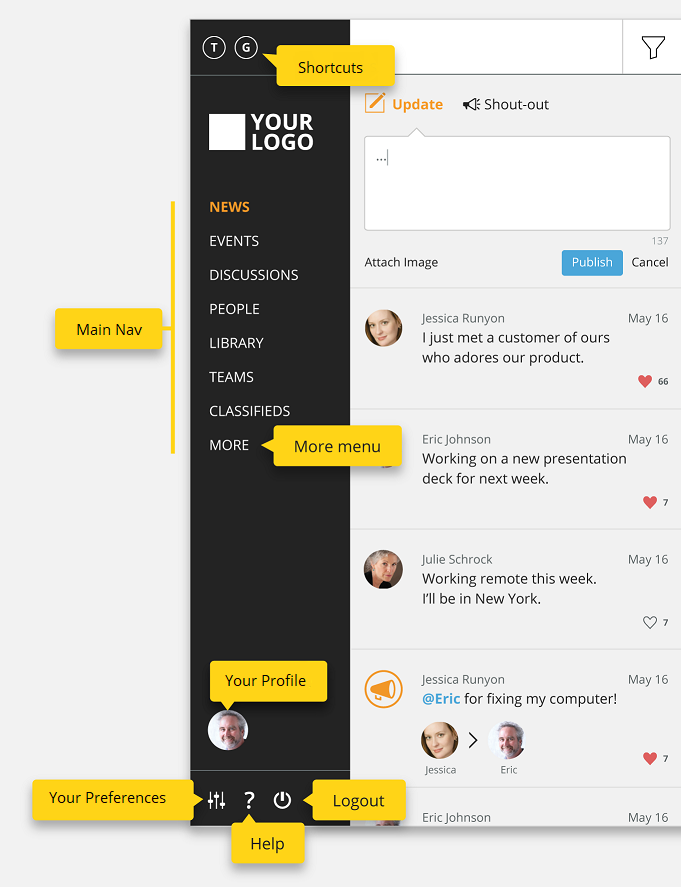 Features
Shortcut links - in the top left corner, these are set up by your System Administrator and provide you two links to commonly used applications outside your intranet.
Main views - the main areas of your intranet. Depending on what views have been enabled by your organization, your Main Navigation will display some or all of the following links:
NEWS
EVENTS
DISCUSSIONS
PEOPLE
LIBRARY
TEAM
CLASSIFIEDS*
LINKS/MORE**
*CLASSIFIEDS can also be set to a custom name.
**LINKS and MORE are the default name options available for this view, it can also be set to a custom name.
Profile image - you can click this to view and edit your Profile information.
Navigation icons - three icons along the very bottom of the Main Navigation that provide useful links:
Slider (Preferences)
Question mark (Help)
Power (logout)
NOTE—System Administrators will see a fourth icon - a Gear (to access Administration settings)
Action Bar - located at the top of the screen, it provides different options depending on what view you are in. If you need to find something, click on the magnifying glass in the top right of the Action Bar to bring up a Search box.