The Jostle® intranet's Main Navigation panel sits on the left side of the application. It provides links to all the most important places on your intranet, as well as highlighting where you currently are.
Features
Main views and features - the main areas of your intranet. Depending on what views and features have been enabled by your organization, your Main Navigation may display some or all of the following:
Tasks
News
Events
Discussions
People
Library
Teams
Listings (aka Classifieds)*
Links*
*Listings/Classifieds and Links can also be set to custom names by the System Administrator.

Custom Views
Below the view names are your org's Custom Views. These are two links set up by your System Administrator to provide quick access to commonly-used applications outside of your intranet.
Profile
Once you log in, you can click on your name/avatar image in the bottom section of the Main Navigation to access/edit your Profile. Click on the Action Menu icon (three dots) next to your name to access the following:
My Preferences
Log out
JostleTV (if applicable)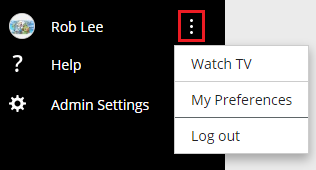 User status
If enabled by your org, you may see a Set a status... link under your name in the Main Navigation.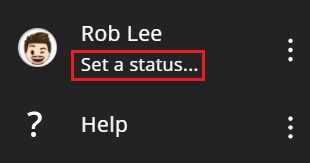 This can be used to let people know when and why you're unavailable. Click on the link and you'll pull up a menu of status options.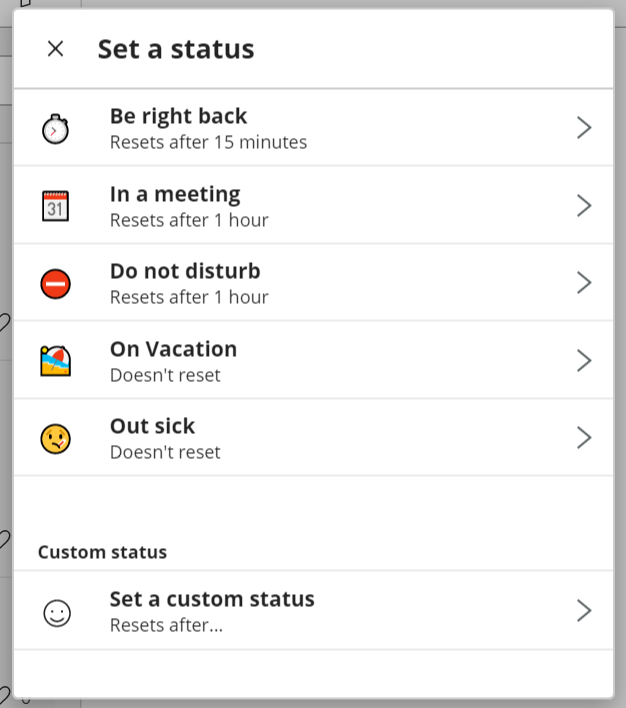 Choose the most appropriate or customize your own* and an emoji will appear next to your name throughout the platform (after up to a 90 second delay). When hovered over, the emoji will reveal your status as a tool tip.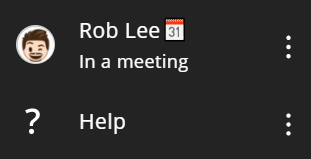 Your status will also appear on and can be managed from your Profile card.
*Limit: 50 characters
Help
Click on ? / Help to access the Help pages. Click on the Action Menu icon to jump directly to a specific Help page.
Admin Settings (System Admins only)
System Administrators will see a third link in the bottom section. They can click on the Gear icon / Admin Settings to access the Administration settings menu, or click on the Action Menu icon to directly access the following Admin actions:
Access Org-wide preferences
Create a new user
View engagement metrics
Download platform metrics
JostleTV settings (if applicable)
Action Bar
Located at the top of the screen, it provides different options depending on what view you are in. If you need to find something, click on the magnifying glass in the top right of the Action Bar to bring up a Search box.