Overview
Filter Drawer provides advanced sorting and filtering in People, Library, News, and Activity. By enabling you to set and save a wide range of sorting and filtering preferences for each view, Filter Drawer lets you easily target a specific workgroup, locate related News Articles, or find connected Library documents - and then choose how you want the results on each view to be displayed.
Filter Drawer is initially hidden in all views. It can be accessed by clicking the filter icon from the Action Bar, which can be found in the right corner of People, Library, and News and directly above the feed in Activity.

There are three options available in the action bar of an opened Filter Drawer:
Save sets your current filter and sorting preferences as your default
Reset returns you to the original filter and sorting default settings
Hide closes the Filter Drawer

NOTE—When you customize any Filter Drawer settings, the icon will change from an outline to appear "half full". If you reset back to the default settings, the icon will also revert to its default appearance.
Browser Conditions
Filter Drawer works by saving your settings to your browser, so any filters you set up in a specific browser will not be visible in any other browsers. If you use multiple browsers you will have to set up your filters separately in each instance.
For the same reason, filters will disappear if you remove your cookies in the browser or if you are using it in private mode and won't work if you are using a link to log in on Jostle (for example, clicking an invitation link to a News Article).
Available options by view
People
Display
Cards/Photos
View
All/Online Now
Filter by
Locations/Org Units/Custom Categories
Sort by
First name/Last name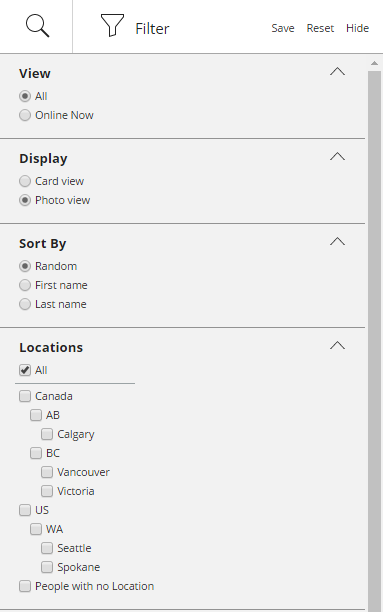 Library (doesn't use the Filter Drawer feature, but still has the following options available)
View
List/Grid
Sort by
Name/Recommended/Last Modified/Size/Type/Views/Downloads
News
Display
Tile/List
View
All articles/Unread articles/Featured articles
Filter by
Articles/Polls/Albums/Web Articles
Category
(up to 15 customized options)
Sort by
Most Recent/Most Viewed/Most Liked/Most Commented
Activity
Filter by
Items (Updates/Shout-Outs/Bonuses/Birthdays/Anniversaries/Tweets)
Locations (filter by poster's location)
Replies
Show or Hide