Introduction
At first glance, the People view looks like it is the digital equivalent of a physical photo wall, a place where you can see the Profile pictures of all the people within your organization.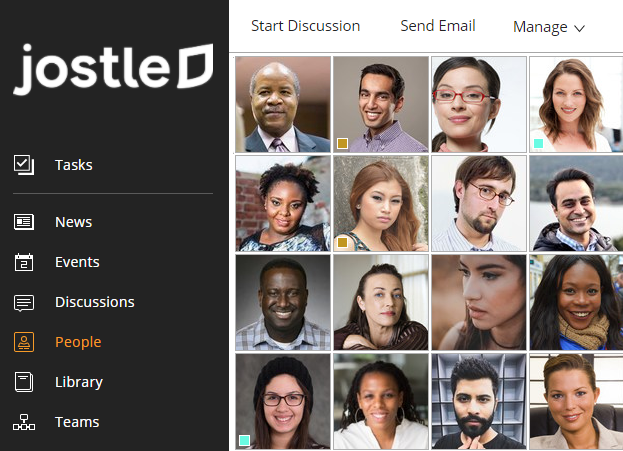 But it's much more than just a photo wall. It's actually a very powerful employee directory. Hover over any image and a popover menu for that individual will appear with the following options:
View Profile
View Roles (positions held within the organization)
Direct Message (start a private one-on-one chat)
Call (make a one-on-one video or audio call)
Send Email
Recognize via Shout-Out (posted to the Activity feed in the News view)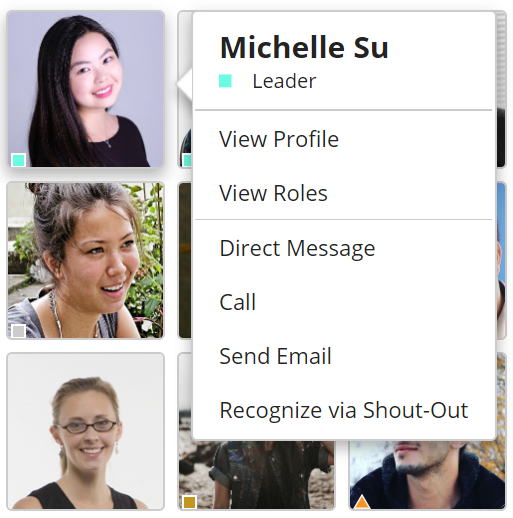 Badges can also be enabled by your System Administrator to appear on each Profile picture, providing at-a-glance, organization-wide information, including how many people are currently online and which external contributors are currently working with your organization. Learn more here.
Search and Filter Drawer also make it easy to find and connect with specific people throughout your organization. You can learn more about using these robust features here.
Administrators
There are no dedicated Administrator roles supported in People.