Introduction
Library is intended to be the go-to place for all of your organization's reference material and documentation. A place where you can quickly find the current copy of forms, budgets, policies and the like. It solves the problem of searching in your shared files for "budget" and finding 5 different files all marked something like "Budget final". In Library , the search for a file is quick and the version you find is the only (and most current) version of that file.
Library is intended to hold the 'golden copy' of each key piece of information on your company.
Categories & Volumes
Library is made up of Categories, which in turn are made up of Volumes. Volumes are designed so that they can be organized and curated in a way that enables people to find the current copy of what they need quickly.
On the left side in Library is the Category and Volume list. Clicking on a Category will expand its Volume list. Hovering over the i-icon to the right of a Category or Volume Name reveals an i-menu that includes information about its contents, settings, and Librarians. It also contains respective action menus for each Librarian type.
Only Volume Librarians can make changes to the content of their Volume. If users have questions about the documents in a Volume, a file that is missing, or a form is out of date, etc., they can click on the "Librarians" link and contact a Librarian via their Profile.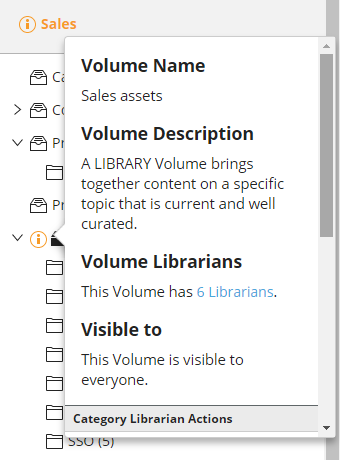 Administrators
Library supports two administrative roles with the following permissions:
Volume Librarians (assigned by: Category Librarians)
Add files
Move files (between Volumes they are a Librarian for)
Edit Volume name and description
Export usage stats
Download files to .zip
Category Librarians (assigned by: System Administrators)
Add Volumes
Assign Volume Librarians
Move Volumes (between Categories they are a Librarian for)
Edit Volume Visibility
Block downloading of Volumes